Reese Witherspoon Called Out The Media's Unfair Treatment Of Britney Spears
"What if the media decided I was something else?"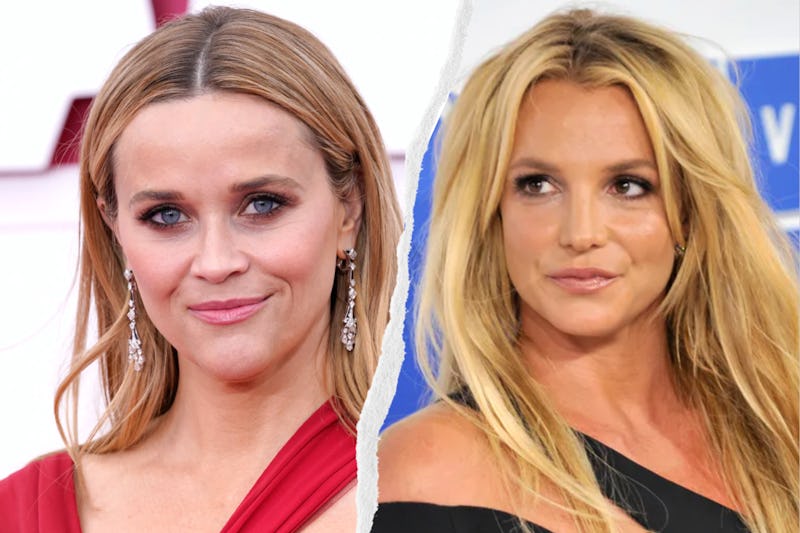 Allen Berezovsky/Pool/Getty Images
Reese Witherspoon just compared her and Britney Spears' media treatment, pointing out an "arbitrary" double standard in how paparazzi and press approached the two stars during the height of mid-2000s tabloid culture. In a new interview posted on Tuesday, April 27, the Big Little Lies star said she was "drawn" to The New York Times documentary episode Framing Britney Spears, which made her re-evaluate her own experience with the tabloids.
Witherspoon explained how the paparazzi actually treated her and Spears pretty similarly in the early 2000s, explaining that she got divorced from Ryan Philippe in 2006, the same year Spears publicly split from Kevin Federline. At the time, they were both raising two young children, and not only did paparazzi follow them to their kids' schools and sports practices, they were often hunted down by the same Los Angeles photographers. "My children will tell you stories about being in preschool and people climbing on the roofs of our cars," she said.
However, what made her and Spears' experiences with the tabloids different was the way they would write about the stars. Witherspoon is aware that actors like her were deemed as "good" by the press, citing Jennifer Garner as another example, while Spears was considered "bad" along with Paris Hilton and Lindsay Lohan.
This was despite incidents like Witherspoon's memorable 2013 arrest, where she infamously screamed, "Do you know my name? You're about to find out who I am" at a police officer. The actor also cited other times where she screamed at the paparazzi, which are rarely referenced by the press. "What if the media had decided I was something else?" she asked. "I would be in a totally different position. I want to say it's my decisions or the career choices I made, but it felt very arbitrary. And kind of sh*tty."
Spears' rollercoaster journey with the media became scrutinized thanks to Framing Britney, as the public finally realized how she was treated in the mid-2000s was horrific and partially led to her controversial conservatorship. Stars like Hilton and Jennifer Love Hewitt have also recently criticized how the media treated them as well after watching the doc. "I've been reading all of these articles coming out where they were just saying, Britney, Paris and a group of us were treated so unfairly," Hilton said in February on her This Is Paris podcast. "Just being very cruel and mean and making fun of us. It made me think a lot this week."
As for Spears, she broke her silence on the documentary in March, saying that her life "has always been very speculated ... watched ... and judged really my whole life!!!" However, she also shared how she was "embarrassed by the light" the doc put her in. "I cried for two weeks and well ... I still cry sometimes!!!!" she wrote. Thankfully, Spears will have the chance to speak out herself soon, as she has requested to speak directly about her conservatorship to the court in an upcoming hearing, which is currently scheduled for June 23.