All The Times Regé-Jean Page Has Spoken About Diversity In Acting
"It is the highest honour to represent us in the fullness of our beauty, of our glamour, of our splendour."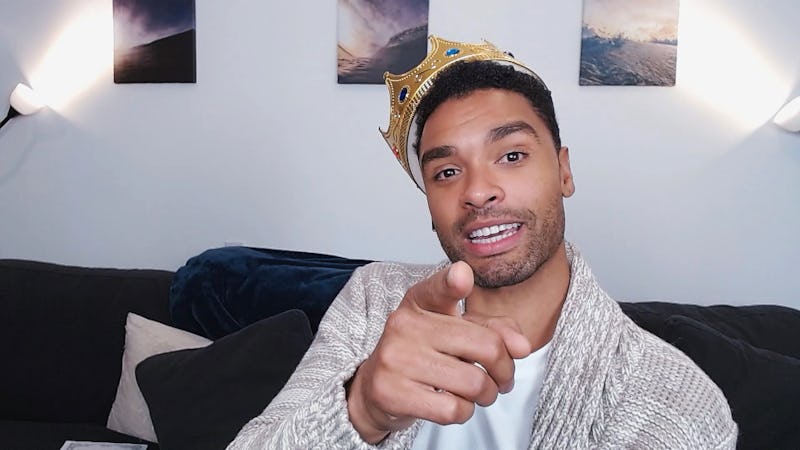 Comic Relief/Getty Images Entertainment/Getty Images
One of the hottest names to emerge from the world of acting in recent months is that of Regé-Jean Page, who earned a legion of admirers following his dashing performance as the Duke of Hastings in Netflix's Bridgerton. Although, the actor's appeal runs far deeper than just his on-screen talents, and some of Regé-Jean Page's comments about the importance of diversity in acting have been a source of inspiration for many.
Bridgerton offers a fresh take on the traditional period drama and is set within a reimagined Regency-era England, where people of colour are members of English high society. Speaking to the Guardian, Netflix's vice-president of inclusion strategy, Vernā Myers, explained the show's diversity was the result of applying an "inclusion lens" behind the scenes. The move clearly resonated with viewers as Bridgerton smashed Netflix's streaming records to become the platform's most-watched series to date, Deadline reports.
Despite the success of Bridgerton, some of Page's own experiences come as a stark reminder of the obstacles still faced by people of colour in acting today.
Per the Los Angeles Times, Page, who recently announced his Bridgerton departure, was reportedly rejected for a leading role in Syfy's Krypton because of his race. Addressing the reports on Twitter, the actor wrote, "Hearing about these conversations hurts no less now than it did back then. The clarifications almost hurt more tbh. Still just doing my thing. Still we do the work. We still fly."
Page's comments received a warm response from many supporters, and below you can discover more inspiring examples of some of the times Regé-Jean Page has spoken out about diversity in acting.
"It takes so little imagination to include people"
Speaking to the Guardian, Page countered the viewpoints of those who believe actors should always be cast solely on their talent, as opposed to their race. An approach that in the past has been unsuccessful in diversifying the film and television landscape. "It's not colour blind casting because I don't think it's helpful to put brown skin in the show without putting brown people in the show," he told the publication.
"This show is a glamorous, ambitious Cinderella fantasy of love and romance — I don't know why you wouldn't invite everyone to come and play in it, especially since we're serving a global audience on Netflix." The actor concluded that it takes "so little imagination to include people" compared to "how much thought and effort it takes to keep people out of these stories."
On spotlighting Black joy in a period drama
During an interview with NPR's Ailsa Chang, Page touched upon Bridgerton's "revolutionary" portrayal of the show's Black characters, something he had discussed previously with showrunner Chris Van Dusen.
"Chris Van Dusen and I talked about the opportunity to spotlight Black joy in a period drama, which is relatively unheard of and revolutionary in itself, whilst respecting our experience." The actor continued, "I think that that's part of what this conversation is. It's very familiar to any people of colour watching the show — the conversation of twice as hard for half as much, you know? And so I think it's nice to see parts of your experience reflected within that wider arc of a love story."
"Everyone deserves to be there"
Commenting on Bridgerton's diverse reimagining of Julia Quinn's original books, Page explained to Variety that he couldn't fathom the idea of someone wanting to restrict who is a part of the show he describes as "a big Regency hug at Christmas."
"Everyone deserves to be there." He continued, "Why on earth would you limit who gets to receive that, who gets to play in that game? It's a great game. It's a great place to hang out and we all get to hang out and play together."
On the "honour" of representing people of colour
Per Harpers Bazaar, Page was recently named best actor in a drama series at the NAACP Image Awards. Presented by U.S. civil rights organisation the National Association for the Advancement of Colored People, the annual awards ceremony aims to spotlight the stories, culture and excellence of people of colour in entertainment. Accepting his win over a video call, Page described the NAACP award as "the highest honour."
'This absolutely goes out to all the incredible people on our team who made something so unique. It is the highest honour… to represent us in the fullness of our beauty, of our glamour, of our splendour, of our royalty, of our romance, of our love." He continued, "It is the highest honour to represent that and to represent the people I do represent and I will do my absolute to be worthy of that."