Rihanna & Jay-Z Surprised The Viral TikTok Grandmas For Doing The Super Bowl Dance
The Arcadia Senior Living residents recreated the "Rude Boy" part of Rih's halftime show in one take.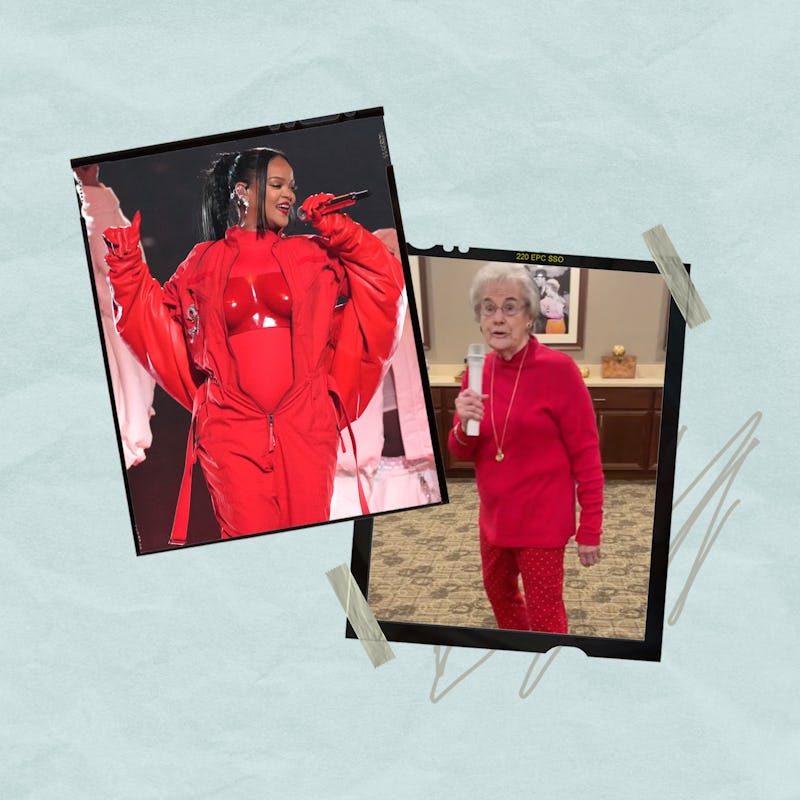 Rihanna & Jay-Z Reacted To The Viral TikTok Grandmas Doing The Super Bowl Dance
A viral TikTok, which has 3.6 million likes as of March 7, has finally caught the attention of Rihanna and Jay-Z. In the short video shared on Feb. 22, a group of women from Arcadia Senior Living Bowling Green in Kentucky recreated part of Rihanna's set from her Feb. 12 Super Bowl Halftime Show. The TikTok shows the women — dressed in white like Rihanna's backup dancers and one resident decked in red like Rih's Super Bowl outfit — performing the viral "Rude Boy" portion of the halftime show and capturing the internet's collective heart in the process.
Their caption on TikTok reads, "our halftime show > rihanna's halftime show." Rihanna and Jay-Z separately reacted to the video by sending flowers to Arcadia Senior Living to show their appreciation. Rih sent white roses with a note that read, "You Ladies Dance Was Amazing." Jay-Z sent the dancing grandmas red roses with a note that said, "We Love The TikTok Here At RocNation." Jay-Z, who in recent years helps decide the halftime show performers with the NFL, founded the entertainment agency Roc Nation in 2008.
The residents at Arcadia Senior Living plan on preserving the flowers for jewelry or pressing them into books, as per Buzzfeed News. Arcadia Senior Living's community relations director Paige Oakes said it made their day knowing Rihanna saw their TikTok. "This whole time, we've just been waiting for a response from Rihanna — not really thinking that it would ever happen because we know she's busy and we didn't really know if she saw it or not," she told Buzzfeed News.
Maitlin Nuckols, the director of life engagement at the nursing home, revealed that they filmed their video in one take. "Some of them, we had to kind of tell them what it was," Nuckols told Insider. "But overall, it was a great response. They love to do anything fun and engaging."
Nuckols added that the women loved seeing the engagement online. "Whenever it first started blowing up, they're like asking us every day, 'How many views do we have? How many views do we have?'" In short: a lot!
Tens of thousands of people commented on the TikTok, praising the cute choreography and zest for life. "This is the cutest thing EVER! hope I'm this vibrant when I'm hanging with my girls at this age," one user wrote. "These woman and Rihanna can heal the world!" another chimed in. A third even suggested they headline next year's halftime show. "You ladies need to perform at the Super Bowl next year!!!!"