Here's What Happened To Riley In The Last Of Us Video Game
Storm Reid warned that her HBO episode will leave fans "heartbroken."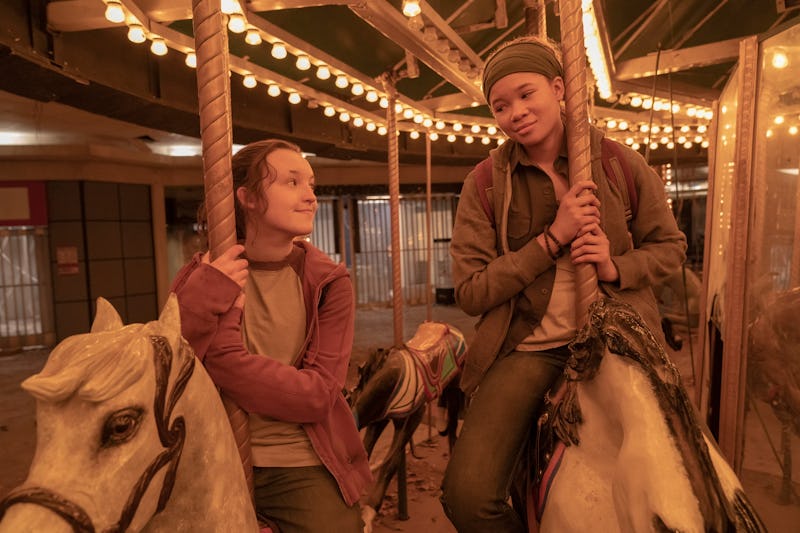 Liane Hentscher/HBO
Spoilers ahead for The Last of Us video games. In HBO's The Last of Us premiere, Ellie lashed out when Marlene asked if she thought Riley was a terrorist. The reason for Ellie's (Bella Ramsey) emotional reaction will finally become clear in Episode 7 when Storm Reid debuts as Riley Abel. Of course, fans have come to expect the show to break their hearts — and Reid already warned that Riley's episode will be no different. "I think people are going to be heartbroken when they watch [Ellie and Riley's] episode," she teased to CinemaBlend in January. "But it's so beautiful, and Bella is wildly talented."
Creator Neil Druckmann's video games revealed Riley and Ellie's tragic backstory in 2014's The Last of Us: Left Behind downloadable content (DLC). Based on HBO's Episode 7 preview, that's the storyline the show follows, too. The sneak peek teases Riley's introduction and her showing childhood friend Ellie the "four wonders of the mall," with the latter marveling at the lit-up abandoned shopping center. Other clues include the pair riding a carousel, Ellie discovering Riley is a Firefly, and what's likely to be an ill-fated encounter with an Infected. As viewers will remember, Ellie already told Joel (Pedro Pascal) and Tess (Anna Torv) that she was infected after sneaking into an abandoned mall in the Boston QZ.
In the DLC, Ellie and Riley have a fun day at the mall, including riding a carousel, posing in a photo booth, visiting an arcade, dancing to music from Ellie's Walkman, and eventually sharing a kiss. "When I was writing [Left Behind], I was writing it with the idea that Ellie is gay," Druckmann confirmed to popQT in 2016. "That was the subtext and intention that they were playing with from the opening cinematic when they're holding each other's hands for too long, or when Riley bites her on the neck; there's that chemistry there from the get go that was important for us so that we earned that moment when they kissed each other." Series co-creator Craig Mazin reportedly already promised fans on Twitter that the TV adaptation won't erase Ellie's queer identity, per CBR.
Riley soon changes her mind about joining the Fireflies, but their happiness is short-lived when a horde of Runners appear and attack the duo. Each saving the other's life at some point, Ellie and Riley are able to kill their infected attackers and escape. In the aftermath, however, Riley discovers a bite mark on Ellie's arm and reveals one on her own hand, too. Outraged, Ellie begins smashing flower pots, but eventually sits down next to Riley to discuss their seemingly doomed fates.
"The way I see it, we got two options. Option one: We take the easy way out. It's quick and painless. I'm not a fan of option one. Two: We fight," Riley, who's holding a gun, tells Ellie, who replies, "Fight for what? We're gonna turn into one of those things."
After a brief pause, Riley continues, "There are a million ways we should've died before today. And a million ways we can die before tomorrow. But we fight for every second we get to spend with each other. Whether it's two minutes or two days, we don't give that up. I don't want to give that up. My vote: Let's just wait it out. You know we can be all poetic and just lose our minds together."
Though Ellie asks if there's a third option, Riley simply apologizes and says, "Let's get outta here." Riley's death is never shown in the game, but it's established that she succumbed to the Cordyceps Brain Infection and died. While she didn't know at the time, Ellie is immune to the fungal disease and never turned, leading many fans to theorize that she had no choice but to shoot Riley, just as Henry had been forced to do to his little brother, Sam.
Only time will tell if HBO's adaptation portrays Ellie and Riley's tragic love story the same way, though.