Henry & Sam's Tragic The Last Of Us Episode Gutted Fans Once Again
"HBO, you'll be hearing from my lawyers to pay for my therapy."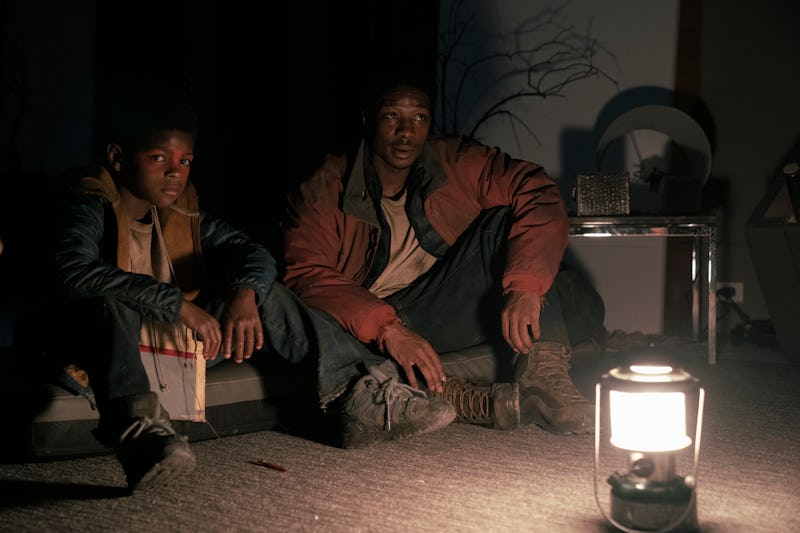 Spoilers ahead for The Last of Us Season 1. The title of The Last of Us' fifth episode — "Endure and Survive" — could easily be a mantra for anyone watching the HBO series. In the latest installment, viewers meet brothers Henry and Sam, who are on the run from a rebel group that "liberated" the Kansas City QZ. The reason? Eight-year-old Sam (Keivonn Woodard) had leukemia, and the only way to get him the life-saving medicine he needed was for Henry (Lamar Johnson) to make the difficult decision to become a FEDRA collaborator and turn in the ruthless Kathleen's (Melanie Lynskey) brother Michael, a "great man" who led the resistance movement in Kansas City (aka "Killa City").
The brothers hide out in an attic from revenge-seeking Kathleen for as long as they can, while Henry does his best to comfort his scared little brother, who is deaf. After encouraging him to decorate the walls of their hideout with crayon artwork of superheroes, Henry helps Sam feel brave by turning him into "Super Sam" and painting a red mask around his eyes. About 10 days later, Joel (Pedro Pascal) and Ellie (Bella Ramsey) roll into town with guns blazing, and Henry comes up with a plan to escape. Though he initially holds Joel at gunpoint, Henry later admits that he'd never killed anyone or been violent when they agree to help each other evade the rebels out of the city through a series of underground maintenance tunnels.
Though the foursome makes it outside the city unscathed, a sniper spots them and alerts Kathleen and co. who catches up to Henry, who begs her to let Ellie and Sam live. "I know why you did what you did," she replies. "But did you ever stop to think that maybe he was supposed to die? . . . Kids die, Henry. They die all the time." Though a horde of Infecteds — including a terrifying Bloater and child Clicker — emerge from a sinkhole and eventually kill Kathleen, her words soon turn out to be an omen for what's to come.
Once Joel, Ellie, Henry, and Sam find refuge in an abandoned motel, the two kids who have struck up a friendship, read comics, and have an honest conversation. Communicating via his Woody Woodpecker magic slate paper about their fears, Sam soon writes, "If you turn into a monster, is it still you inside?" revealing he'd been infected during the battle. Believing that her "blood is medicine," Ellie attempts to heal his wound and promises to stay awake with him. By the morning though, Sam succumbs to the cordyceps infection and attacks her.
After firing a shot at Joel's feet and some conflicted hesitation, Henry fatally shoots Sam to save Ellie's life. As the blood pools on the floor, Henry is overcome with grief for killing the one person who spent his life trying to protect. "What did I do? What did I do? What-what-what did I do? Sam?" he says before turning the gun on himself. After burying the brothers, Ellie leaves the magic slate on the dirt mound, writing only, "I'm sorry."
After the episode aired, Lynskey tweeted, "If [Lamar Johnson] and [Keivonn Woodard] did not break your heart tonight, you don't have one." But as The Last of Us viewers took to Twitter to react to Henry and Sam's story, it quickly became clear she wasn't the only one with a broken heart.
Pointing to fact The Last of Us had already included the gutting deaths of Joel's daughter Sarah, Tess, and Bill and Frank, viewers wrongly thought they might find a reprieve. "Every time i watch the last of us i think 'surely it can only go up from here' and then the most traumatic thing i've ever seen happens," one user tweeted, while another added that the post-apocalyptic series "has mastered the 'make you fall in love with a character and killing them that same episode' strategy."
Even fans of series co-creator Neil Druckmann's video game — who already knew the deaths were coming — were unwell.
Some of those who were still able to see their screens through tears, pointed out some more subtle, poignant moments, like when Henry appeared to mirror Sam's superhero facepaint, along with other parallels and changes from the Naughty Dog game. The show changed Henry's final line from telling Joel, "This is your fault," to the lament, "What did I do?," for example.
Twitter seemed to be in consensus that getting through each chapter has been an emotional experience, yet they're supposed to "carry on, pretending that episode of The Last of Us didn't break us completely."
If viewership numbers are any indication though, fans will return for another round of punishment nonetheless when The Last of Us Episode 6 drops on Feb. 19.
If you or someone you know is experiencing suicidal thoughts, call or text 988 to contact the 988 Suicide & Crisis Lifeline, which provides free 24/7 support. You can also reach out to the Trans Lifeline at 1-877-565-8860, the Trevor Lifeline at 1-866-488-7386, or to your local suicide crisis center.