These Ryan Gosling Barbie Bloopers Are Going Viral
"Her milkshake brings this boy to the yard."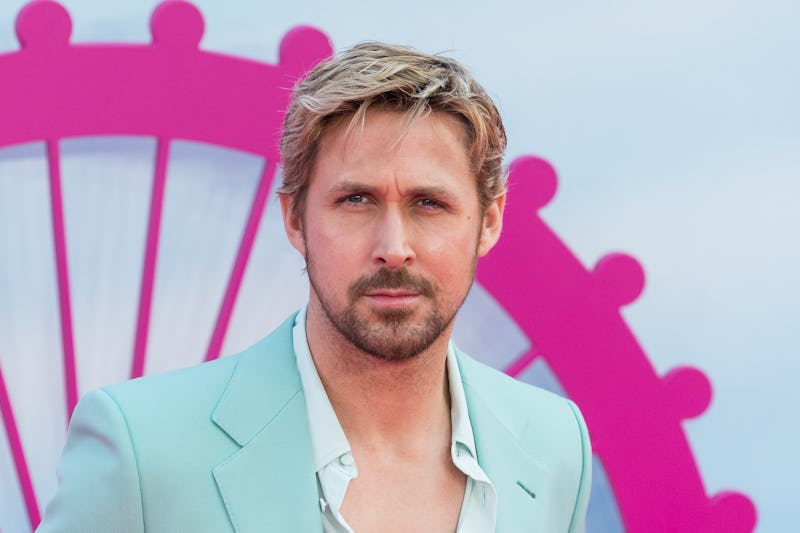 Anadolu Agency/Anadolu Agency/Getty Images
Bloopers of Ryan Gosling filming a key scene in Barbie with Margot Robbie are going viral on TikTok, in part due to Gosling's surprising reference to Kelis' iconic 2004 hit "Milkshake."
In the movie, Barbie shows up at her Dreamhouse (which Ken has taken over and renamed his "Mojo Dojo Casa House") to pretend to forgive Ken and tell him she's ready to become his "long-term, long-distance, low-commitment, casual girlfriend." He plays it cool before shutting the door and yelling, "Sublime!" It's a great line — but it apparently isn't the only one Gosling tried out on set.
As seen in a viral TikTok, one memorable take saw the actor yell, "Finally, my rainbow at the end of the storm!" and say Barbie kissed his soul. But it was when Gosling screamed, "Her milkshake brings this boy to the yard!" that everyone lost it — director Greta Gerwig laughed uncontrollably, and Robbie couldn't help but break character. The one person who didn't react hysterically was Gosling himself, who continued to improvise as Ken, going on to call Barbie "my divine girl."
Some viewers thought "sublime!" was a nod to the band, but like his quotes in the bloopers, Gosling also improvised that line — it just happened to be the take that made the final cut. In fact, the Oscar nominee improvised during several of his scenes in Barbie. In a July interview with the Associated Press, Robbie said Gosling was behind some of the film's most hilarious Ken moments.
"There were a lot of things that Ryan did that were spur of the moment, like he just did that on that take, like putting on the sunglasses twice — I didn't know he was going to do that," she said. "There was this one scene where he was throwing all of Barbie's clothes off the balcony and having a full meltdown. And they were such tricky Barbie names to say [...] Honestly, we were crying. I'm not exaggerating."
Robbie added, "To credit to Ryan, he made people cry with laughter multiple, multiple times in this film." Many fans had the same reaction, and some have even called that "sublime!" line one of the funniest parts of the movie.