Ryan Reynolds & Blake Lively Got Vaccinated & Now They're Trolling Each Other Again
Is anyone really surprised?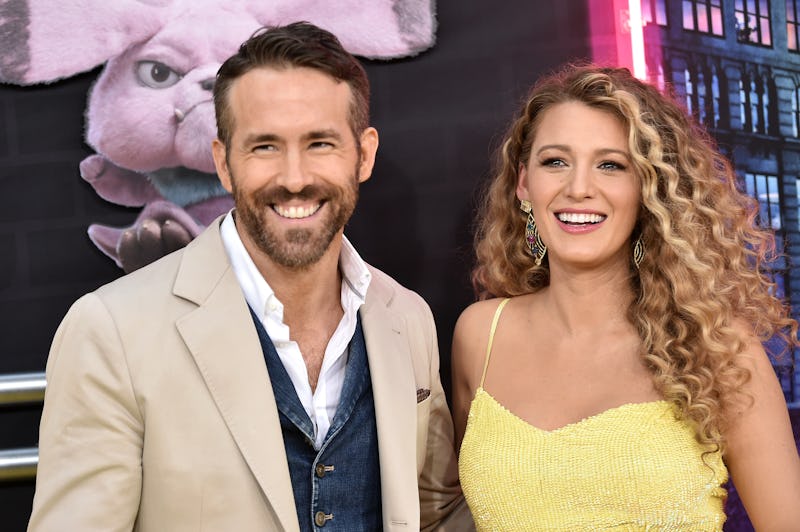 Steven Ferdman/Getty Images Entertainment/Getty Images
Couples that troll together, stay together. On Wednesday, March 31, Ryan Reynolds and Blake Lively got vaccinated against COVID-19 and, as all good celebrities would, they documented the monumental moment on Instagram. But of course, the married couple, known for trolling each other on the internet, couldn't help but continue the tradition of publicly poking fun at each other after getting their shots.
The Deadpool actor started yesterday's trolling session by not involving his wife at all. His first target? Conspiracy theorists who believe that those getting vaccinated are actually getting microchipped. "Finally got 5G," the actor wrote alongside a photo of him getting jabbed in the arm. Rather quickly, fans began playing along on Twitter. "At least you have great reception everywhere now," one person responded. "My wifi signal and TV reception have been so good since I got my vaccine," someone else wrote.
But alas, Reynolds got more than he bargained for when the jokes about 5G turned into jokes about his red hat. "Science is sexy," he wrote on his Instagram Stories. "The hat? Perhaps not." He then saw a wide-open opportunity to troll Lively and shared a side-by-side image of him next to a photo of her wearing a similar blue beanie on the set of her film, The Rhythm Section. "Who wore it better?" he wrote.
Of course, the Gossip Girl alum handed it right back to him, joking on her own Stories that Reynolds was trying to troll her while "lookin' like a Bernie meme & Life Aquatic With Steve Zissou had a hot *ss offspring." In addition to roasting her husband, Lively also shared a post on her feed expressing gratitude for the front line workers who've been administering the vaccine. "Find you someone who looks at you like I look at the heroic nurse vaccinating me," she wrote.
Later on, the A Simple Favor star doubled down on her appreciation for some of the health care workers and medical journalists who helped her get all the information she needed by reposting that same photo on her Stories with a more heartfelt message. "Thank you @jessicacamalatyrivera for a year of scientific information and the confidence to make the decision to be vaccinated as soon as it was available to me," she wrote. "And thank you @lapookj. The many years of thoughtful and empathetic medical reporting that you do has led me here. I couldn't be more grateful."