Salma Hayek's Pet Owl Threw Up On Harry Styles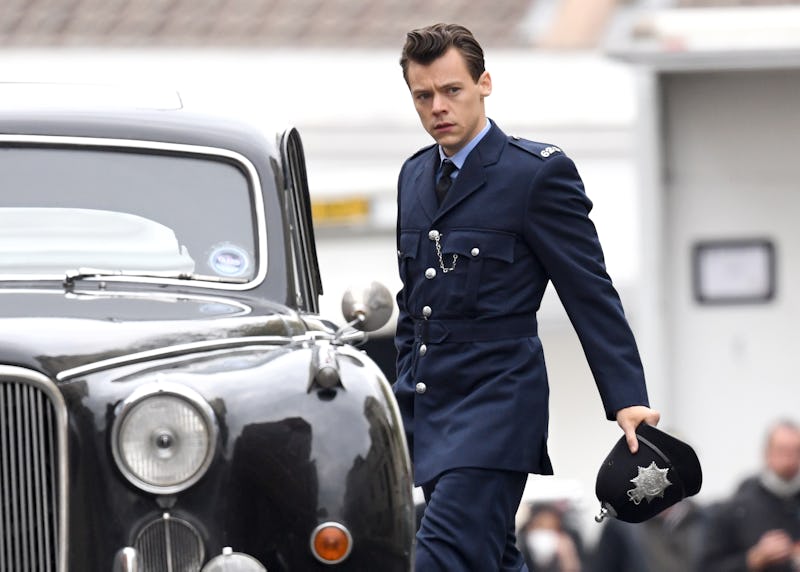 Karwai Tang/WireImage/Getty Images
In case you didn't know, Eternals star Salma Hayek owns a pet owl named Kering. The adorable bird is named after her husband François-Henri Pinault's company, which uses an owl for its logo, and Hayek originally gave it to him as a Valentine's Day present. It has since become one of Hayek's closest pals, to the point where it even sleeps in the same room and "comes and snuggles" with her when her husband is away.
Owning an owl, however, comes with a unique set of challenges, the Marvel star recently revealed on The Ellen DeGeneres Show. That includes the time when Kering met a "very important" celebrity and ended up vomiting on top of his head. "There's this ball of hair that comes out of their mouth [after eating]," Hayek explained. "One time there was a very important celebrity — I will not say his name — and he was really excited about the owl and was hoping that the owl would go on his head because it was on me."
Once the owl finally decided to land on the star, Hayek shared that Kering then proceeded to spit out a "ball of rat hair" directly on top of his head. When later asked about the identity of the celebrity who had received the lovely gift, Hayek caved and said that it was Grammy winner Harry Styles. "He was super cool, even with that happening," she said. "He's so good. He's the best."
This isn't the first time that Kering has surprised people who have come to visit Hayek's home. According to Hayek, the owl "lives among the house" and can fly and perch to its heart's content, which often leads to some hilarious encounters from shocked guests who aren't expecting to see it. "Sometimes people come to work on the house or something and it's so funny," she said. "I've seen really big guys, workers, that all of a sudden she flies on top of them and they [scream loudly]. Not even with a snake can they get so scared because they're not expecting it. I find it hilarious. I love it. I don't do it on purpose, but when it happens I do enjoy it."
The owl made a brief appearance during the interview, sitting on Hayek's shoulder for a moment before it decided that her laptop looked much more comfy. "This is what happens when I'm watching television," Hayek exclaimed, lifting up a nearby mirror to show DeGeneres that the bird was now resting top of her computer screen. "This is how I watch television, with an owl on top of my computer or my iPad."
Whether it's throwing up on Styles' head or mistaking Hayek's toes for mice when she's asleep in bed, one thing is for sure: Kering is truly a hoot.