Savannah From The Circle Already Has An Advantage In The Competition
Get to know the Season 2 contestant gunning for that $100,000.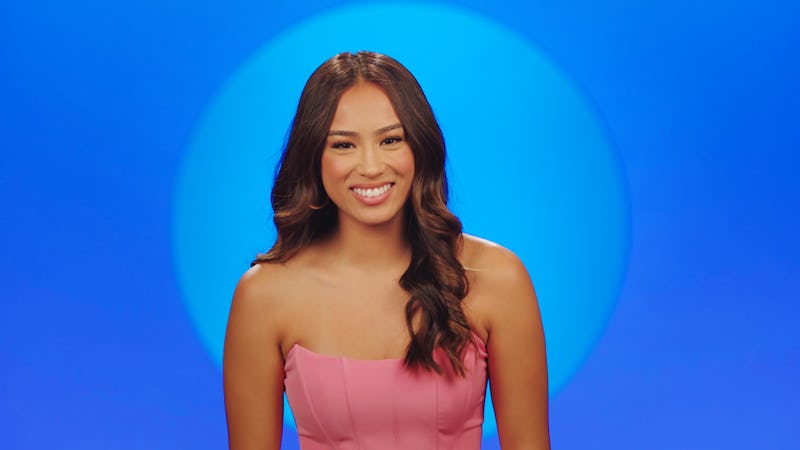 Courtesy of NETFLIX
When Netflix aired the first U.S. season of The Circle in early 2020, no one could have known how prescient the set-up of the show would be. In order to compete in the popular competition series, contestants are isolated in their own individual apartments and only able to communicate with each other through social media — aka what we've all been relegated to doing for the last year. But even 13 months of pandemic-induced isolation hasn't lessened the excitement for Season 2.
With the premiere around the corner, it's time to get familiar with the new cast — all of whom will have to navigate catfishing, blocks, and other surprise twists in order to win the $100,000 grand prize. When it comes to garnering social media followers and likes, Season 2 contestant Savannah Palacio has a head start: she's already an influencer and digital creator.
Savannah's Job Is Perfect For The Show
Savannah, 25, introduces herself on The Circle as a data researcher on Capitol Hill. "My job is a little lackluster, but my personality is quite opposite," she explains. "I'm fun, I'm social, I love glitz and glam."
To that end, Savannah revealed in a recent interview that she made the decision to pursue a career as an influencer during her last semester of college. Her social media presence took off quickly, and within a year she was able to move out of her mom's house and into her own apartment. Despite the assumptions that people often make about working as an influencer, Savannah quickly learned that it's a time-consuming job. "I was answering all the emails myself and doing all the planning. There's so much more that goes into it than just taking a photo," she said.
Savannah's Instagram Is Only Part Of Her Social Media Platform
Savannah has 215,000 followers on Instagram, where her posts typically include sponsored posts or partnerships with beauty, wellness, and lifestyle brands as well as OOTD photos.
In addition to her Instagram presence, Savannah actually has an even bigger following on TikTok, where she has 612,000 followers and counting. Her TikTok presence also centers around beauty, wellness, and lifestyle content, but includes more humorous videos as well as personal content too.
On top of that, Savannah is an active vlogger on YouTube, where she recently started posting on her channel again after approximately a year off. Her newest videos include weekly vlogs, a video about how she grew her Instagram following, and one about her self-care routine.
Savannah isn't the only member of the Season 2 cast of The Circle who is well versed in social media — there are a handful of other contestants whose work revolves around their social media in some capacity — but she has one of the largest social media followings of this season's cast. We'll have to wait and see if that experience gives her a leg up on the competition or makes it harder to play the game.