Alia Shawkat Is More Than Maeby
The Search Party star on growing up on Arrested Development, and what even well-meaning men don't understand about harassment.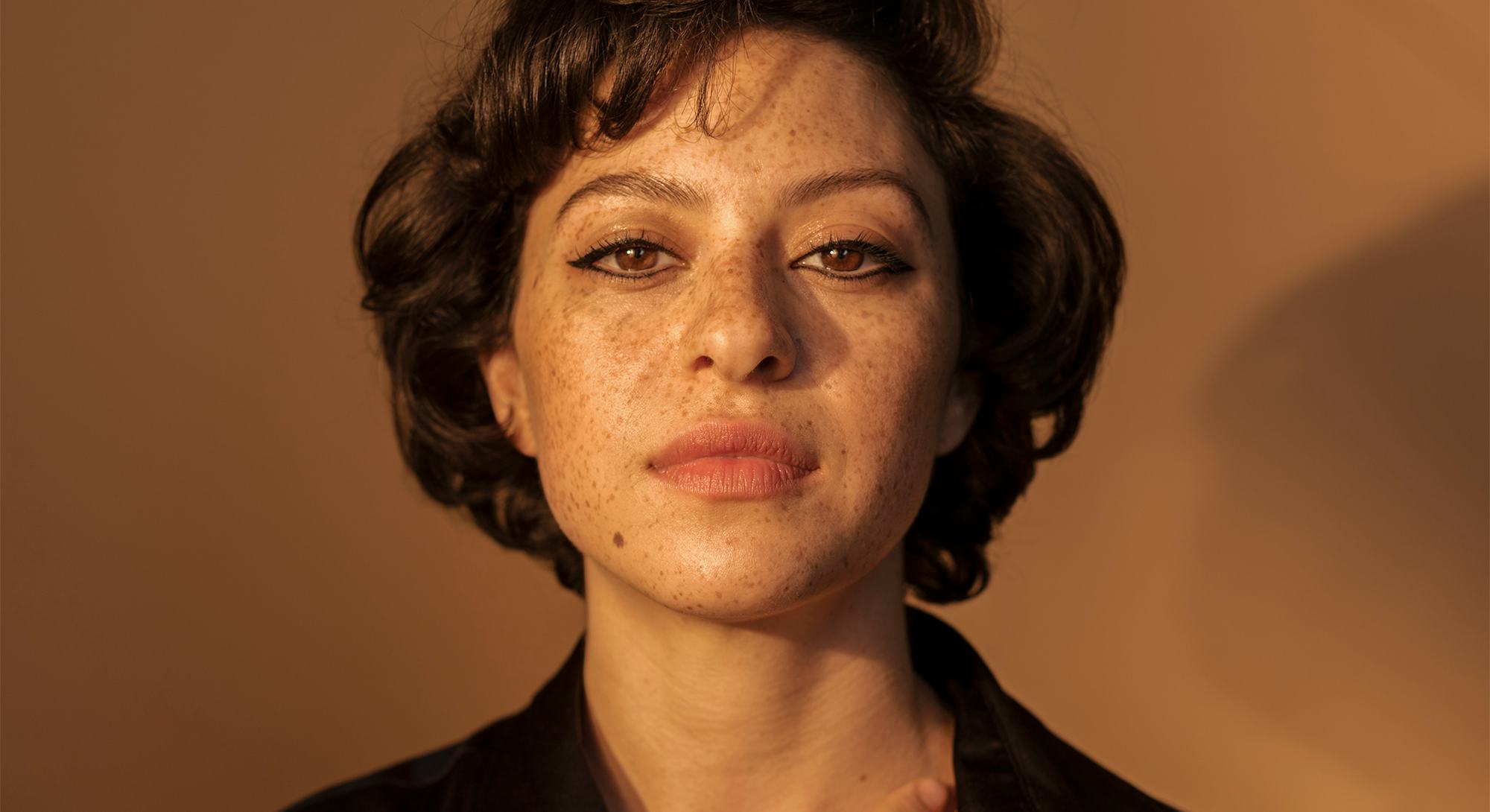 Ashley Batz/Bustle
Picture a modern-day renaissance woman: She's an actor who embodied a bold character for years on a beloved cult TV show, a child star who somehow managed to grow up untainted by Hollywood's circus culture, a gifted artist who's been sketching deranged ink portraits of Donald Trump long before he took office, a smoky-voiced alto who once performed at New Orleans' legendary Jazzfest, and an Arab-American activist who came out as bisexual and marched in the Women's March last winter. Her uniform, at least on this crisp November day in New York at Bustle's offices, is a chocolate-brown wrap top and the most badass pair of lime green leather trousers I've ever seen.
Alia Shawkat has the preternaturally chill vibe of the kind of person many women aspire to be. She's smart, talented, and confident, but unshowy about her accomplishments. At Shawkat's suggestion, the warm sounds of 1950s jazz harpist Dorothy Ashby waft through the speakers in Bustle's photo studio — lately she's been toggling between relaxing jazz music like this and upbeat rap from someone in A$AP Mob — and it's easy to see how her sense of ease in new environments (never mind her quiet confidence in grabbing the aux cord) often gets her cast as characters who are self-assured scene-stealers.
Ashley Batz/Bustle
Ashley Batz/Bustle
Since taking the role of the mischievous smart-aleck daughter of the Bluth clan Maeby Fünke on Fox's then-underrated Arrested Development at age 13, Shawkat, now 28, has carved out a niche for herself in playing the types of characters "that have a good head on their shoulders but are sassy and not the hot girl," as she puts it. "But they're the cool girl, or like, they're the fun best friend."
It's flattering, she admits, to essentially get typecast to play the edgiest girl in the room — someone like Lila, the young, impossibly hip, sexually fluid preschool teacher who enters into a throuple with Sarah (Amy Landecker) and Len (Rob Huebel) on this season of Transparent, or Adele, Ilana's equally bold doppelgänger love interest on Broad City. (Her character's fatal flaw in the Broad City world? Not smoking pot.) But after years of even semi-flattering typecasting, Shawkat relished the chance to play the lost 20-something wallflower Dory on TBS's Search Party, because she gets to embrace a quality that hardly anyone would describe her as possessing: passivity.
Search Party, TBS's still criminally underrated series, the second season of which premiered Nov. 19, follows Shawkat's Dory, an aimless New York personal assistant who's so unsatisfied with her life that she attempts to find purpose by setting out to uncover the mystery of an old classmate who disappears. With the help of her friends, a gaggle of painfully spot-on millennial stereotypes, the first season ends with one of the most well-executed twists this side of The Good Place — one that does irreversible psychological damage to Dory and her friends while questioning the very nature of why we're drawn to other people's tragedies in the social media age.
It's refreshing to watch Shawkat in a starring role as a doormat, all wide eyes and non-confrontational mumbling, as Dory works to contain the shockwaves of what can only be classified as a huge mistake. Yet even after spending so much time watching Dory paralyzed with fear, it's hard not to imagine how spunky Maeby Fünke, fresh off conning her way into a job as a film producer on Arrested Development, could probably storm onto Search Party and take charge of the situation where Dory couldn't.
As a kid growing up in Palm Springs, California, Shawkat, like many young girls of a certain age, fell in love with the '90s Nickelodeon sketch show All That. Watching it convinced her that she, too, could entertain people on TV. Though she never got the chance to audition for her favorite show, at 9 she did nab an audition for Amanda Bynes' All That spinoff, The Amanda Show.
"I was so excited. I remember I had like orange and green cargo pants on, a Limited Too shirt, got my hair crimped," Shawkat says. "I was like full 2001. I was so in it. I was like, 'I'm going to nail this audition.'" She brought three impressions to the audition, and though she can't quite remember what they were, she thinks one involved a questionable Chicana accent ("They're like, 'So cute! So racist! So cute!'") and another was "an old Jewish mother kind of voice." Imagine what could have been! "It's so f*cking weird," Shawkat says, clearly still amused. "I would pay so much money to see that tape."
Ashley Batz/Bustle
Ashley Batz/Bustle
Despite growing up as a working child actor — her first big role came as one of two child stars on Fox Family's short-lived State of Grace (the other star, Parenthood's Mae Whitman, would go on to become Shawkat's Arrested co-star, playing Michael's girlfriend Ann) — and landing the role of Maeby in Arrested at 13, Shawkat has somehow managed to grow up working in Hollywood while maintaining a healthy cynicism about the industry, something she partially attributes to the fact that she continued living with her family in Palm Springs while commuting to L.A. to shoot Arrested. And though she has show business in her blood — Shawkat's maternal grandfather was the actor Paul Burke, who was nominated for two Emmys for his work on the ABC series Naked City — Shawkat's parents were always careful to remind her of the pitfalls of the industry.
"My mom was always like, 'You know this is bullsh*t, right?' Like at a very young age [...] She was like, 'Watch out for it, because it's not real.' It was the best," Shawkat says, growing more animated. "Tell every kid actor. I just want to shake them and be like, 'It's not real! You hear me? Wake up!'" By the time she was high-school age, she and co-star Michael Cera, in true Maeby and George Michael fashion, watched the chaos of Hollywood parties from the sidelines.
"Me and Michael would go to parties and drink cranberry juice and nobody knew who we were," Shawkat says. "It's like we had a glimpse from the outside." Shawkat has carried that healthy sense of nonchalance in the face of attention into adulthood — she still calls them "Hollywood parties" that she has to make obligatory stops at for work — and has no illusions about the industry's often transactional friendships. "They're not genuine," she declares without hesitation. "There are fascinating people in the arts, and it's cool to meet people. But everyone definitely turns on a smile when you're doing well."
The complications of working in an industry built on transactional relationships have been put in even sharper relief these past few months, amid the post-Weinstein stream of allegations against a coterie of powerful men in Hollywood. "It's like world therapy is happening," Shawkat says. She's still leaning back on a couch, but when she starts talking about the topic, her voice has the urgency of an actor making an impassioned soliloquy. While she doesn't address any specific man or instance of abuse, Shawkat eagerly launches into a discussion of everyday mistreatment she's experienced as a female working actor, and the misconceptions even her most well-intentioned male friends can end up making about sexual harassment.
"There's a lot of men too, very good friends of mine who have nothing to worry about. They've never done anything predatory, but they're like, "So why didn't you stop it? Why didn't you go, 'Gross. Stop!'?" she says. "That's the core of the question. The fact that they're like, 'Well, if someone did something like that to me, I'd just go, Stop, dude. You're freaking me out.'"
She finds herself telling them all the same thing — they don't understand the power dynamics or level of embarrassment and shame involved in an assault. "There's so many levels that men will never understand because they weren't looked at that way their whole lives," Shawkat continues. "That acknowledgment is what is changing. It's like slowing down a car that's going so fast. Easy, slowly, one step at a time. Everyone's like, 'Well, why are we stopping?!'"
This reckoning has compelled Shawkat to speak up on a myriad of issues in a way she had previously shied away from. "There is something about having a platform that before I was kind of like, "Oh, I'm an actor but whatever. I'll do the work, but you don't need to know about my life," she says. But the election of Donald Trump and our increasingly polarized political and popular culture compelled her to follow her interest in activism. She joined hundreds of thousands of people in Washington, D.C., at last winter's Women's March, and recently spoke about reclaiming the depictions of women's bodies on screen at the Women's Convention in Detroit. She's unapologetic about seeing an inextricable link between present-day politics and her art, no matter what form it takes. "If you're a real artist, you're definitely affected by what's happening," Shawkat says. "You're not able to make the same thing you did a year ago because you're like, 'I feel different.'"
Ashley Batz/Bustle
Ashley Batz/Bustle
While the Trump era so far not been lacking for drama, it has been lacking a worthy rival family of real-estate magnates. And who is more qualified to fill that void than the Bluths? Shawkat is happy to divulge that Season 5 of Arrested Development, which she shot this summer, reunites the whole Bluth clan more frequently than Season 4's uniquely structured 2013 revival did. It also will have an inevitable political bent — after all, Season 4 turned out to be quite prescient in its chronicling of the Bluth's efforts to build a border wall.
"It's definitely mocking the First Family a lot," Shawkat says, cautiously trying not to give too much away. "A lot of characters end up kind of playing certain political figures in the White House right now." While she only offers vague clues about Maeby's role in the upcoming season, she's happy to note that since Maeby will be doing a lot of sneaking around in disguises this season, her wig game is apparently very strong.
"There were three different wigs I had to wear and complete different character changes, which was super cool. I've never gotten to do that. It was like the f*cking Tracey Ullman Show over there," Shawkat says with a grin. "I was like, 'Who am I today?'" Maeby's identity on Arrested may always be morphing, but here in the real world, we have a pretty clear picture of the many facets of Alia Shawkat.
Hair: Seiji at The Wall Group using Oribe
Makeup: Julie Harris using Charlotte Tilbury/TraceyMattingly.com