Sergei From Pressure Cooker Works At A Celeb Favorite Restaurant In California
He takes pride in his "punchy and strong" culinary style.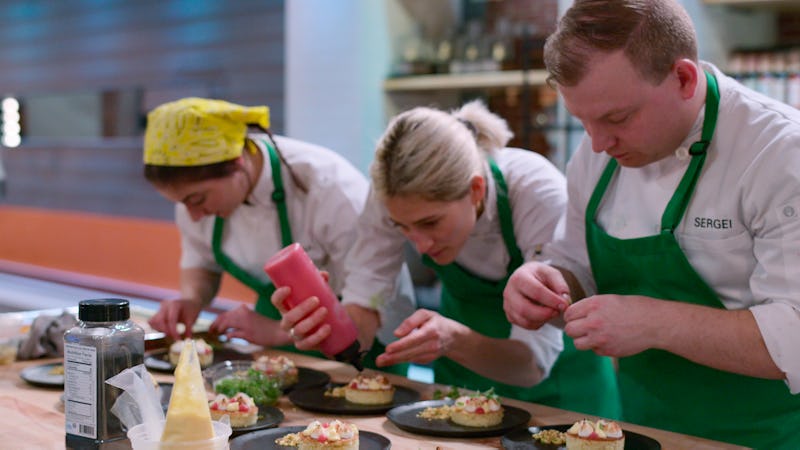 Netflix
Netflix's new kitchen competition show, Pressure Cooker, is like a delicious hybrid of Big Brother and Top Chef — encouraging contestants to not only cook their best but strategize and form alliances (or play the occasional mind game), too. It's no surprise, then, that the format attracts chefs with memorable personalities, such as Sergei Simonov.
During his introduction on the show, Sergei opens up about his "punchy and strong" culinary style. "I want to make sure everyone knows Sergei's here ... for the big, bold flavors," he says. Of course, that boldness sometimes translates to Sergei's interactions with the other chefs. In Episode 1, for example, several of Sergei's fellow chefs seem to roll their eyes when he mentions working with celebrity chef Brian Malarkey; in another moment, one contestant says Sergei is being "bossy."
In a recent interview with the Santa Barbara Independent, Sergei acknowledged that he's still working to hone some kitchen skills — the kind that doesn't directly involve the food itself. "Cooking's easy," he said of his job as an executive chef. "It's all the management and the dealing with people and numbers that I'm learning."
Here's everything to know about the Pressure Cooker contestant, including the restaurant where Sergei works at.
Sergei's Job
As he mentions during his introduction on Pressure Cooker, Sergei's job is that of executive chef. He sees the role as an advantage over his opponents who work as private chefs and don't serve quite as many people. "They don't get to feel the heat and the burn of the kitchen and the line," he explains. "I'm one of the few that we do 500 to 600 covers a night."
Sergei's job has taken him to the TV kitchen arena before Pressure Cooker. He also recently competed on Chopped Next Gen and came in second place.
Sergei's Restaurant
When he's not competing on screen, Sergei works at Loquita in Santa Barbara, a Spanish restaurant with a special focus on "hot and cold tapas, wood-fired grilled seafood and meats, and seasonal paella," per its website.
According to Visit California, Natalie Portman and Jason Segel are a few of the celebrities who have dined at Loquita.
Sergei's Instagram
In addition to being featured on Loquita's page, Sergei also uses his personal Instagram account to share kitchen photos — and requisite glamour shots of the food itself.
Though he's been a chef for more than a decade, Sergei's role at Loquita is fairly new. In fact, he announced the career move in an August Instagram post. He went to culinary school in the area, he told the Santa Barbara Independent, and recently returned for a new job alongside his partner, Joey. Like Sergei, she's involved in the culinary arts as a pastry chef. According to Sergei's profile, they've been together since at least 2014.