Netflix's Pressure Cooker Is A New Kind Of Reality Cooking Show
Bustle has the exclusive first look at the Pressure Cooker trailer.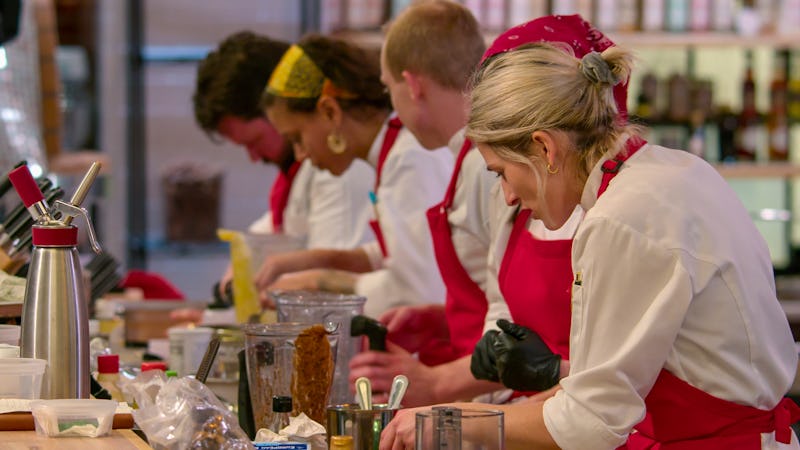 Netflix
If holiday dinner prep and cookie baking have worn out your culinary muscles for the time being, there's no better balm than watching other people scurry around a hot kitchen for a change. Enter Netflix's Pressure Cooker. The new reality cooking series will be one of the streamer's first shows of the new year, combining elements of cooking competitions and stuck-in-a-house-together reality shows. Think Top Chef meets Big Brother.
The series brings together 11 professional chefs who must live together while cooking their way through several contests. "And if that wasn't enough stress, they'll also need strategy to balance impressing their peers while watching their own backs," the streamer's synopsis states, "because in the Pressure Cooker there is no panel of judges. The chefs judge each other." Ultimately, they're competing for a grand prize of $100,000.
Putting the power in the chef's hands, as opposed to a lineup of celebrity judges, adds a fun twist to Pressure Cooker. Of course, that means there's going to be some drama — and for those who love the strategy-driven elements of popular competition shows, there's plenty of crafty gameplay and alliances to look forward to, as well. As one contestant puts it in Bustle's exclusive first look at the show, "It's not just about food, and the sooner we realize that, the sooner we can start actually playing this game." In lieu of a traditional host, challenges seem to come from a ticket printer — which may be familiar to anyone who's ever worked in a kitchen (or watched The Bear).
You can watch the full trailer below:
Fortunately, you won't need to wait too long to dig into Pressure Cooker; the show drops Jan. 6 on Netflix. And if you feel like watching the whole season in one sitting, you can do that; unlike some other Netflix reality shows (think The Circle or Love Is Blind), all eight episodes of Pressure Cooker will be streaming at the same time.
In the meantime, you can start scoping out the lineup of contestants — some of whom may be fairly familiar to those who already love watching cooking competition shows. As Delaware Live reports, for example, private chef Robbie Jester is one contender with a pretty impressive TV resume.
He's competed on Beat Bobby Flay (on which he did, indeed, beat Bobby Flay) and on Guy's Grocery Games with Guy Fieri, too.