SEVENTEEN Went Dark On Their Newest Album — & It Paid Off
"I am proud ... to see that Korean culture is under the spotlight on a global level. There are so many masterpieces that deserve attention."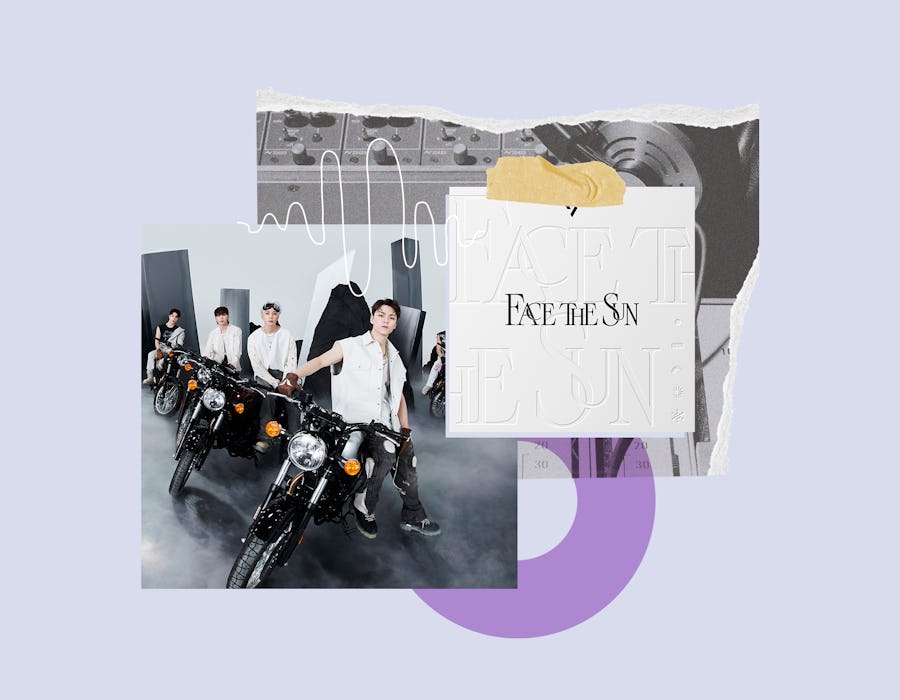 Try pinching Seungkwan of SEVENTEEN, but he's not dreaming. His 13-member South Korean supergroup's fourth studio album Face the Sun just debuted at No. 7 on the Billboard 200 albums chart, reaching a Top 10 spot alongside one of SEVENTEEN's music idols: Harry Styles. "[Harry's] music feels like it's reached the point of what music should be ideally," Seungkwan tells Bustle. "Just seeing him taking charge of his creative freedom also makes the listeners happy."
Similarly, SEVENTEEN's creativity on Face the Sun has made their fans — the CARATs — and new listeners happy. With this album, which resulted in the group's career-high ranking on the Billboard 200, SEVENTEEN has ushered in an era with a wider global reach by releasing their first English single ("Darl+ing"), "shedding" their old image, and delivering a maturer project. The visuals are darker and edgier, a departure from their familiar cutesy, pastel imagery. Tonally, the songs are more experimental. The lead single, "HOT," opens with Western guitar riffs that call to mind saloon visuals, while "March" and "Don Quixote" have rock undertones.
Weeks before releasing Face the Sun, SEVENTEEN let fans in on their deepest fears. In a series of eerie teaser videos titled "13 Inner Shadows," each of the members — S.Coups, Jeonghan, Joshua, Jun, Hoshi, Wonwoo, Woozi, The8, Mingyu, DK, Seungkwan, Vernon, and Dino — revealed what scares them most. "Only when we can admit it, can we overcome it," Hoshi says, citing his video confessional of a fear of repetition. Amid the isolating lockdown in 2020 and 2021, the band also feared for their future, despite staging a popular online concert and dropping their Attacca mini album. "Our focus shifted to the absence of everything we previously enjoyed and fears about what lies ahead," Mingyu says. "Face the Sun is a record of those times."
SEVENTEEN has been a collaborative powerhouse since they debuted 17 Carat in 2015. Grouped in three main units (vocal, performance, and hip-hop), members co-write, co-produce, and even co-choreograph songs. On Face the Sun's nine tracks, they narrate discovering and coming to terms with one's dark side and being reborn anew. The final track, "Ash," a trap-meets-hip hop standout, captures that perfectly with the lyric, "Metamorphosis born in fire, then I fly away." Part memoir, part manifesto, Face the Sun isn't just a chronicle of their metamorphosis, it's a call for it.
"I am proud to see that Korean culture is under the spotlight on a global level. There are so many masterpieces that deserve attention."
After Face the Sun came out on May 27, Hanteo Chart reported that the album sold more 2 million copies, making SEVENTEEN only the second group to hit the milestone after fellow global sensation BTS. On June 25, SEVENTEEN will star their Be The Sun world tour, which begins in Seoul, Korea, with stops in the United States. Their next goal? The Grammys.
Below, SEVENTEEN discusses their new album, their English-language single "Darl+ing," the songs they are most proud of making, and the process for using Easter eggs in their videos.
On Making Face the Sun & Picking The Songs They're Most Proud Of
The world has its eyes on Korean media. How does that affect the group in terms of making music and feeling pressure?
Seungkwan: I am proud and happy to see that Korean culture is under the spotlight on a global level. There are so many masterpieces that deserve attention. It doesn't come across as pressure to us, but as one of the artists that represent K-pop, a huge part of Korean culture, we will always strive to deliver better music, performances, and content.
What do you imagine your fans feeling when listening to Face the Sun?
S.Coups: We want our listeners to take away a sense of courage from the album. We might be affected by different sets of fears, but it's only normal that we are all afraid of something. I hope the album reminds you that these inner shadows are a part of everyone's story and [helps] you build the courage to conquer your fears.
What song are you most proud of?
Hoshi: I'm proud of all our songs, they're all our work. If I had to choose, it would be "Ash" from this album. It's a style of a song SEVENTEEN have not tried before, but it turned out really well.
Jeonghan: "To you" from our previous EP Attacca makes me happy whenever I listen to it, I don't know why though.
What was the moment you felt like a musician?
Vernon: I'm not sure I consciously think of myself as a musician. I am a K-pop idol that has the freedom and the support needed to fully explore music.
What job would you have if you weren't making music?
Dino: I don't think I would have swayed much from music. Perhaps a creative director?
The8: A breakdancer.
On Choreographing & Knowing Every Word To A Certain Bruno Mars Song
You've been together for nine years. Do you have any traditions when creating or performing songs?
Woozi: I don't think we have a set pattern or a tradition other than spending enough time with one another. Over the years, creating a song or a performance has become a way of life for us. It's so deeply ingrained in our lifestyle that the process happens naturally when we spend time together. For instance, we would be playing a game and a member would suggest, "Hey, we could incorporate this into our choreography."
What's the weirdest way a song or choreography came to be?
Hoshi: There is this part in our choreography for "Don't Wanna Cry." I was on my way back home after practice, and I saw street lights go off one by one. It felt like the perfect setting for the lyrics "This familiar road, it feels unfamiliar." For that segment of the song, we 13 members form a street with light poles as a part of the performance.
What lyric do you love the most?
Wonwoo: From SEVENTEEN's song "Smile Flower": "Whenever and wherever we are, even if we can't be together, as always, we make our smile flowers bloom." I love the warm feeling the lyrics radiate.
What's the song you grew up listening to that you still know all the words to?
Joshua: I know all the words to Bruno Mars' "Just The Way You Are." It was always on the radio when I was in high school, so I listened to it a lot.
What's your go-to karaoke song?
DK: I always sing DK's "Go!" — my own song! I hope it becomes everyone's go-to karaoke song.
On Creating "Darl+ing" & Sprinkling Easter Eggs In Music Videos
"Darl+ing" is your first English-language single. What made you decide to release one?
Joshua: [It's] been in our plan for a long time. A lot of our fans — CARATs — whose native language isn't Korean put a lot of effort into understanding the messages we convey, and we always wanted to try harder to reach out to them. Some of the members found pronunciation a bit hard at first, but we all enjoyed the process. It's become a song we hold close to our hearts.
The video for "Darl+ing" included clues about the rest of Face the Sun. What's the process like for including Easter eggs in videos?
The8: Starting with the music video for "Darl+ing," the trailers for Face the Sun, to the music video for "HOT," there are lots of stories involved and motifs that serve as a connection between the stories. It felt meaningful to leave room for interpretation so we didn't provide an explanation for them. It's also been a fun ride for us to see the many different interpretations that stem from one album.
The song makes use of such a sweet nickname. Who has the most interesting nicknames?
Vernon: My personal favorite is 'Eight-ah' for The8. People close to The8 simply call him "Eight-ah" [Adding 'ah' at the end of a name to call someone in an affectionate manner in Korean]. We had a new staff member join us once. He heard us call The8 'Eight-ah' and he actually thought The8's name was "Asa." We found that really funny.
Dino: "The Future of K-Pop" is a nickname of mine I really like.
Several songs on the album — like "IF you leave me," "'bout you," and "March" — are all calls for CARATs to stay with you. Why is that?
DK: A lot of our songs are dedicated to our fans in one way or another because they are now an indispensable part of who SEVENTEEN are. It also has to do with returning to the concert stage after a long period of getting to fully understand the value of interacting with our CARATs.
Is there anything better than a post-performance high?
Jun: I don't think there is anything that can replace the excitement of a performance and a post-performance high.
You're starting your U.S. tour in August. What are you looking forward to the most?
Mingyu: I want to walk around all the neighborhoods we are visiting. I would also love to explore the area spontaneously, walking into a restaurant I come across on the street to try out local delicacies or restaurants that are well-known.
Woozi, you co-wrote all of the nine tracks. What is the song that's most meaningful for you?
Woozi: All our tracks mean so much to me. Collaborating with the members on new music and performances takes up a huge part of our conversations in everyday life and it's always an ongoing process. In a way, the way we work together so organically is special on its own.