Sex/Life Season 3 Could Focus On This Area Of Billie's Life
Here's everything to know about the (potential) next installment.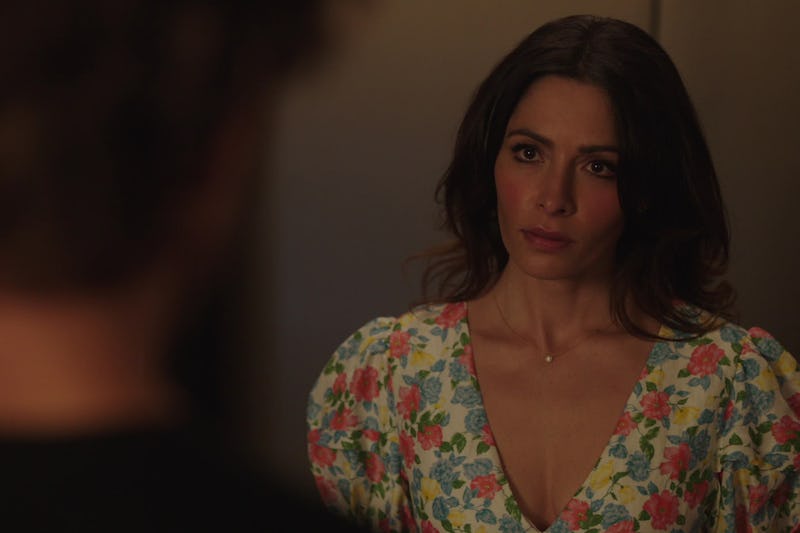 Netflix
Sex/Life Season 2 dropped on Netflix March 2, expanding on Billie's journey of motherhood, relationships, and personal fulfillment. After last season saw Billie divided between her suburban life and marriage, and her steamy former flame, Brad, Season 2 saw her take an active role in choosing her path forward. But after you've breezed through the latest batch of episodes, will there be a Sex/Life Season 3?
Netflix hasn't announced whether Billie's romantic quandaries would continue in a potential Sex/Life Season 3. For reference, Season 2 was confirmed in September 2021, two months after the first installment debuted — so keep an eye out for renewal news in the next few months.
Whether or not Sex/Life gets renewed, the show has already changed the lives of the people who star in it. Sarah Shahi and Adam Demos started dating after starring as Billie and Brad, respectively. "We met in the makeup trailer and we just got on instantly," Shahi told People. "We had the exact same taste in music. We had the same taste in whiskey and tequilas and I was really blown away by him just as a person and all I knew was that I wanted more."
Fortunately, more seems to be in the cards for the couple. As early as spring 2021 (i.e., before the show even premiered), Shahi called Demos her "soulmate" and "forever" in an Instagram post — and more recently, the pair has sparked marriage rumors.
And as for their onscreen counterparts? Here's everything to know about a potential Sex/Life Season 3 so far.
Sex/Life Season 3 Cast
An official cast announcement won't arrive for a while, but you can likely plan to see the core cast again if there's a Sex/Life Season 3. It wouldn't be the same without Shahi and Demos as Billie and Brad — or Mike Vogel and Margaret Odette as Cooper and Sasha, respectively.
Sex/Life Season 3 Plot
Plot details about a potential Sex/Life Season 3 are open to the imagination, but there's a lot to be hopeful for (aside from, of course, the inevitable steaminess). One potential story area could be Billie and Cooper's evolving family unit. "He is the father of her kids, so naturally she wants to see him win in some way," Shahi told TV Insider of the pair's journey in Season 2.
In a 2021 Instagram story, creator Stacy Rukeyser said she planned to continue showcasing motherhood on the show. "That is where I start from as a writer," she said. "And was so much the reason for wanting to do this show." Season 2 followed Billie's journey as a single mom, so it makes sense that future installments would do the same.
Sex/Life Season 3 Potential Premiere Date
Here's hoping the wait for a potential Sex/Life Season 3 is a little shorter than the last gap — which spanned nearly two years. "I'm not sure what caused the delay," Shahi told TV Insider, adding that there was "a lot of emphasis ... and a lot of back and forth" about nailing the Season 2 storytelling.
Filming for Season 2 happened last spring in Toronto, Narcity reported at the time, and the season premiered nearly a year later. If the next installment follows suit, you can likely expect Sex/Life Season 3 to premiere in early 2024.
This post will be updated with the trailer, release date, and additional plot details as more information on Sex/Life Season 3 becomes available.