Sex/Life's Sarah Shahi & Adam Demos Are Still Madly In Love & Possibly Married
The couple has sparked marriage rumors ahead of the Season 2 premiere.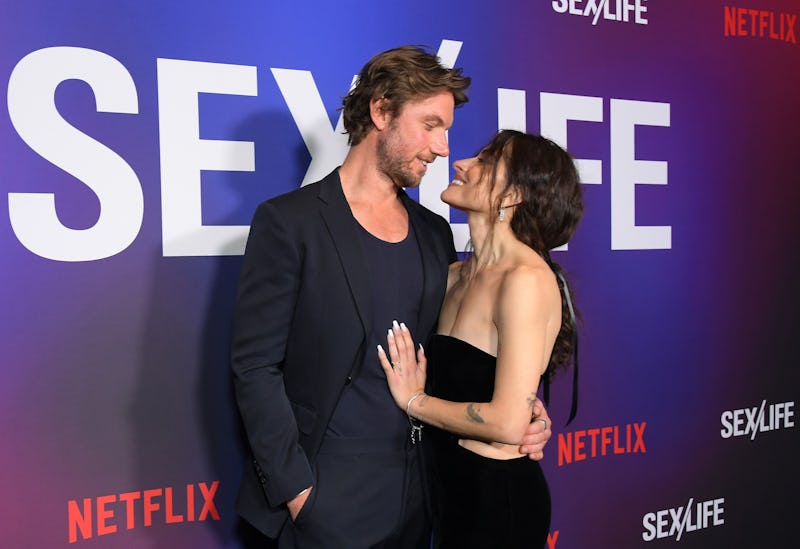 Charley Gallay/Getty Images Entertainment/Getty Images
All everyone can seem to talk about (especially Deuxmoi) is Netflix's latest steamy hit Sex/Life — and how the sexual chemistry between two of the show's stars is actually ... real. Yes, Sarah Shahi and Adam Demos are a couple in real life, and nobody caught on until the series started streaming on Netflix in June 2021. The hit show focuses on Billie Connelly (Shahi), a suburban wife and mother who doesn't feel content in her marriage with husband Cooper (Mike Vogel) and starts to reminisce about her life in New York with ex-boyfriend Brad (Demos), resulting in a sexually charged love triangle involving her husband and the man who broke her heart.
Evidently, the connection between 42-year-old Shahi and 37-year-old Australian actor Demos was so intense that fans started shipping them together in real life. Much to their elation, not only are they a full-fledged couple, but some fans are speculating that they may be husband and wife after he was spotted wearing a band on his wedding finger and called her "the missus" in an Instagram post.
In June 2020, prior to dating her co-star, Shahi filed for divorce from Shameless star Steve Howey after 11 years of marriage. The pair shares three children, 13-year-old son William and 8-year-old twins Violet and Knox. While Season 2 of the Netflix show that brought them together premieres on March 2, Shahi and Demos' relationship timeline proves that the actors have actually been dating for much longer than you may think.
September 2020: Bonding On Set
While it's not known whether they immediately became an item after meeting on set, Demos and Shahi made it clear in 2020 that they were fond of each other while filming Sex/Life. On Sept. 22, 2020, Demos shared two behind-the-scenes snapshots of him and Shahi on set, revealing their character's names. "Billie and Brad," he wrote, tagging Netflix and the show's Instagram accounts.
January 2021: Calling Her "My Baby"
Pre-Sex/Life fans of Demos may have suspected his romance with Shahi as far back as New Year's Eve, which he celebrated with his co-star. On Dec. 31, Demos posted a cheeky photo of them lying in bed and covering themselves with their shirts, making it clear that they were having a low-key New Year's, as everyone should have been doing during the COVID-19 pandemic. "Rats NYE," he wrote. However, he finally confirmed his relationship with Shahi just days later while celebrating her birthday on Jan. 10. "Happy bday my baby," he wrote on Instagram, alongside a slideshow of them frolicking and kissing in a park. "I f*#kin love you. You're everything."
February 2021: Loving Valentine's Day
The couple commemorated their first Valentine's Day in February, when Shahi posted a photo of her and Demos on Instagram, gushing about her valentine. "My forever squeeze," she wrote. "Happy Valentine's baby @adam_demos." On the same day, Demos also shared a sweet selfie of him and Shahi, captioned with a simple red heart emoji.
May 2021: Finding Her "Forever"
For Demos' birthday on May 22, Shahi wrote a loving letter to her boyfriend on Instagram, making it clear that she found her "soulmate" in her co-star. "Not exactly sure how two people on opposite sides of the world could have more in common, were meant to meet, were meant to be together," she wrote, captioning a slideshow of candid photos and relationship memories. "I do know I found my forever. I do know I've never loved deeper, harder, more ferociously. I do know I'm overly grateful for him. I do know I've loved him for a thousand lifetimes before and will love him for a thousand lifetimes more. Happy birthday my baby."
June 2021: Confirming Their Relationship
After Sex/Life premiered on Netflix and started gaining huge buzz online, Shahi confirmed that she and Demos were an item offscreen as well in a new interview. "It was great casting, I'll put it that way," she said jokingly to Entertainment Tonight. While Shahi said they wanted to keep much of their relationship private, she did call him "one of the best humans I've ever met" and said they've grown even closer while promoting their new series.
"Without sharing too many details because there is a part of my relationship that I protect and that's for me and him only, I'm very grateful that I met him," she said. "I'm grateful to be on this ride in general, but to be able to share it with him is special as well."
In a separate interview with PEOPLE, Shahi opened up about her first impression of her new beau. "I said, 'Well, that's a tall drink of water,'" she recalled. "We met in the makeup trailer and we just got on instantly. We had the exact same taste in music. We had the same taste in whiskey and tequilas and I was really blown away by him just as a person and all I knew was that I wanted more."
Evidently, they're having the time of their lives celebrating the show's success. On June 20, Demos posted a slideshow of the couple gawking at Sex/Life's billboard at New York's Times Square. "Just f*ckin wow," he captioned the post.
"Absolutely rattled and beyond grateful! I'm a lucky lucky man!!!" Shahi responded in the comments section, calling the moment "full on magic." and telling her boyfriend "I❤️u."
December 2021: Their Red Carpet Debut
Shahi and Demos made their red carpet debut as a couple at the 2021 People's Choice Awards, where they laughed and posed together.
February 2022: Valentine's Day
Shahi marked their second Valentine's Day as a couple by sharing adorable selfies from their first year of dating. "Happy Valentine's day to this stallion that makes my heart skip a beat today and every day," she wrote. "Oh I love you @adam_demos."
August 2022: The Pair Sparks Marriage Rumors
Fans speculated that Devos and Shahi had secretly gotten married after they were spotted walking around his hometown in Wollongong, Australia, with Devos appearing to wear a large band on his wedding finger. However, Shahi kept her hands covered with an oversized sweater, and the two have yet to comment on the rumors.
October 2022: Adam Supports Sarah's Movie
In October, Demos celebrated the release of Shahi's new film Black Adam by posting a slideshow of romantic selfies and photos of her character — and fueled marriage rumors even more by referring to her as "the missus" in his caption. "Adriana may not have superpowers in @blackadammovie but she's the real superhero of this film," he wrote. "The heart and soul! Just like the missus is in real life. I'm so f*ckin proud of her in absolutely every way Congratulations to everyone who made this epic film and congrats in advance on making a trillion dollars at the box office."
November 2022: Sarah Opens Up About Their On-Set Dynamic
In an interview with NewBeauty, Shahi revealed what it was like to work with her significant other on the set of Sex/Life, saying it was much better than the alternative of rarely seeing him. "Our schedule is so grueling that we would never see each other otherwise," she explained. "To be able to at least be in his space when we're on-set… that's better than not having it. To be able to have someone that's on the inside that you can commiserate with or that you can vent to… it's pretty helpful."
January 2023: Adam Celebrates His "BDay Girl"
On Jan. 10, Demos celebrated Shahi's birthday by posting a candid photo of the two. "Love you Bday girl," he captioned the post.
February 2023: Season 2 Premiere Date Night
To celebrate the second season of the show that brought them together, Demos and Shahi turned the Sex/Life Season 2 premiere on Feb. 28 into a "date night," as Demos called it on Instagram. Shahi commented on a separate post full of red carpet photos, calling him "my superstar."
This article was originally published on