Your Guide To The Cast & Characters In Shadow & Bone's Tangled World Of Magic
The new Netflix fantasy show features characters from two of the Grishaverse trilogies.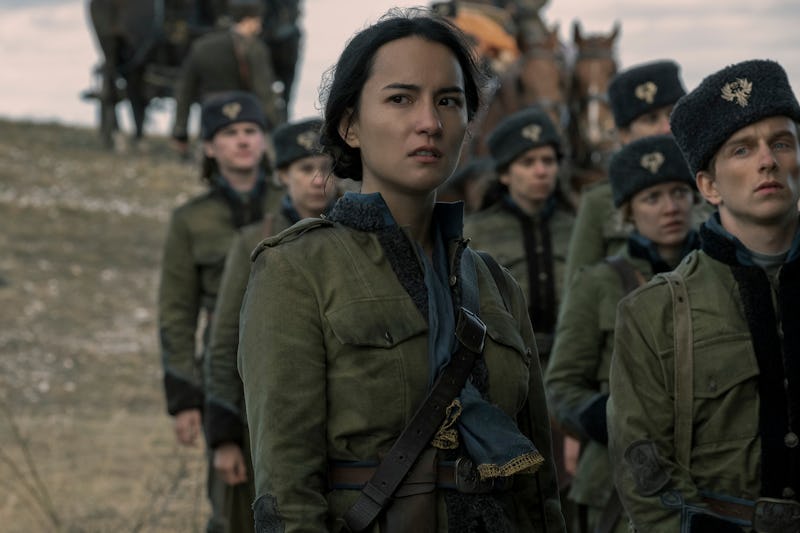 David Appleby/Netflix
Calling all fantasy fans: it's time to dive into the Grishaverse. Based on a series of YA novels by Leigh Bardugo, Netflix's new YA drama Shadow and Bone takes place in a war-torn universe where magical soldiers called Grisha are able to wield fire, manipulate metal, and stop hearts. When cartographer Alina Starkov discovers she has the unique power of light, she embarks on a journey that takes her across her country of Ravka. Along the way, her story intersects with numerous other characters, like the mysterious General Kirigan and a group of lovable rogues from Bardugo's later Six of Crows books.
Compared to Bardugo's original Shadow and Bone, Netflix's adaptation is notably more diverse. "I'm very proud of Shadow and Bone, but I'm also conscious of its shortcomings," Bardugo told Entertainment Weekly. "I wrote this very white, very straight 'chosen one' story that was rooted in echoes of what I had grown up reading in terms of fantasy, but certainly didn't reflect the world around me or the world that I live in. We knew we wanted to make some changes there."
The result is a much denser and richer world than originally seen in Bardugo's Shadow and Bone. Here's your guide to the Shadow and Bone cast — many of them relative newcomers — and their characters.
Jessie Mei Li as Alina Starkov
At the start of the series, Alina is an orphan and soldier in the First Army, which is the regular army seen as more disposable than the Grisha one. Her new power as a Sun Summoner makes her invaluable, as people believe she's the only one who can dispel the Fold, a shadowy void on the land that's full of monsters. Jessie Mei Li plays Alina — a notable change from the books, as Alina is now half-Shu — a person from the Asia-like land of Shu Han that Ravka is warring with.
"When you have a character who is visibly an outsider, who has been treated shabbily, who has been told repeatedly that she looks like the enemy, to then be thrust into the role of saving a nation that has rejected her on many terms, I think that makes the story much richer and more powerful," Bardugo told Entertainment Weekly.
Shadow and Bone is Li's first major role in a TV show. Before this, Li was in the live theater show All About Eve and a few short films like Together, They Smoke and Travelooper.
Archie Renaux as Malyen Oretsev
Mal is Alina's best friend — who is also half-Shu — who she grew up in the orphanage with. He's a skilled tracker, and sets out to reunite with Alina after she's taken to the lavish Little Palace as the Sun Summoner. Mal is played by Archie Renaux, who was in the TV miniseries Gold Digger and will appear in the upcoming films Morbius and Zero.
Freddy Carter as Kaz Brekker
Kaz Brekker is a criminal prodigy from the Six of Crows books. As the leader of the Crows, a gang of criminal misfits, he has a gift for scheming and a secret thirst for vengeance. But he has a soft spot for fellow Crow member Inej. Kaz is played by Freddy Carter, who played Jason Ripper in Pennyworth and Pin in Netflix's Free Rein.
Amita Suman as Inej Ghafa
Inej is also known as The Wraith, a shadowy spy with dangerous knife skills and a painful past. She's played by Amita Suman, who portrayed Naya in The CW's The Outpost and appeared in the Doctor Who episode, "Demons of the Punjab."
Kit Young as Jesper Fahey
Jesper is a sharpshooter who can't resist gambling or flirting with attractive men. He's played by Kit Young, who portrayed Lysander in a 2019 stage production of A Midsummer Night's Dream and will be in the upcoming YA film The School for Good and Evil.
Ben Barnes as General Kirigan
General Kirigan, known as The Darkling in the books, is the leader of the Second Army and all Grisha. He says he's determined to wipe out the Shadow Fold, and Alina is lured in by his mysterious nature. He's played by Ben Barnes, who is likely the most recognizable actor in the cast. Barnes became famous playing Prince Caspian in Chronicles of Narnia, and has since starred in The Punisher, Westworld, and Gold Digger.
Sujaya Dasgupta as Zoya Nazyalensky
Zoya is a gifted Squaller (a Grisha who can summon water) who immediately makes her dislike of Alina known. She is played by Suyaja Dasgupta, who acted in TV series like the BBC's Casualty and Guilt.
Danielle Galligan as Nina Zenik
Nina is a joyful and quick-witted Heartrender (a Grisha who can burst hearts or calm someone down) who appears in Six of Crows as an acquaintance of Kaz. But in Shadow and Bone, she finds herself trading barbs with Matthias. She's played by Danielle Galligan, who appeared as Sarra on Game of Thrones and Enaj on Krypton.
Calahan Skogman as Matthias Helvar
Matthias is a Drüskelle, a witch hunter raised to despise Grisha and their magic, from the neighboring warring country of Fjerda. He's played by Calahan Skogman, who was in a few short films and Blood Puppet! Christmas '94 before Shadow and Bone.
Daisy Head as Genya Safin
Genya is a rare kind of Grisha known as a Tailor, and she's able to manipulate people's physical appearances. She is forced to only serve Ravka's queen, but befriends Alina at the Little Palace. She's played by Daisy Head, who was in the TV shows Harlots and Girlfriends.
Zoë Wanamaker as Baghra
Baghra is the Grisha teacher who shows Alina how to hone her power. She's ruthlessly strict, and appears to know more about the Fold than she lets on. She's played by Zoë Wanamaker, who was Queen Antedia in the TV show Britannia, and also starred in Girlfriends, Mr. Selfridge, and Harry Potter (as Madame Hooch).