Shakira Shades Ex Gerard Piqué With SZA's Revenge Song "Kill Bill" On TikTok
After the release of her breakup anthem, Shakira is not feeling lovey-dovey on Valentine's Day.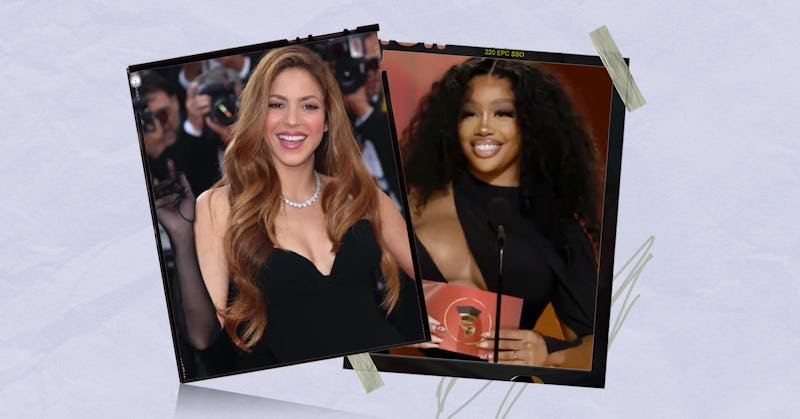 Mike Marsland/WireImage/Getty Images; Kevin Winter / Getty Images Entertainment
Shakira appears to have revenge on her mind. To celebrate Valentine's Day on Feb. 14, the "Hips Don't Lie" singer posted a TikTok video of herself featuring SZA's hit song "Kill Bill," which fans are interpreting as a shady nod to her ex Gerard Piqué.
In the video, Shakira is seen mopping her kitchen hallway as she lip-syncs the chorus to SZA's revenge anthem. "I might kill my ex, not the best idea," the song goes. "His new girlfriend's next, how'd I get here? I might kill my ex, I still love him though / Rather be in jail than alone." At the end, she simply shrugs and starts laughing, leaving her followers to fill in the context for themselves.
In January, Shakira released "Bzrp Music Sessions, Vol. 53," a breakup anthem made in collaboration with Argentinian DJ Bizarrap that appears to be aimed at the soccer player and his reported new girlfriend Clara Chía Martí. In the verses, which are sung in Spanish, the singer makes clever nods at all parties involved, referencing her 2009 hit "She Wolf" and slyly calling out the duo by using the Spanish words "salpique," emphasizing the pronunciation of Piqué's last name, and "claramente," which invokes Martí's first name.
Fans reacted wildly to "Bzrp Music Sessions, Vol. 53," breaking the Spotify record for their biggest debut in Latin music history and YouTube's record for the most-viewed Latin music video in 24 hours. But since the song's release, Shaki and Piqué have been embroiled in a heated public back-and-forth about their split.
In the song, she sings, "You left me with your mom as a neighbor, the press at my door, and a debt with the Treasury." On release day, Shakira reportedly put a witch mannequin on her balcony pointed toward Piqué's mom's house, complete with a speaker "blasting the song at full volume." At one point in the song, she also refers to Martí as a "Casio" in comparison to her own "Rolex" and a "Twingo" to her "Ferrari." Just days after the song's release, Piqué was spotted arriving at a parking lot driving a Twingo. He later went Instagram-official with Martí on Jan. 25. Piqué has yet to respond to his ex-wife's latest TikTok.