Shea Couleé Has No Time For Twitter Drama
"I just need to mind my own business, because I have a lot of business to be minding."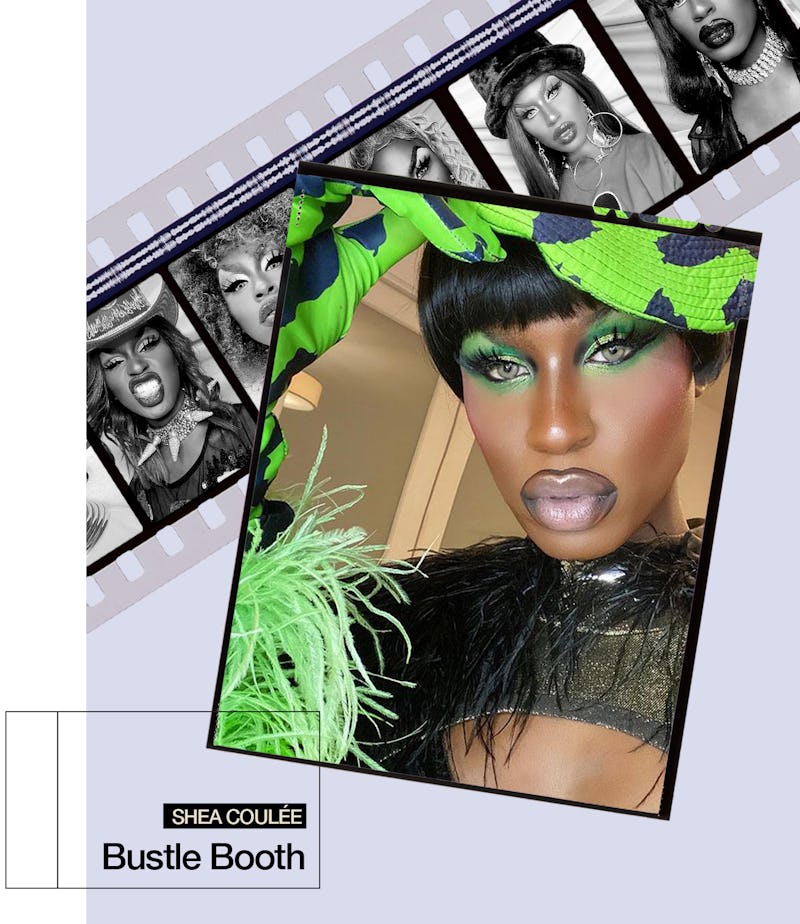 Courtesy of Shea Couleé
Less than a year after securing a spot in the Drag Race "Hall of Fame," Shea Couleé is already something of a drag legend. The RuPaul's Drag Race: All Stars Season 5 winner has walked the runway for Rhianna's Savage X Fenty lingerie line, landed the cover of Out, started their own podcast, and launched two limited-edition beers with Goose Island Beer Co. And that's only within the last 12 months.
But Couleé, 32, didn't get here overnight. The Plainfield, Illinois-born artist has been doing drag for over a decade, carefully refining their breathtaking persona — one that's equal parts style and social commentary, as exemplified by their beloved, Birth of Venus-inspired "Love The Skin You're In" look from All Stars.
"When I first started doing drag over ten years ago, the vision I had of myself is much closer to where I'm at now," they tell Bustle from their home in the Andersonville neighborhood of Chicago. "I'm still not quite there, but I love seeing how much I've been able to manifest the drag entertainer that I am today."
"Not quite there" is familiar territory for Couleé. After winning four main challenges on RuPaul's Drag Race Season 9, they were the frontrunner for the crown — until the final lip-sync. In one of the most shocking (yet iconic) moments in Drag Race herstory, they lost the penultimate round when Sasha Velour unleashed a cascade of red rose petals from under their wig.
"That moment really shaped me, and made me think about my drag in such a different way," Couleé says. "At the end of the day, it was absolutely what was meant to happen. It was not my time. And I'm a firm believer in destiny, and my destiny was to win All Stars when I did."
It also helped them get a better handle on who they are as a drag performer and artist. "A lot of my drag reflects the inspiration that I see from Black femme energy," Couleé says. "I feel like there is this Black femme energy that guides me every single day."
Couleé credits part of that energy to their community. They're the mother of their own drag house, "Maison Coulée," which includes their three drag daughters: Kenzie, Khloe, and Bambi Banks, all of whom also share their surname. Couleé is committed to using their platform to uplift their sisters, which is why $2 from the sale of every Shea Coul-Alé: Royal Edition (their second Goose Island beer) benefits the Brave Space Alliance, a Black trans founded and lead organization based in the South side of Chicago. "I feel like we understand all too well that Black and trans individuals are targets for violence," they say. "I am a firm believer in that we are only as strong as the weakest members in our community. Being able to protect and help them is something that is important."
Post-Drag Race, Couleé is looking to the next phase of their career, working on a one-woman show and spending more time in the recording studio. They seem to make time for it all, except for one thing: Twitter drama among the Drag Race fandom.
"I simply do not have the time. I just need to mind my own business, because I have a lot of business to be minding," Couleé says, symbolically flipping their hair.
Learn more about Couleé, including the (non-Drag Race) reality show they're currently obsessed with, in their Bustle Booth questionnaire below.
In the Bustle Booth
What's your coffee order?
Venti iced americano. Black.
What are the saved weather locations on your phone?
Chicago, New York, Los Angeles.
What's your sign?
Aquarius sun, Pisces moon, Pisces rising.
What was your favorite cartoon as a kid?
SpongeBob SquarePants.
What's one movie or TV show you're currently obsessed with?
Naked and Afraid.
Who is your celebrity idol?
Michelle Obama.
If you had to be on a reality TV show, what would it be?
Again, Naked and Afraid.
Go-to karaoke song?
"Good Morning Starshine" from Hair.
What's something that's inspiring you lately?
Erté.
What is something you would want people to say about you?
That I smell amazing. Oh, and the fragrance, you ask? Valentino Donna Yellow, or Maison Margiela 'REPLICA' Lazy Sunday.
This interview has been edited and condensed.