Twitter Thinks Micah's BFF Shelby From Love Is Blind Is Just A "Blonde Irina"
"You can't convince me otherwise."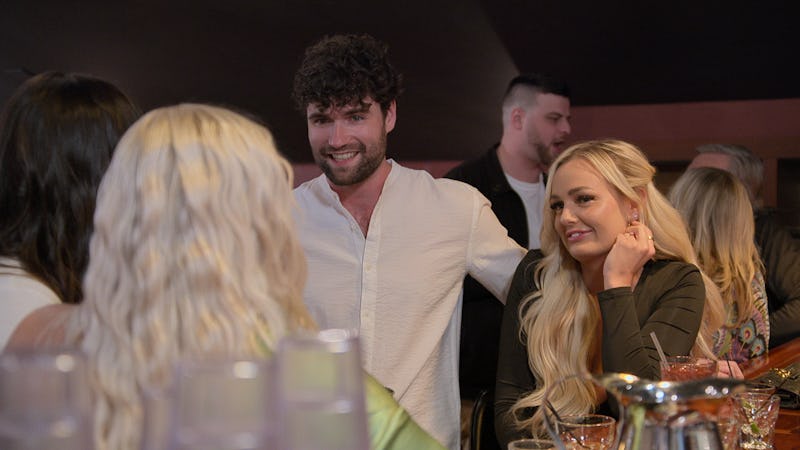 Netflix
After breezing through various relationship milestones, Love Is Blind Season 4's Micah Lussier decided it was time to introduce fiancé Paul Peden to her friends. Upon arriving at her best friend Shelby Tschohl's birthday party in Episode 8, Micah explained to producers, "Paul's looking like a snack, and I'm like, 'OK, as long as I present him well, maybe my friends will like him.'" Unfortunately, Paul didn't fare so well with at least one of Micah's friends, though.
Inside the bash, Micah told Paul that Shelby is her "harshest critic" and that anyone she dates has to pass her test. "Shelby has single-handedly, like terminated relationships for me," the 27-year-old marketing manager said, prompting her BFF to chime in, "Because they weren't good people, and they sucked." Shelby and another pal, Micayla, proceeded to grill Paul, but their interrogation soon became more of a roast when the 29-year-old environmental scientist replied with analytical answers.
Calling Paul out for speaking in "this whole, like, articulate manner," Shelby warned him she'd "get pissed" if he said "that kind of stuff" to her. "Either way, I'll have something a little bitchy to say at some point," she sniffed. "So keep it up. I'm serious about it." When Micah joked that Shelby is "easily angered," Paul replied, "I mean, can't say that I care." That didn't sit well with her. "That's like, really the worst attitude to have," Micah told her fiancé. "If you don't care what she says, that's, like, a major issue. . . . You should care how she feels about you."
Shelby didn't sugarcoat those feelings either. "I'm 100% not with it. . . . not at all," she told Micah, after Paul excused himself. Later breaking into tears, she continued, "I just feel like that this wasn't meant for you. Like, you're meant to have the most spectacular everything. You're Micah. And I think you deserve that. You're meant to have the best wedding of your life. You're meant to have all this, and this isn't it. But this isn't it. This isn't it."
After the episode dropped on March 31, many viewers on Twitter couldn't quite figure out exactly why Shelby didn't like Paul.
Given that Micah had already faced backlash for her and castmate Irina Solomonova's "mean girl behavior," many compared the two friends. "Micah's friend Shelby is just a blonde Irina you can't convince me otherwise," one fan tweeted, while another added, "Micah's best friend is literally Irina in a blonde wig."
Meanwhile, others tried to make sense of why Shelby was so proud of chasing off Micah's boyfriends. As she explained it to producers (after giving Paul a thumbs down), she's "the most protective person of Micah" because they're best friends, and she'll "never not be skeptical because of how I feel about her." While some wondered if Shelby was in love with Micah, others opined that she wasn't a friend at all, but rather a jealous saboteur.
Considering Micah and Irina hit it off, several other viewers also tweeted that her friends were exactly what they expected. "Are we really surprised these are the kind of friends Micah has?" one user wrote.
Paul, for his part, garnered plenty of support on Twitter, with several fans applauding him for not caring what Shelby thought of him.
Only time will tell if Shelby can "single-handedly" terminate Micah and Paul's relationship, too.