Is Irina Single After Love Is Blind?
Her romance doesn't exactly go as planned.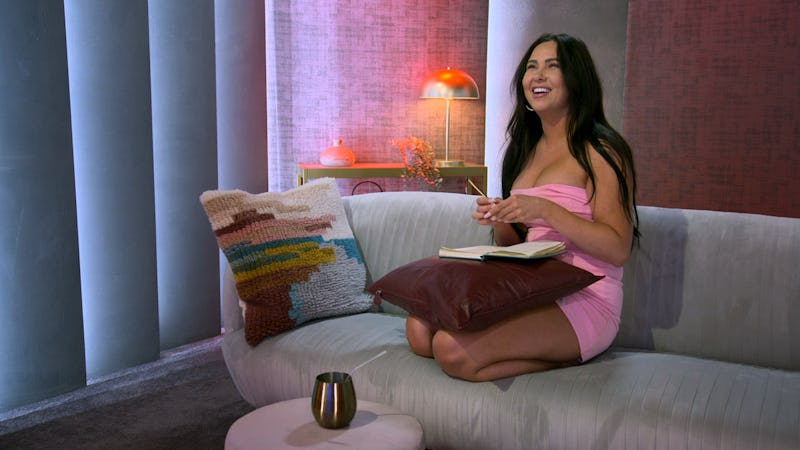 Netflix
Spoilers ahead for Love is Blind Season 4 Episodes 1 - 5. Every reality TV show has its pot stirrers, and on Love is Blind Season 4, there seem to be quite a few of them. Among them is Irina Solomonova, the 25-year-old business owner who is part of a heated love triangle with Zack Goytowski and Bliss Poureetezadi. Irina and Zack left the pods together after he was won over by her "deep heart," but almost immediately, their relationship fell apart during the honeymoon phase in Mexico.
Today, it looks like Irina is single after Love is Blind — based on her social media posts, at least. The show filmed around May 2022, and there doesn't seem to be any trace of her cast mates on her Instagram. In November 2022, she posted a picture with the caption "hosted a birthday dinner for people I love," which notably doesn't include anyone from Love is Blind beyond Micah Lussier.
But it makes sense that Irina is not currently dating anyone from the show, given how everything went down. When audiences first met the event planner, she shared that being on the show felt like an opportunity to find love without being judged based on her looks — and in particular, her old acne scars.
She clicked early on with Zack, a 32-year-old criminal defense attorney who was looking to settle down. They bonded over their difficult childhoods: Zack's parent was a single mom who turned to sex work, while Irina immigrated from Russia when she was three. After just a few chats, Zack had dubbed Irina a "powerful presence" who was "incredibly beautiful on the inside."
Still, Zack had doubts about her. He admitted to the other men that it felt like Irina loved to play "girl's games" to win over a guy, and worried that he had his blinders on to how "immature" she was. He even told Irina in Episode 3 that he was becoming concerned she had a "vicious" streak.
Zack wasn't entirely off-base, as Irina herself admitted when she said, "I want to be nicer, but I'm not nice at all." On the women's side of the pods, she wasn't exactly making any friends outside of Micah. The pair often gossiped about contestants Amber Wilder and Chelsea Griffin, and Irina had an antagonistic relationship with Bliss, with many of the women taking Bliss' side.
Despite his hesitations, Zack ended up choosing Irina anyway, stating that she was the one he "trusted the most." But from the moment they met up in person, it was clear it was an awful mismatch. Irina joked that Zack looked like a "creepy" cartoon character, while Zack later made his own jab that Irina looked better with makeup on (or off, it wasn't entirely clear).
Their combative language only escalated from there. Irina later confided in Micah that she wasn't attracted to Zack at all, and that "every time [Zack] touches me, I get like, major ick," she said. In a confessional interview, she revealed that she was much more attracted to Paul Peden, Micah's match.
That didn't escape Zack's notice, and he eventually confronted her about whether she wanted to continue on with him. When she instead responded that they shouldn't sit together on the flight back to Seattle, Zack officially called off the relationship.
They still had to wait out the night, though, so what ensued was a brutally awkward evening where they unleashed all their thoughts on each other. Irina said she wanted to leave him the moment she saw him, while he said he was thinking of Bliss the entire time.
And then the fifth episode ended on a cliffhanger for the next batch of episodes. We saw Zack meeting up with Bliss in Seattle, admitting he made the wrong choice. Meanwhile, in a preview, Irina revealed to Micah that she "felt romance with Paul," which will likely cause even more drama down the road.