Shemar Moore Is Rallying Fans To Save S.W.A.T. After CBS' Cancellation
"Let them know that canceling S.W.A.T. is a f*cking mistake."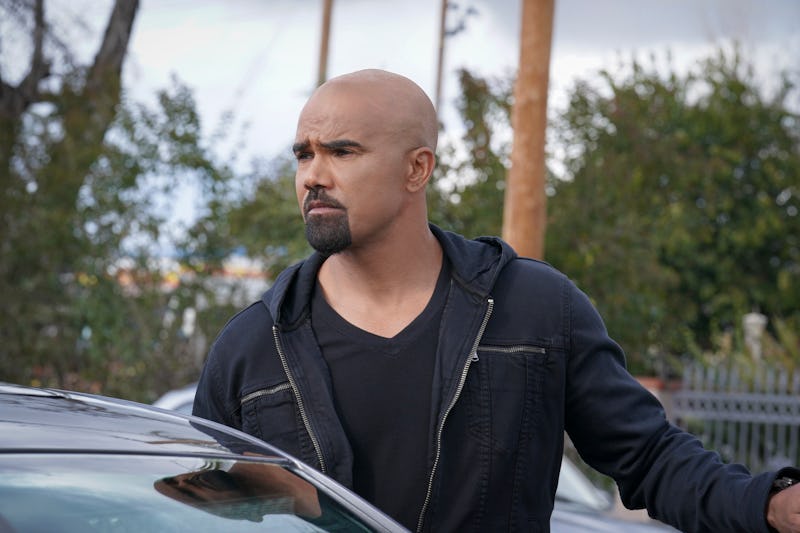 Bill Inoshita/CBS
Hours after CBS cancelled S.W.A.T. on May 5, series lead Shemar Moore reacted to the update on Instagram with a rallying cry. Explaining that he was wearing sunglasses because he was "a little bit sad, a lot a bit sad," the actor, who has starred as LAPD Sgt. Daniel "Hondo" Harrelson since 2017, said the network's decision "makes no sense." Touting S.W.A.T.'s ratings growth — the series reportedly averages 6.82 million weekly viewers — he added, "We've done nothing wrong. We did everything that was asked for." Either way, the Season 6 finale, which airs on May 19, will also serve as the series finale.
Moore also noted what the show's cancellation means for diversity and inclusion. "Did you know I am the only African American male lead on network television?" the actor claimed, predicting he was going to "get in a lot of trouble with CBS" for posting the video. "I am the only African American male lead on network television. Now let's get beyond me. S.W.A.T. is the most diverse show on CBS. CBS, when I got hired to be Hondo on S.W.A.T., was getting a lot of flak for lack of diversity."
Crediting the network for being "wonderful" to him for the majority of his 29-year career, Moore explained that he was "calling them out" anyway because of how they'd handled the show's cancellation: "To abruptly get told that you're canceled when you led us to believe last week and the week before that ... that we would have some semblance of a Season 7 to at least say goodbye, if not continue, and to abruptly be told you're done…"
Without going into the "politics" of the Sony Pictures TV and CBS Studios co-production ("It's all about money, y'all"), the actor also expressed frustration over all the cast and crew members unexpectedly losing their jobs. That's why he's calling in the reinforcements to save S.W.A.T.: the fans. "They said we're canceled, but guess what I don't think we're done," Moore continued. "I still have faith that S.W.A.T. will live to see another day. So I'm asking my homies, my fans and my baby girls, and the rest of the world who follow me or follow the show, follow the cast, my brothers and my sisters: Make some f*cking noise and let them know that canceling S.W.A.T. is a f*cking mistake."
Deadline confirmed on May 5 that CBS and lead studio Sony TV could not reach a financial agreement over the show's renewal. Prior to the cancellation, showrunner Shawn Ryan predicted that S.W.A.T.'s Season 7 fate would come down to money. "From a ratings perspective, it's a no-brainer to pick it up, the show is a big hit for CBS," the executive producer told Deadline in March. "We live in this weird age now where economic conversations take place and take precedence over what viewers really want to watch on their screens, and hopefully Sony and CBS work out the details to bring it back because I know the fans want to."
Only time will tell if viewer demand is enough to bring the S.W.A.T. team back for another mission.