Shital & Niraj Took A Major Step In Their Relationship After Indian Matchmaking
The couple returned in Season 3 with an update.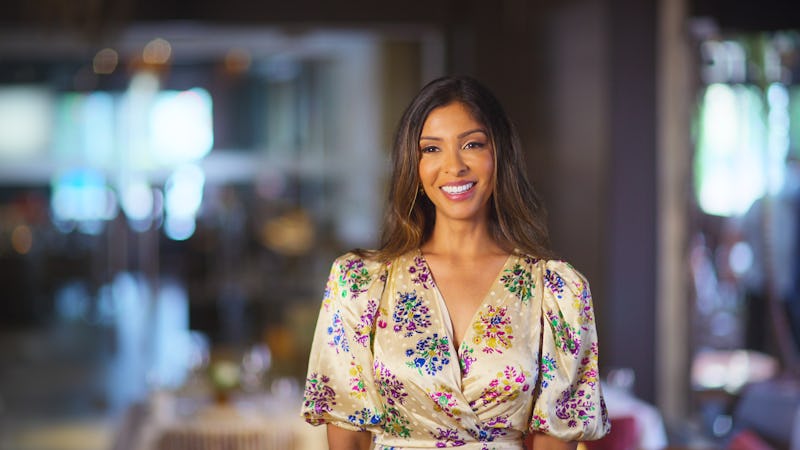 Courtesy of Netflix
Though she didn't feel a spark with Sima Aunty's matches, Shital Patel still ended Indian Matchmaking Season 2 with a boyfriend. During a finale FaceTime chat with Sima, the 39-year-old New Yorker explained that she'd met an "amazing" Gujarati radiation oncologist named Niraj Mehta through her sister. Sharing that the doctor "has such a big heart," Shital added that Niraj's true passion was teaching his cancer patients "how to heal through dance." Even though she met him outside of the Sima Aunty, Shital credited the Mumbai matchmaker with helping her build momentum and to be more open and flexible in dating.
The only catch? Niraj lived over 1,200 miles away in Miami. That's where viewers next saw the couple, and Shital opened up about how Niraj felt like home — something she'd never experienced outside of her own family. "If home with you is Miami, then... it's Miami," she told him, expressing her desire to start a family and have kids.
"I'm just ear-to-ear smiling," she gushed in a confessional scene. "I love him with my whole heart. ... I will never find this kind of love ever again, so I'm really happy." Niraj, for his part, also told producers he was "definitely in love" with Shital, something he joked was "cheesy and true as heck."
After Indian Matching Season 2 filming wrapped, Shital and Niraj dropped several hints on social media that they were still together. That was still the case when the couple returned with an update in the Netflix series' third season, which filmed throughout most of 2022. After introducing Niraj to her parents for the first time, Shital explained to producers that she still hadn't relocated to Miami, but knew their long-distance relationship wasn't a sustainable arrangement.
Later, Niraj rectified that issue by surprising Shital with a key to his Miami home and asked her to move in with him. The next episode showed her packing up her New York City apartment on moving day, which she posted about on Instagram in early October 2022. Though it's unclear if they've since gotten engaged, Sima Aunty predicted that she would be receiving a wedding invitation in her mailbox "very soon." Shital also shared that the thing she was most excited about was raising children with Niraj.
Since they moved in together in Miami, the couple has posted several Instagram photos and videos together, including a romantic 2022 holiday snap, a February 2023 date night montage, and a joint event clip from March 2023. While revealing in an April 6 social media post that she and Niraj were returning for Indian Matchmaking Season 3, Shital wrote, "The last 6 months haven't been without its challenges but love is a journey and love is about working thru the tough times and staying committed while showing up with compassion and kindness thru the highs and lows. The work never stops. Excited to share the journey."
All signs still point to Shital and Niraj finding their true Bollywood-style happy ending.
This article was originally published on