Everything To Know About Indian Matchmaking Season 2
A few familiar faces will return for the new season of the Netflix dating show.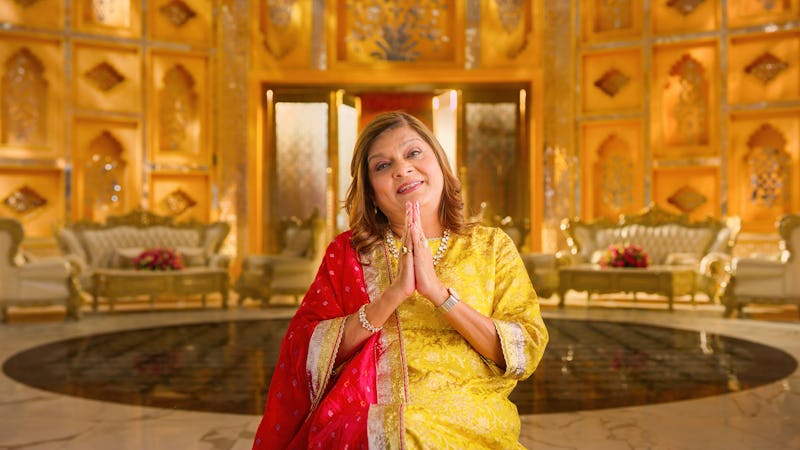 Netflix
Dating is hard, but Indian matchmaker Sima Taparia proclaims to take out all the guesswork on Netflix's reality TV show Indian Matchmaking. A window into the world of arranged marriages, the series lured in a decent amount of viewers, leading to Netflix renewing the series for a second and third season in August 2021. Season 2 will once again feature Taparia as she analyzes various clients, looking at everything from their personality profiles to their astrological charts, in order to help them find a life partner. "In India, marriage is a very big industry," Taparia says in the show. "The marriage is between two families [who] have their reputation and many millions of dollars at stake. So the work of the matchmaker is very important."
Since its debut, the show has both built up a fanbase and been the subject of controversy over issues of sexism, colorism, and casteism. ("That conversation is really important and welcomed," executive producer Smriti Mundhra told Entertainment Weekly.) Season 1 also left viewers with more questions than answers by the end. One marriage seemed imminent, while the other couples' romances seemed uncertain or fizzled out entirely. Season 2 will revisit some of these cast members — like Houston lawyer Aparna Shewakramani — while introducing new hopeful singles to follow.
"I was totally surprised by the response to the first season of Indian Matchmaking," Taparia told Netflix after the renewal news. "I'm overwhelmed by the love I've gotten, and the appreciation for Indian culture and values. I know fans will love what's coming in Season 2!"
Indian Matchmaking Season 2 Premiere Date
Indian Matchmaking Season 2 will premiere on Wednesday, Aug. 10 at midnight Pacific on Netflix.
Indian Matchmaking Season 2 Trailer
Though the official trailer hasn't dropped yet, Netflix did make an announcement video for a number of its upcoming reality shows, Indian Matchmaking Season 2 included. Thanks to the lyrics of the fake boy band N-2-LUV, we get this gem at 1:31: "Hoping Sima can make you that match / When Indian Matchmaking comes back."
Indian Matchmaking Season 2 Cast
There were a lot of dates in Season 1, but ultimately no actual marriages among the cast members. Taparia will continue to tackle this unfinished business in Season 2, with the return of several clients from Season 1. There's Shewakramani, whose strong opinions about men, beaches, and comedy led to countless fan memes. Nadia Christina Jagessar, who many fans rallied behind after her date stood her up twice, will also be back.
Meanwhile, serial dater Pradhyuman Maloo is off the market, as he posted a tribute to his significant other on Feb. 9 saying that he "chooses to love [her] forever." Based on images for Season 2, it looks like Indian Matchmaking will feature his proposal. The same goes for Vyasar Ganesan, who posted a sweet message to his girlfriend in October. Meanwhile, Rupam Kaur is now married.
New cast members for Season 2 include Akshay Dhumal from Nashik (a small agricultural town outside of Bombay) and Viral Joshi, who works for a pharmaceutical company.
Indian Matchmaking Season 2 Location
Season 1 took viewers from Houston to Chicago to Mumbai as the young singles went on what Netflix called "sometimes fun, sometimes awkward first dates — often with their family in tow." In Season 2, the journey is just as expansive, with the series hopping from Durham, North Carolina to New Jersey to Akshay's home in rural Nashik, India.
This post will be updated with the trailer, release date, and additional cast details as more information on Indian Matchmaking Season 2 becomes available.
Reporting by Brad Witter, Stephanie Topacio Long, and Gretchen Smail.
This article was originally published on