This Cancer Survivor's Song Left Simon Cowell Speechless & Has 20 Million Views
"You can't wait until life isn't hard anymore before you decide to be happy," Nightbirde told him.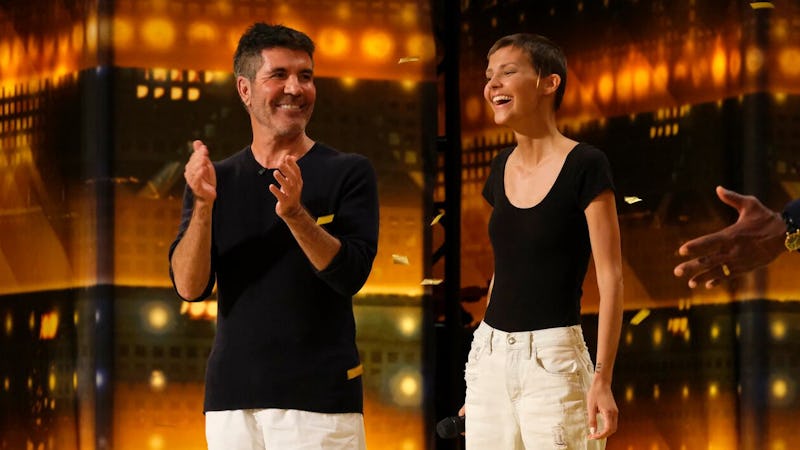 NBCUniversal Media/America's Got Talent
Fans of the competition singing series America's Got Talent got to see a rare side of judge Simon Cowell during a recent audition from a singer nicknamed Nightbirde. Born Jane Marczewski, she not only brought Cowell to tears, but she also left an impression on judges Howie Mandel, Heidi Klum, and Sofia Vergara before she even sang the first note of her original song "It's OK." The tear-inducing performance has already amassed 20 million views in about week, making it one of the most-streamed videos from the reality competition show.
During the customary pre-performance interview she let the four judges know that she hadn't been working for quite a few years because she was battling cancer. When Cowell asked her about her condition, she shared she currently has cancer in her lungs, spine, and liver.
Mendel seemed surprised by her response and commented on her beautiful smile and glow, adding that "no one would know." At that point, the 30-year-old Ohio native responded earnestly: "It's important that everyone knows I'm so much more than the bad things that happen to me." The song, which Nightbirde says was written about the last year of her life, mirrors the sentiment she shared with the judges, with such lyrics as, "If you're lost, we're all a little lost, and it's OK."
"I have a 2% chance of survival, but 2% is not 0%," Nightbirde said after her performance. "2% is something, and I wish people knew how amazing it is."
Vergara said the performance was powerful and heartfelt, while Klum said it gave her chills. Mendel said it was the most authentic thing he'd heard all season. Cowell started by saying that her voice was stunning and that he totally agreed with what Mendel had said about her authenticity. Then he got choked up as he mentioned how casually she'd talked about what she was going through. As he took a pause to get his words together, Nightbirde broke the silence. "You can't wait until life isn't hard anymore before you decide to be happy," at which point Cowell appears to hold back tears.
"There have been some great singers this year, and I'm not going to give you a yes," Cowell replies. The crowd responds in shock, right before he adds, "I'm going to give you something else," and leans over to hit the Golden Buzzer, which means she'll automatically make it into the live shows. Each judge is only allowed to share this coveted honor once a season.
As Nightbirde walked off stage, host Terry Crews told her, "You are the voice we all needed to hear this year!" We couldn't agree more.