Everything To Know About FX's Snowfall Season 6
Franklin was living the good life in Season 5, but it didn't last long.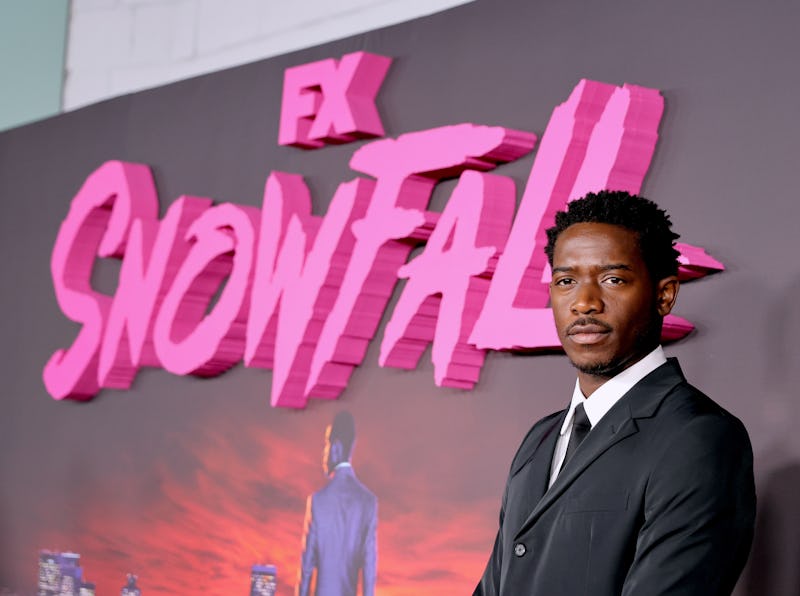 Momodu Mansaray/FilmMagic/Getty Images
Snowfall returned to FX for Season 5 on Feb. 23, offering viewers a look into Franklin Saint's (Damson Idris) life more than a year after he hung up his cane in the Season 4 finale. Since the crime drama's 2017 premiere, Snowfall has explored Franklin's years-long journey from a 20-year-old part-time weed dealer to a full-blown crack cocaine drug lord. Set in 1980s Los Angeles during the crack epidemic, the series is acclaimed for its accurate portrayal of the drug's impact on the city as well as Idris' leading performance. With his injury behind him, Franklin looks to enjoy the fruits of his labor in Season 5, but things quickly change with his family and Teddy McDonald (Carter Hudson). So, where will that lead him next season?
As FX announced on April 5, Snowfall will return for its sixth and final season next year, so here's everything you need to know about its potential plot, cast, and release date.
Snowfall Season 6 Plot
Season 5 of Snowfall jumped 15 months ahead from where Season 4 left off and followed its characters in 1986, "when the violence was really ramping up, when you really started to feel the full militarization of the LAPD, when the War on Drugs was on its way to reaching its apex," co-creator Dave Andron recently told Gold Derby.
As Idris teased before things kicked off, Franklin's life was looking up, and he now resides in a penthouse and is expecting a baby. "He has almost $100 million, which is crazy in 1986," the actor told BlackTree TV. "I think we're going to see a joyful side to Franklin this year, but you know, all great things and happy things must come to an end."
Considering Season 1 took place in 1983 and Season 5 is set in 1986, viewers can likely expect to see Season 6 progress into 1987. Given Andron and Idris' recent interview comments, it was expected that Season 5 would feature another run-in with the law for Franklin. And it did, which proved extra complicated alongside his transition into fatherhood.
The March 9 episode of Season 5 saw the LAPD's C.R.A.S.H. (Community Resources Against Street Hoodlums) unit raid the South Central Los Angeles projects. The storyline mirrors real-life events that went down in the late '80s, when C.R.A.S.H. conducted several controversial raids that led to few actual contraband findings or arrests — and many allegations of misconduct within the LAPD.
Franklin's fractured relationships with his uncle Jerome (Amin Joseph) and Jerome's girlfriend, Louie (Angela Lewis), also left him vulnerable, especially when they turned on Franklin and decided to go into business with Teddy. Now that Franklin's connection to Teddy is basically useless, he spent the better part of the Season 5 finale scrambling, trying to find his allies and someone who could help him get back the $73 million Teddy drained from his accounts — even the offshore ones.
Desperate, Franklin declared war on everyone and even put a gun to Louie's head while demanding she help him re-establish his empire. Of course, that didn't go as planned, and she threatened to kill Franklin if he ever stepped foot in her presence again.
Franklin then robs Louie and Jerome's club and spreads the word that Louie is the reason his business is crumbling, which will only cause more strife next season, when he and Cissy (Michael Hyatt) plot to take down Teddy once and for all.
Talking to The Hollywood Reporter about the upcoming season after the Season 5 finale, Andron teased, "I think this last season, the story has to ultimately be a tragedy, and this last season is going to feel, I think, a little heavier."
Snowfall Season 6 Cast
Fans can expect Idris to return as Franklin, and main characters Louie (Lewis), Jerome (Joseph), Teddy (Hudson), Gustavo "El Oso" Zapata (Sergio Peris-Mencheta), Cissy (Hyatt), and Leon Simmons (Isaiah John) will probably come back as well.
Season 5 also welcomed the addition of several characters, including Devyn Tyler as a smart, ambitious law school graduate and romantic interest named Veronique, so a few of those fresh faces could certainly carry over into Season 6 as well. We might even see a new child actor join the fold, as Veronique's due date nears.
Snowfall Season 6 Renewal Status And Potential Release Date
FX announced Snowfall was renewed for Season 5 on March 23, 2021, about a month after Season 4 premiered, and Season 6's renewal came soon after the current season's premiere. Considering Season 4 became FX's most-watched series of 2021, per Deadline, Snowfall getting greenlit for Season 6 isn't all that surprising. According to FX's April press release, Season 5 is the series' most-watched season so far.
To celebrate the renewal and forthcoming 2023 Season 6 premiere date, series producer and lead star Idris stated, "I couldn't imagine telling this story anywhere but at FX. I'm incredibly proud of the history we have all made. Especially the impact Snowfall has had on the culture." He continued, "Very rarely does a TV show get to the sixth season mark and saying goodbye to 'Franklin Saint' will be heartbreaking. But the family and relationships I've made on this journey will last a lifetime. I know John Singleton is looking down smiling proud."
This article will be updated as more information on Snowfall Season 6 becomes available.
This article was originally published on