Everything To Know About Somebody Feed Phil Season 6
Earlier this month, Phil Rosenthal teased a country he'd love to visit.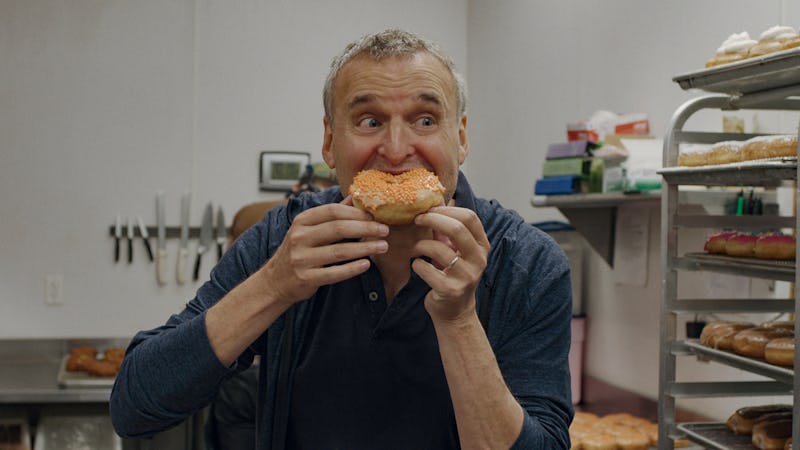 Netflix
Phil Rosenthal's culinary adventures aren't ending anytime soon. About two weeks ahead of the Season 5 premiere of his namesake show on May 25, Netflix announced that Somebody Feed Phil had been renewed for Season 6. Though the series is centered around food, it's ultimately a show about human connections. "The food is just the way in, a great connector. Then laughs are the cement," Rosenthal told Forbes in mid-May. "I find that no matter where I travel, people enjoy both a wonderful meal and a sense of humor. These are the human traits that I love most."
For Season 5, Rosenthal visited both domestic and international locales, from Maine and Oregon to Oaxaca, Mexico and Helsinki, Finland. "We filmed 10 episodes in the sweet spot between Delta and Omicron," he told Variety. "So from August to January, we pretty much filmed everything."
He hopes that people catch the travel bug while watching his series — while still practicing "personal responsibility," he told Forbes. "Travel is the most mind-expanding thing we can do. I think that the world would be better if we all could experience a little bit of other people's experiences. What you get in return is nothing less than a changed perspective."
Here's everything we know so far about Season 6.
Somebody Feed Phil Season 6 Guests
Rosenthal has yet to announce who will appear on Season 6, although he joked to Forbes that he'd love to dine with Salma Hayek one day. He often features his wife, Monica, on the series and his brother, Richard, who's an executive producer. Other guests have included famous chefs, celebrities, and family friends.
Rosenthal used to feature his mom and dad at the end of the episodes, but they passed away in 2019 and 2021, respectively.
Somebody Feed Phil Season 6 Filming Locations
He hasn't announced where any filming locations for Season 6, but Rosenthal did hint to Forbes that he'd loved to visit India one day.
In a May 2022 interview with Awards Radar, he said he made a conscious decision to never badmouth the places he visits. When food hasn't been fantastic, they've cut segments. Or, alternatively, if the food hasn't been to Rosenthal's taste — like the century-old egg in Hong Kong — they'll leave footage only if Rosenthal is clearly the butt of the joke, not the restaurant. "Of course I'm going to be deferential," he said.
This post will be updated as more information about Somebody Feed Phil Season 6 becomes available.