Sophie Turner's New Hairstyle May Tell Us Something About Her Newest Role
The Game Of Thrones star has been cast in HBO's true crime series The Staircase.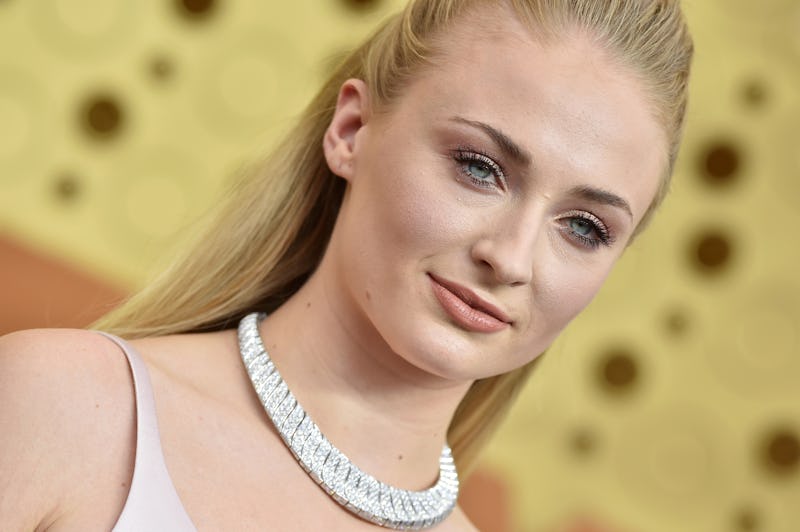 Axelle/Bauer-Griffin/FilmMagic/Getty Images
During her time as Sansa Stark in Game Of Thrones and Jean Gray in X:Men: Dark Phoenix, Sophie Turner became known for her flame-red locks. Although she's been rocking a blonde 'do during her time off screen for the past few years, it looks like the iconic red hair is back – and fans are wondering whether it might have something to do with the actor's newest role.
On Sunday, June 6, Turner, 25, shared a teaser of her new 'do via her Instagram stories, with a casual selfie taken in front of the bathroom mirror. While the low-key mirror snap hid the actor's face, her trademark red hue was quite noticeable.
Just a few days earlier, Turner, who recently celebrated her two-year anniversary with Joe Jonas, posted a selfie showing off a funky new fringe. The caption read "Ya gal's BANG'd up."
Some outlets are speculating whether the new hairstyle is linked to Turner's upcoming role in HBO's true crime series The Staircase, where she plays Margaret Ratliff, who was a red head for some of life. If that's true, it suggests the drama is going to be sticking closely to the IRL story. Margaret, along with her sister Martha, stood by their adoptive father Michael Peterson in 2003 when he was accused of murdering his wife Kathleen. Michael maintained that Kathleen died by accident when she fell down the stairs at their home.
Earlier this month, Turner shared the news of her new role via her Instagram Stories with a gif saying, "I'm back, baby."
Sophie Turner/Instagram
Sophie Turner/Instagram
Meanwhile, Turner appears to still be enjoying marital bliss with husband Joe Jonas and their baby daughter, who they welcomed last year.
Last month, fans were delighted when Turner shared photos from her 2019 wedding to Joe Jonas in Las Vegas, posting the pictures on Instagram in honour of the couple's anniversary. On Saturday, May 1, Turner revealed a series of throwback images from the big day on her account, writing, "Happy 2 year Vegas Wedding anniversary to this big ol hunk of man meat."
Jonas also posted a few of the never-before-seen photos on his Instagram on Saturday, showing the couple flipping off the camera outside of the ceremony and splashing in a pool in their wedding outfits. He wrote, "Married as F@$K for 2 years! Love you bub @sophiet."