A Viral TikTok Fan Theory Predicted Succession's Finale Twist
"This was bang on the money."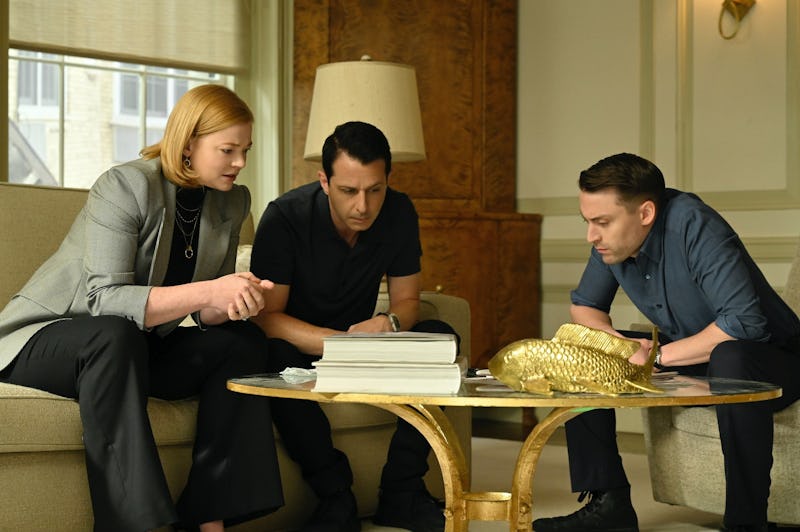 HBO
Spoilers ahead for the Succession series finale. On May 28, the much-anticipated Succession series finale wrapped up the show's fourth and final chapter, and the identity of Waystar RoyCo's new CEO was unveiled following months of fan speculation. During the 90-minute episode, it was revealed that Lukas Matsson (Alexander Skarsgård) had tapped Tom Wambsgans (Matthew Macfadyen) as CEO. By the end of the show's finale, Waystar belongs to GoJo, Tom is CEO-bound, and the Roy siblings are at major odds with one another. Naturally, fans had a lot to say about the "shocking" finale twist. However, according to one viral TikTok, the drama's conclusion might have been staring viewers in the face all along.
Speaking in a clip that was shared ahead of the Succession Season 4 finale, Nameberry editor-in-chief Sophie Kihm outlines how each of the show's characters have meaningful names. For example, Roman's nickname, Romulus, seemingly references a Roman king who killed his sibling, Siobhan's nickname, Shiv, is another term for knife, and the Roy family name also translates to "king" in Latin.
Meanwhile, TikTok also points out that rare or unusual TV surnames tend to have a special meaning. This includes the unique Succession surname Wambsgans — a name shared with Bill Wambsganss, a second baseman for the Cleveland Indians in the early 20th century. Back in 1920, the Major League Baseball star became a notable figure in the sport when he completed the only unassisted triple play in World Series history.
"He took out three players at once and what is essentially the finale of baseball," the TikTok continues, adding that it's "no coincidence" that the character of Tom Wambsgans shares his name with Bill. "You have to wonder if Tom will make an unassisted triple play and take out the Roy siblings to become the leader of Waystar," the theory (which proved to be pretty accurate) concludes.
Following the show's final ever episode on May 28, many fans have since shared their thoughts on the aforementioned TikTok theory, which, according to one viewer, "aged like a fine wine."
"This was one of the best theories I read about the finale," one fan commented, while another viewer gushed: "Boom. You called it. This was bang on the money."