Everything To Know About Succession Season 4
The final season premieres on March 26.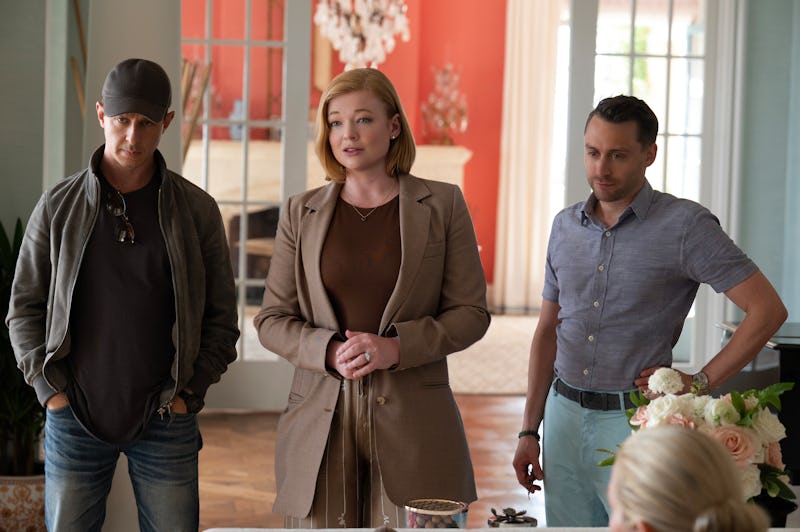 Claudette Barius/HBO
Succession was nominated more than any other show at the 2022 Emmys — which wasn't much of a surprise to fans of the Roy family saga. Succession Season 3 earned critical acclaim and a healthy viewership, too, drawing in 1.4 million viewers for its October 2021 premiere (a 13% increase from the Season 2 premiere, according to Deadline). A fourth season was confirmed before most of the third had even aired — which, again, is not surprising.
Sadly, though, we won't be getting a Season 5 announcement. In a Feb. 23 New Yorker interview, creator Jesse Armstrong revealed that Succession will end with Season 4. "I've never thought this could go on forever," he said. "The end has always been kind of present in my mind. From Season 2, I've been trying to think: Is it the next one, or the one after that, or is it the one after that?"
Armstrong consulted with his fellow writers to arrive at the big decision. While they considered the possibility of doing more seasons, they ultimately opted to "do something a bit more muscular and complete, and go out sort of strong."
This isn't too surprising if you've been following Succession behind the scenes for a while now. Speaking to The New Statesman back in 2021, Armstrong said that "there's going to be a very definite moment when [the] story is over." Clearly, that moment has arrived.
But cheer up, because there's still an entire season to enjoy this spring! Here's everything we know about Succession Season 4 — including the cast being pictured filming what appeared to be a funeral scene in New York City, and what Cousin Greg has to say about the next installment.
Succession Season 4 Cast
In addition to announcing the start of production, HBO confirmed who would be returning to Season 4. The main cast, including Brian Cox, Jeremy Strong, Sarah Snook, Kieran Culkin, Alan Ruck, Matthew Macfadyen, Nicholas Braun, and J. Smith-Cameron, will all return to the high-stakes family drama. Supporting players — Peter Friedman, David Rasche, Fisher Stevens, Hiam Abbass, Justine Lupe, Scott Nicholson, Zoë Winters, and Jeannie Berlin — will also be featured in the new season.
As Deadline announced on Sept. 9, a few more familiar faces will be returning, too — including Dagmara Domińczyk, Alexander Skarsgård, Arian Moayed, Juliana Canfield, Annabelle Dexter-Jones, Hope Davis, Cherry Jones, Justin Kirk, and Stephen Root.
Succession Season 4 Plot
In the logline for Succession's fourth season, HBO confirmed that the new season would be 10 episodes long, one more than Season 3's nine episodes. It also teased how the sale of Waystar Royco to Matsson will have a "seismic" effect on the family and those closest to them. As Season 3 left viewers with the Roy family once again divided, this new deal will likely cause more division among the power-hungry siblings and their ruthless patriarch.
A Season 4 Funeral?
On Jan. 9, 2023, the cast and crew of Succession were spotted on the Upper East Side of New York City filming an apparent funeral scene. Characters Logan, Kendall, Greg, Connor, and Hugo were all spotted in suits and ties, wearing glum expressions, but three characters were noticeably absent from the proceedings — Tom, Shiv, and Kieran.
Hopefully, this doesn't mean that something sinister is afoot in Season 4 but judging by the look on Logan's face, it may be something important. And Armstrong did say that there would be a "very definite moment" to mark when Succession's story nears its close — and now, well, we know that time is close.
Succession Season 4 Premiere Date
Right before the House of the Dragon finale on Oct. 23, HBO unveiled a sneak peek at the upcoming season and finally confirmed when fans could expect Succession Season 4: Spring 2023. The cable network then revealed on Jan. 26 that Season 4 will premiere on March 26, 2023.
Season 4 production began in New York on June 27, the network confirmed per The Wrap. Season 3 started production in November 2020 and ultimately premiered the following October — so it makes sense for Season 4 to drop in Spring 2023.
Braun and Skarsgård summed up the new season in one word during a Sundance Film Festival interview. "Banger," Braun said when asked at The Hollywood Reporter Studio at the annual Utah-based festival, receiving laughs from the audience. "Absolute banger. Fire season." Skarsgård, meanwhile, chose a more mysterious word: "manicured."
Succession Season 4 Trailer
HBO released a new trailer on Jan. 26, teasing the aftermath of Logan's heart-shattering decision to sell the company. The trailer briefly touches on the different characters and storylines of the new season, including the rising tension among the Roys as they battle it out for Waystar Royco.
On Oct. 23, Succession also revealed a first look at Season 4 in a minute-long teaser.
Then, the full trailer dropped on March 2, and it's a lot — teasing everything from a confrontation between Tom and Shiv and the existence of a "kill list."
This article was originally published on