What To Know About A Potential Sweet Tooth Season 2
Netflix's new post-apocalyptic fantasy series hasn't yet been renewed.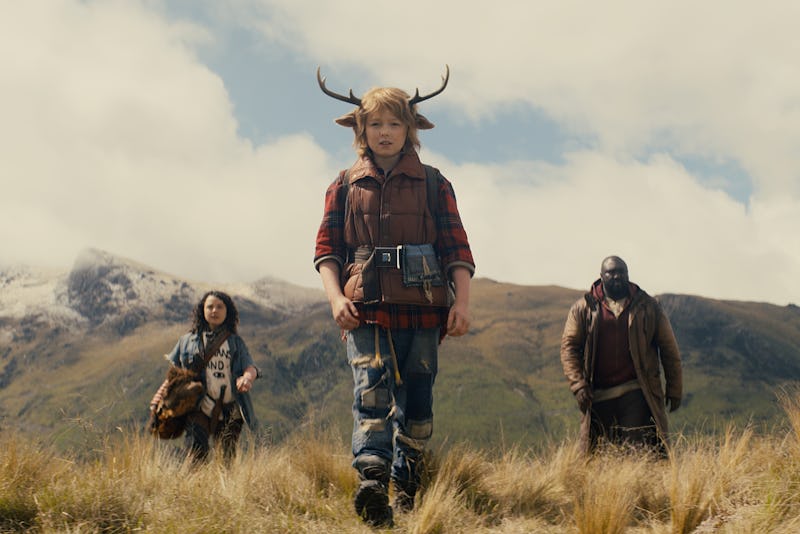 Netflix
Netflix's new series Sweet Tooth may be set in a post-apocalyptic world ravaged by a deadly virus, but don't worry — it doesn't feel that familiar to real life. Unless there's been an epidemic of animal-human hybrid babies we haven't yet heard about, it's safely within the realm of fantasy.
The show, premiering on June 4, is an adaptation of a comic written and illustrated by Jeff Lemire that ran from September 2009 to January 2013. It follows the adventures of a human-deer hybrid boy named Gus (played by Christian Convery in the Netflix series) and his reluctant companion, a grizzled drifter named Tommy Jepperd (Nonso Anozie), as they travel across the dangerous dystopian landscape in search of safety and sanctuary. Netflix hasn't yet announced whether or not Sweet Tooth will return for a second season, but here's what you might be able to expect.
The Sweet Tooth Season 2 Plot
If Sweet Tooth is renewed for a second season, it will likely continue to follow the plot of the Sweet Tooth comics. They ran for 40 issues between 2009 and 2013, but were revived in 2020 for a six-issue miniseries — giving showrunner Jim Mickle plenty of material to work with if Netflix brings back the show.
In fact, it sounds like the Sweet Tooth team quite intentionally mapped out the series for a long run. "We wanted to draw things out a bit more," executive producer Amanda Burrell told The Verge, which notes that while the comics are "a real page-turner," the show moves at a much slower pace. "We wanted to give more time to Gus and Jepperd together. We wanted to slow down and ensure we were really inside all of the characters," she added. "We really wanted to slowly get the audience on board with this very specific type of new human, and really get them emotionally invested in Gus before opening it up too wide."
The Sweet Tooth Season 2 Cast
If the series continues, the cast will probably be relatively similar to the first season. At the very least, viewers can expect to see Convery and Anozie reprise their respective roles as Gus and Jepperd, as well as the potential return of Season 1 actors Adeel Akhtar, Aliza Vellani, Stefania LaVie Owen, Dania Ramirez, and Neil Sandilands. Narrator James Brolin is also likely to return.
The Sweet Tooth Season 2 Premiere Date & Trailer
Because Netflix has not confirmed Sweet Tooth Season 2, a premiere date and trailer have not yet been released. This post will be updated as more information becomes available.