The 13 Most Terrifying Shows On Netflix
From a haunting French series to prequels of classic horror movies.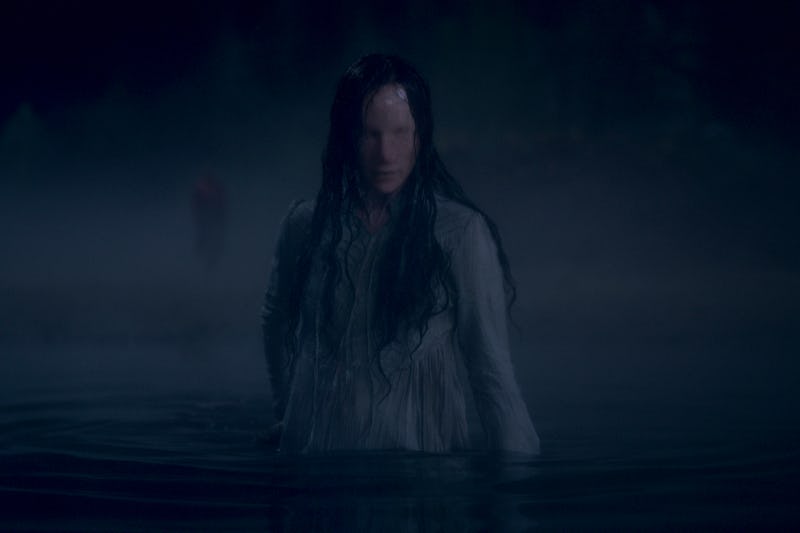 Netflix
Netflix is home to a lot of great office comedies, political dramas, and kids movies, but one area in which it really excels is horror. Every month, there are new and terrifying shows added to Netflix, whether they're originals debuting on the streaming platform or international series now making their way stateside. While you've probably heard about many of the service's creepy offerings (Twin Peaks, anyone?), there are also plenty of less mainstream options that take on murder, zombies, ghosts, and more.
What makes a show scary is up for debate, as we're all afraid of different things. Some people are terrified by the blood and guts that often accompany zombie shows, while others are more frightened by true crime or a quietly unsettling series where something just feels off. And where some shows offer jumps and screams as good as any horror movie, others have the benefit of being able to slowly build up a creeping sense of dread over the course of a season. From animated series to chilling science fiction, these are the most terrifying shows on Netflix right now.
1. Kingdom
This wild South Korean horror drama takes place in 1500s Korea, where a virus pits their army against a legion of the undead. The inclusion of class warfare, royal politics, and a cold-hearted queen make this a unique take on the usual zombie fare.
2. Marianne
A genuinely terrifying French series that revolves around young horror novelist Emma, whose characters begin to exist in the real world. It was canceled after one season, but the images will haunt you.
3. The Mystic River
Created by Nigerian filmmaker Uzodinma Okpechi, The Mystic River centers around pregnant women who begin to suddenly vanish from a remote Nigerian village. As Okpechi hinted to Premium Times, it's a metaphor about standing up to "things we don't like in our country today."
4. Sweet Home
Based on a popular webtoon, this Korean horror series is full of monsters. When Hyun loses his entire family in a tragic accident and moves to a new apartment, he discovers there are creatures all over the building.
5. The Haunting of Bly Manor
Mike Flanagan's second show in the Haunting universe (following The Haunting of Hill House, which is also very good) takes place at a remote English manor. Full of romantic tragedy, ghosts, and a devastating late season twist, this one is as heartbreaking as it is scary.
6. Alice in Borderland
In this Japanese dystopian horror, a gamer and his friends find themselves in a parallel Tokyo, where they have to compete in a number of sadistic, clever games in order to survive. Stress-inducing, but also surprisingly fun.
7. Dark
While not technically horror, this time-traveling science fiction series is moody, dark, and unsettling. The story is complex, but the payoff in the end is incredibly satisfying.
8. Bates Motel
This update on Psycho is as scary as the source material, but with it's own fresh spin.
9. Conversations With A Killer: The Ted Bundy Tapes
One of America's most notorious serial killers, Ted Bundy, lured in and murdered over 30 women. In this show, you hear recordings of him while he was on death row.
10. Devilman Crybaby
Like Parasyte, Devilman Crybaby is not for those squeamish about body horror. When Akira bonds with a demon that turns him into a hybrid man-demon, the series gets very weird and very gory very fast.
11. Penny Dreadful
The atmospheric horror series is a who's who of British literature, with appearances from Count Dracula, Dorian Gray, and Frankenstein.
12. American Horror Story
All nine seasons of this famed anthology series are on Netflix, and they're each as genuinely scary as they are ridiculous. Story quality may vary across seasons, but there are undoubtedly disturbing images throughout.
13. Ratched
A prequel to Miloš Forman's 1975 film One Flew Over the Cuckoo's Nest, Ratched takes place in 1947. It stars Sarah Paulson as Mildred Ratched, who arrives at a leading psychiatric hospital where they're doing new and unsettling experiments on the human mind.
Additonal reporting by Loretta Donelyn.
This article was originally published on