Here's What's Coming To Netflix In February 2017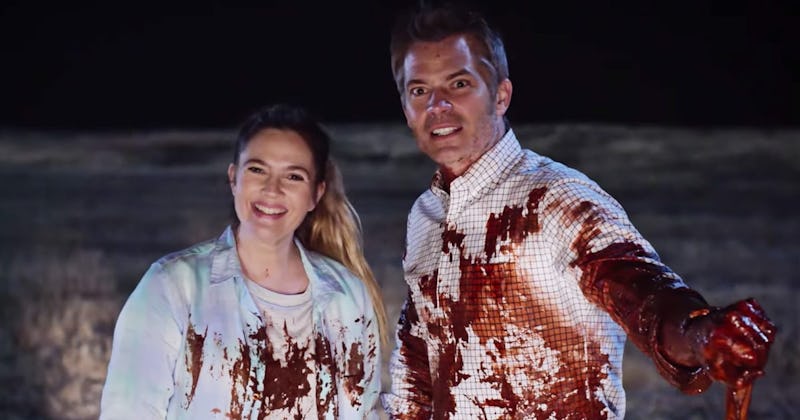 Netflix
If you didn't think that Netflix spoiled us enough in January 2017 with a bounty of new releases, just wait until you see the list of what's coming to Netflix in February 2017. From a whole host of brand new original series to incredible documentaries and movies, the streaming service continues to up its game, month after month, and I've never been more excited about the passing of time. It's no coincidence that Feb. 14 is almost upon us, and the world is being gifted with the perfect selection of content to help everyone Netflix & Chill on Valentine's Day. I'm just sayin'.
One of the most exciting new releases from Netflix in Feb. 2017 has to be Drew Barrymore's new show, Santa Clarita Diet. I can't wait to see Barrymore on the small screen in the comedy-horror series, especially since Timothy Olyphant plays her husband.
There are several amazing movies joining Netflix's roster too, including Finding Dory, which is the best news I've heard all day. On top of that, there's a Netflix Original that looks completely hilarious: Michael Bolton's Big, Sexy Valentine's Day Special sounds brilliant, and totally inspired by his comic performances alongside The Lonely Island. If you're feeling down in the dumps, then, in February, Netflix has something to cheer you up pronto.
1. Santa Clarita Diet (2017)
Drew Barrymore. Timothy Olyphant. Need I say more?
2. Michael Bolton's Big, Sexy Valentine's Day Special (2017)
No date for Valentine's? No problem. Michael Bolton is here for you.
3. Ashley Madison: Sex, Lies, and Cyber Attacks (2016)
Netflix loves bringing documentaries to the masses, and Ashley Madison: Sex, Lies, and Cyber Attacks promises to explore what happened following the scandalous data breach of the infamous site.
4. Finding Dory (2016)
Dear Netflix. Thank you.
5. American Crime Story: The People v. O.J. Simpson (2016)
If you've somehow not seen this yet, let the marathon watching commence.
6. Imperial Dreams (2014)
John Boyega plays the lead in this movie about a reformed gangster, released from prison, who goes back home to Los Angeles. Imperial Dreams also won the Audience Award: Best Of Next at Sundance way back in Jan. 2014, so thank goodness the movie is finally reaching an audience on Netflix.
7. Girlfriend's Day (2017)
Starring Better Call Saul's Bob Odenkirk, and Amber Tamblyn, Girlfriend's Day is the dark comedy we all need in our lives.
8. Code: Debugging The Gender Gap (2015)
A documentary focussing on the lack of women and minorities working in the field of software engineering. More important than ever.
9. Magicians: Life In The Impossible (2016)
Think that being a magician is easy? Think again.
10. Girl Meets World Season 3 (2016)
Although Netflix didn't save this Disney Channel show from cancellation, at least they're streaming Season 3.
11. Before I Go To Sleep (2014)
This British-American thriller will keep you guessing.
12. Kill Ratio (2016)
Tom Hopper is hot. That's all I have to say.
Netflix continues to provide us with everything we need and more. February is going to be a great month.