The 11 Best Collaborations To Ever Happen On Stage At The BRITs
Last night's performance from Elton John & Olly Alexander joins a long list of legendary BRITs duos.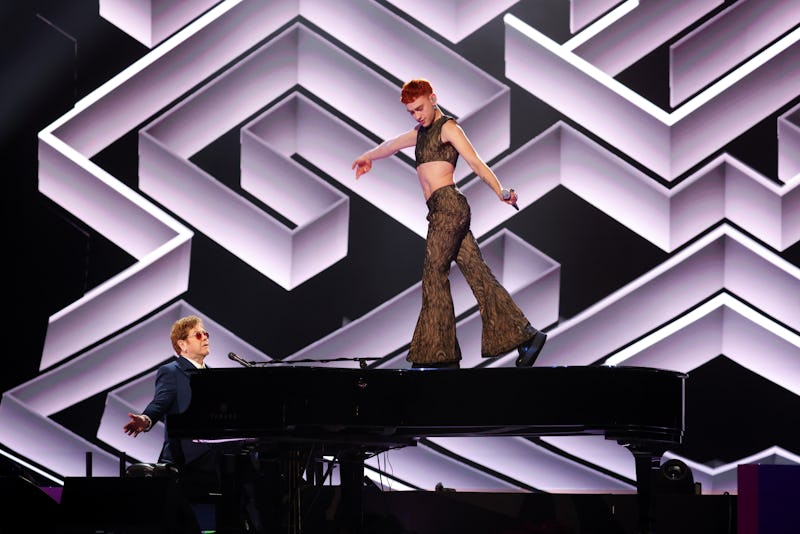 JMEnternational/Getty
Between Michelle Obama's cameo, the NHS choir performance, and Olivia Rodrigo's handwritten notes, this year's BRIT awards provided a a night to remember. But for many people, Elton John's performance with Olly Alexander will be remembered as the standout moment.
The duo – who are known to be fans of one another – performed a cover of the Pet Shop Boys' "It's a Sin", a nod to the Channel 4 series that Alexander starred in with the same name, which followed a group of friends living amidst the AIDs crisis of the 1980s.
The performance opened with an introduction from David Furnish, who revealed that sales from the single would support the AIDS Foundation his husband established in 1990. Then the stage was plunged into darkness with a spotlight on Elton at the piano. Next, Olly appeared, lying across Elton's piano, wearing a gorgeous lace two-piece. As the lights went up, dancers, confetti, and drag queens filled the stunning, geometric-shaped stage. It was pure joy with a powerful message
In its 43 year history, the BRITs has become renowned for hosting legendary on-stage collaborations, with the Elton x Olly moment joining a long line of prestigious and surprising performances between two musicians. Florence + The Machine and Dizzee Rascal immediately come to mind, as does 2019's performance from Little Mix and Ms. Banks, but there are so many other collabs we've loved over the years. Below is our pick of the best.