Twitter Is Losing It Over Tony Blair's New Mullet
He may have been there to discuss Scottish Independence, but the former PM's lid was the "mane talking point.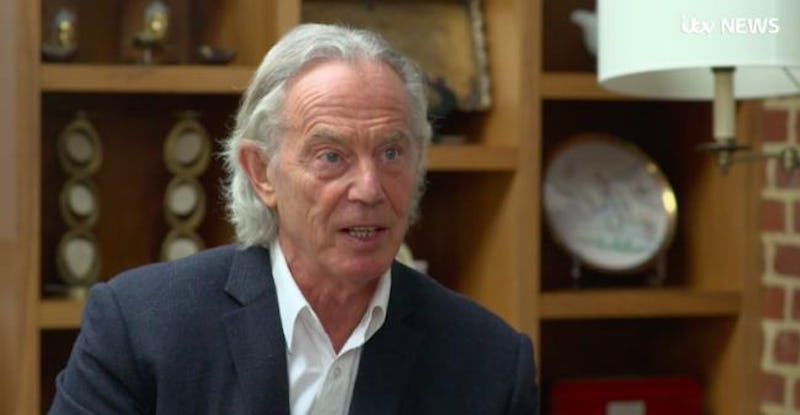 ITV News
Last night (April 27), Tony Blair appeared in an ITV interview to speak about devolution and a potential Scottish Independence referendum. However, despite the serious topic being discussed, viewers were totally distracted by the former prime minister's new mullet-style hairdo. For the TV appearance, Blair's startling white locks were slicked back into an, umm, international playboy-esque style and, needless to say, the internet couldn't hide their shock at his transformation. From silver fox comparisons to haircut petitions, here are the best Tony Blair mullet memes.
While UK barbers and hairdressers reopened on April 12, it seems Blair, now the chairman of his own non-profit organisation, may not have been able to book an appointment — or perhaps he's simply chosen to embrace his grown-out locks. Either way, people had a lot to say about it.
It's time for someone to step in
Football fans know this look all too well
The Dr. Who replacement nobody asked for...
Who are we going to call about this?
It's a legendary haircut to copy, to be fair
Now, this is a very specific comparison
Some feel it's a haircut fit for a '70s spiritual leader
Or that signals an interesting retirement plan...
Oh dear indeed...
The haircut is giving us house Slytherin...
Well, if it's not broke then, umm, don't fix it...?
When you're growing out a bad pixie cut and it can finally get into a bobble...
Unpopular opinion but...