The Billie Eilish Queerbaiting Controversy, Explained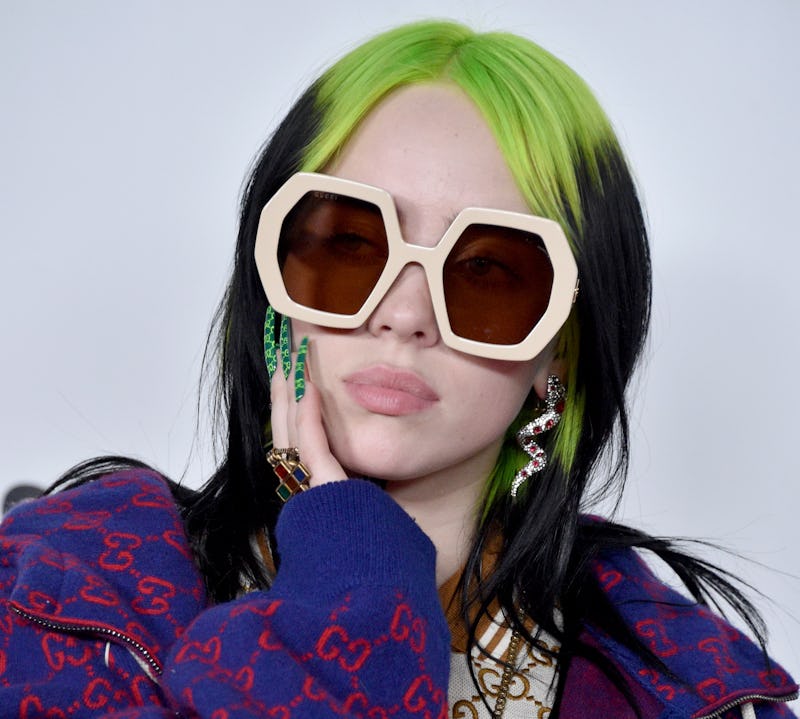 Gregg DeGuire/FilmMagic/Getty Images
Celebrities landing themselves in hot water is a common occurrence in the age of social media, and Gen Z pop sensation Billie Eilish is no exception. As with every online scandal, keeping track of what actually went down is tricky. So, if you're keen to learn what the latest one is about, here's an explainer of the recent Billie Eilish controversy.
What did Billie Eilish do?
Per the Independent, Eilish found herself at the center of "queerbaiting" accusations after the singer-songwriter uploaded an Instagram post from the set of her upcoming "Lost Cause" music video. Alongside a series of behind-the-scenes snaps, in which Eilish can be seen dancing with other girls, the singer shared a caption that read "I love girls."
The caption in question led many fans to believe Eilish was coming out as a member of the LGBTQ+ community. However, some later accused the "Bad Guy" hitmaker of using the ambiguous caption, and speculation surrounding her sexuality, to promote her latest single.
"Bestie idk if you're queerbaiting or not but I'm really hoping you aren't because it's really rude," one Instagram user commented. While another fan on Twitter wrote "queerbaiting is bad enough... but during pride month!? i'm sorry but no."
As PinkNews reports, the term "queerbaiting" is used to describe people — particularly artists and performers who may have something to promote — who attempt to "attract an LGBT audience by hinting at same-sex relationships" that are "never actually consummated."
Has Billie Eilish responded?
Per Newsweek, Eilish is yet to respond directly to the controversy surrounding her recent Instagram post.
However, the Grammy Award-winner did leave a subtle hint as to where she stands on the backlash by liking a supportive post shared by a fan. The fan's post read: "This fandom is so embarrassing sometimes like why would you go in someone's comments and say something that you literally don't even know is true and something y'all LITERALLY MADE UP, sometimes y'all are so dumb. Some of you just need to learn how to mind your business."
In the days following the "queerbaiting" claims, Eilish also uploaded a selfie to Instagram with the caption "I'm tireeeddddddd," which some fans believe may have been a reference to the recent social media fallout.
What are Billie's fans saying?
Although Billie has remained silent on the matter, her millions of fans have been extremely vocal on social media — and the response has been somewhat divided.
Twitter comments from some fans included "Is Billie Eilish bi? Or did I just watch four minutes of queerbaiting done by a straight person."
However, per the Independent, many fans were quick to defend the singer and accused detractors of attempting to force Eilish to publicly address her sexuality.
"The conversation around queerbaiting has reached a confusing place — on one hand we say don't worry abt labels and on the other hand, if an artist presents even remotely 'queer' we interrogate them abt their sexuality?" wrote one supportive fan. While another pointed out, "I'm a gay man myself and I love girls too. Am I straightbaiting if I say that?"