Everything To Know About A Possible Season 3 Of The Flight Attendant
The HBO Max series hasn't been renewed yet, but there's still hope.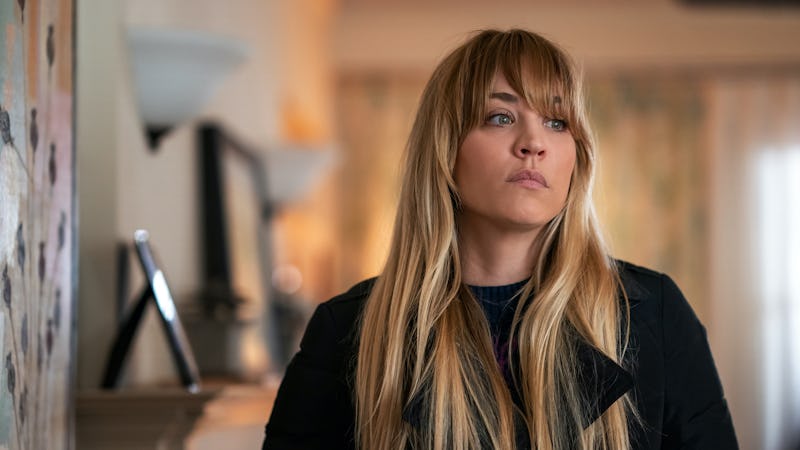 Jennifer Rose Clasen/HBO Max
Spoilers ahead for The Flight Attendant Season 2. Each season of HBO Max's The Flight Attendant has explored the alcohol use disorder, hallucinations, and mental health issues of the main character, Cassie Bowden (Kaley Cuoco), as she unravels various murder mysteries. While the first season was based on Chris Bohjalian's same-named 2018 novel, Season 2 was created just for TV — similar to what HBO did with Big Little Lies. The future of the series is currently up in the air, as HBO has yet to announce a renewal for The Flight Attendant Season 3.
While the sophomore season didn't receive as many glowing reviews as the first, early analytics suggest the series still has strong audience demand. But if you were to ask Kaley Cuoco, she's not quite ready to dive into another season just yet. "Now, I'm like, 'Well, we did two. We should probably be done.' And I think I've been outnumbered with that thought," she told People in a May 31 article. She said that while there's "definitely interest" in a third season, for her, "The plane has landed."
She said she was unsure where the story could go from here, as she felt like they've already "done so much this season ... so it's going to take a lot of thought to make sure if we go back that it's better than the last two, which is very hard to do."
The show likely can't go on without Cuoco, but she did hint she "could possibly get back in it" in the future. "I think I need a minute. I just kind of feel like we just ended," she said. "Some of my favorite shows on TV take some time to come back, and then I get very excited about a new season. I want to make sure that the fans are excited and that we're not pushing it too hard."
Here's everything else we know about a potential Season 3.
The Flight Attendant Season 3 Premiere Date
During The Flight Attendant's first season, HBO announced a renewal for Season 2 one day after the finale episode aired, so hopefully we'll hear renewal or cancellation news soon. HBO dramas tend to take anywhere from a year to two years to produce, so if the show is renewed for Season 3, the earliest we'd expect a premiere is summer 2023.
The Flight Attendant Season 3 Cast
If the series returns, we can expect Cassie to embark on another spy adventure, likely introducing viewers to new characters. And as she's been on a mission to repair and nurture relationships, we can also expect the return of her friends Annie and Max (Zosia Mamet and Deniz Akdeniz), Shane (Griffin Matthews), and her older brother, Davey (T. R. Knight). We'll also likely see the return of Megan Briscoe (Rosie Perez), who was in witness protection at the end of Season 2.
What Will The Flight Attendant Season 3 Be About?
It's not yet clear! In the penultimate episode of Season 2, Megan kidnapped a North Korean operative before cooperating with Shane, and viewers learned that Grace (Mae Martin) had been acting as Cassie's double. Grace, who alluded to having made a deal to get out of military service, frantically confronted Cassie on a Ferris wheel. Before Cassie could talk her down, Grace died by suicide. This sent Cassie into a spiral, given that her hallucinations had been taunting her about suicide ideation.
It was a heartbreaking twist, and if the show continues into Season 3, Cassie's mental health issues will likely play a central role again.
If you or someone you know are experiencing suicidal thoughts, call 911, or call the National Suicide Prevention Hotline at 1-800-273-8255.
This article was originally published on