An '00s Costume Designer Breaks Down The Hills' Most Iconic Fashion Trends
From enormous belts to peep-toe heels, Lauren Conrad and co. pioneered some of the looks that dominated the era.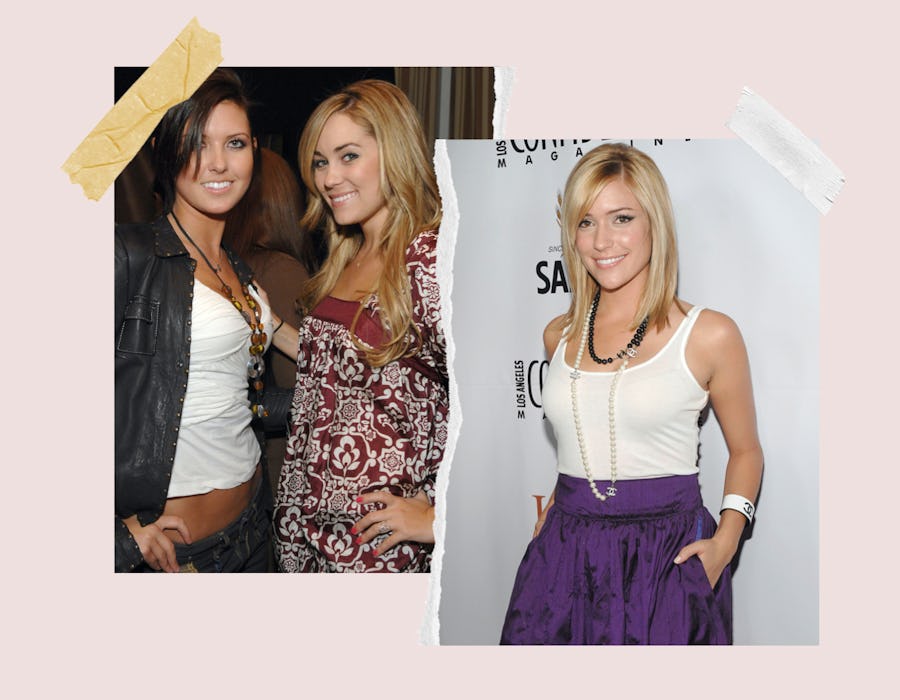 John Sciulli/WireImage / Patrick McMullan/Getty Images
Few moments on reality television are as iconic as Lauren Conrad's delivery of "Homeboy wore combat boots to the beach." The line comes in response to The Hills' bad boy Justin Bobby leaving Audrina Patridge at a bonfire without so much as a goodbye. To comfort her friend, Conrad turns to insulting the man who wronged her in the language she knows best: fashion.
When The Hills premiered 15 years ago, the cast's style was firmly rooted in the cultural contradictions of the mid-2000s. The designer-y excess of celebrities like Paris Hilton and Kim Kardashian was celebrated, yet with the help of the popular teen show The O.C., casual beach culture was all the rage. American celebrity culture was experiencing a seismic shift, too, thanks to the rising popularity of tabloids, which captured them strutting around town in Juicy Couture tracksuits and Uggs rather than the usual red carpet-ready looks. "It was a mix of high and low," says Robin Lewis West, a costume designer and '00s expert who worked on shows like The O.C. and Gilmore Girls.
The Hills' camera captured the cast's high and low fashion moments in equal measure, from their huge designer purses and bug-eyed sunglasses to their low-rise jeans and velour hoodies. As rich girls from beach cities with lots of time and money on their hands, the cast's resulting fashion is an interesting mix of Chanel and $15 flip flops, of brand name denim with cheap white camisoles on top — but never combat boots on the beach (they knew better). As we celebrate the anniversary of The Hills amid an '00s style resurgence, West breaks down some of the show's most iconic fashion trends.
Accessories on Accessories
The accessory philosophy of the '00s was more is more. Necklaces were stacked, charm bracelets were big, and headbands were a near-constant addition (hello, Blair Waldorf). LC was a huge headband head, using fun patterns and serious prints depending on the occasion. But for the evening hours, everyone on The Hills was glitzed out in layered necklaces, dangly earrings, and chunky accessories. "It was all about the long layered necklaces," West says. No outfit could be dull with one.
Low Rise Jeans
"It was embroidered and bedazzled pockets, True Religion, 7's, Hudsons, lots of wide low belts, tunics over jeans," says West. "Jeans were an ever changing thing, a little bit flared, a little bit skinnier, but they were really low — no one was wearing high-waisted anything." West, for one, doesn't look back in anger: "I like lower waisted pants, I think it's much sexier, I think they look really good." Audrina from 2007 would agree.
Going Out Tops
The going out top can best be defined as an extravagant but sensible shirt that is worn — likely with jeans — to stand out. They are best worn for '00s activities such as hitting up a trendy sushi place or meeting your PR party girl friends at their event. Lauren, Heidi, Lo, and Audrina all sport their fair share of going out tops for their nights on the town. "There were a lot of halters, babydolls, a lot of metallic in them, some ruffles, some Western-style tops," says West. "I never see tops like that anymore, but they were really fun."
Big Purses
The coolest purse you could have in 2006 was something huge, with lots of pockets, zippers, and little strings hanging from it. "The big brands were Chanel, Dior, and Tylie of Malibu," West says. Everyone on The Hills loved slinging these big slouchy purses over their shoulder in dramatic moments — but what were they carrying in those glamorous sacks?
Tracksuits and Hoodies
As much as the 2000s were a time of excess, they were also a time of comfort. Audrina, Heidi, and Lauren all sported their fair share of hoodies and Juicy Couture velour tracksuits on various errand runs and while hanging out in their extravagant apartments. "It was really influenced by beach style, pairing tiny skirts with a hoodie and Uggs," West notes. Just because something is casual, doesn't mean it can't make a statement — call it The Hills style in a nutshell.