Get To Know Kung Fu's Predominantly Asian American Cast
The reboot already looks very different compared to the original.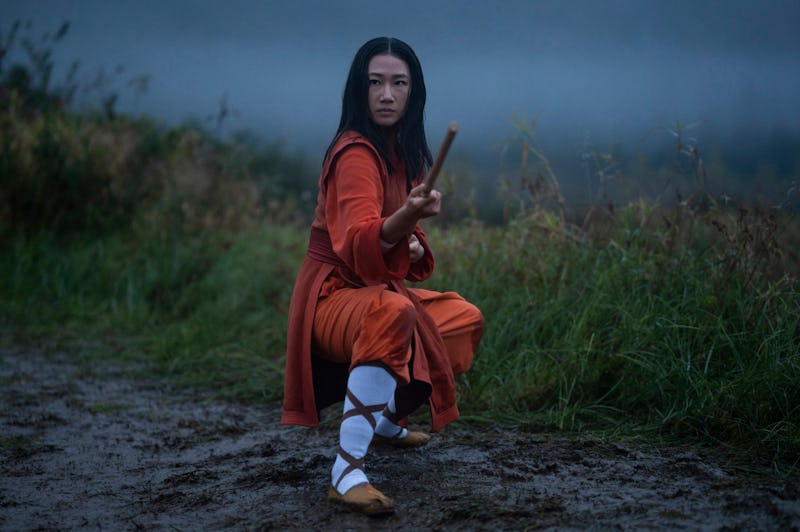 Kailey Schwerman/The CW
The CW's reboot of the martial arts drama Kung Fu promises to be very different compared to its predecessor. While the original 1972 series starred David Carradine (a white actor) as the half-Asian protagonist, the new series features an Asian American woman as the lead. Created by Christina M. Kim (whose writing credits include Lost and Hawaii: Five-0), the story follows Nicky Shen, a young woman who drops out of college to go on a life-changing journey to a monastery in China. When she returns to San Francisco, she discovers that her hometown is overrun with crime and corruption, and it's up to her to protect her community in Chinatown.
"I really, really wanted a strong female Asian lead," Kim told The New York Times. She explained that when she initially started writing the pilot in 2019, she wanted to highlight the unique dynamics that exist within a multigenerational Chinese American family. That meant hiring a predominantly Asian and Asian American cast for Kung Fu, and exploring issues unique to the community. The cast ranges from relative newcomers to highly respected actors, so here's everyone to follow after the show's April 7 premiere.
Olivia Liang As Nicky Shen
Olivia Liang plays Nicky. As she explained to Bustle, her passion for performing first came from learning dance, not martial arts, but she was drawn to the show because of Kim's writing of Nicky's family. Liang formerly played Alyssa Chang on the Vampire Diaries spinoff Legacies, and she beat out 150 other actors for her new role, per Kim.
"I needed to find somebody who was super relatable but who was also mentally and physically capable to take down the bad guys every week," Kim told The New York Times. "Olivia is just charming, down-to-earth, funny and kind of goofy. She also has this dance background, so she picked up the kung fu really fast."
Tzi Ma As Jin Shen
Tzi Ma plays Nicky's father, Jin. Born in Hong Kong and raised on Staten Island, Ma began his career in the experimental theater scene in the late 1970s and eventually moved into TV and film roles. He has since starred in more than 140 projects across four decades.
"I realized that these two media [TV and film] are much more powerful than the theater because of the sheer number that we can reach in such a short period of time," he told The New York Times. "I said: 'You know what? It's important to get into the living rooms and into the [movie] theaters in the world, to really give us the opportunity to change perceptions of how people see us.'"
Variety jokingly describes him as "Hollywood's go-to Asian dad," as he's played the father in The Farewell, Meditation Park, and most recently, Disney's Mulan.
Kheng Hua Tan As Mei-Li Shen
Kheng Hua Tan plays Mei-Li, Nicky's stern mom. Tan is a well-known and respected actor and producer in Singapore and Malaysia, but she originally started out in corporate marketing, per her IMDb bio. She developed a passion for acting after taking a university course, and eventually decided to do it full time. She was the Empress Dowager in Netflix's Marco Polo and is probably best-known for playing Rachel's mom in Crazy Rich Asians.
Shannon Dang As Althea Shen
Shannon Dang plays Nicky's clever hacker sister, Althea. Dang's credits include The L Word, Sorry for Your Loss, Veronica Mars, The Romanoffs, American Vandal, and Doubt. She also has supporting roles in the upcoming comedy movies Film Fest and Prison Logic, per Deadline.
Jon Prasida As Ryan Shen
Jon Prasida plays Ryan, Nicky's younger brother who's estranged from her at the start of the series. He's a quick-witted medical student who begrudgingly agrees to help Nicky on her quest to protect the city. He starred in the TV series Hiding and Tomorrow When the War Began. He also guest starred in the ABC drama Warriors and will next be seen in the upcoming series Harrow and Sando.
Eddie Liu As Henry Yan
Eddie Liu plays Henry, a martial arts instructor and Chinese art history buff who has an instant chemistry with Nicky. Liu played Doug on HBO's Silicon Valley, and more recently, Steve on Never Have I Ever (remember the hot classmate who Kamala was initially willing to break off her arranged marriage for?).
Gavin Stenhouse As Evan Hartley
Gavin Stenhouse plays Evan Hartley, a highly successful assistant district attorney who was Nicky's first love. Stenhouse featured in Into the Dark and Black Mirror's "San Junipero" episode. He previously was a series regular on NBC's drama series Allegiance.
Vanessa Kai As Pei-Ling Zhang
Vanessa Kai plays Pei-Ling Zhang, Nicky's Shaolin mentor at the monastery in China. After Pei-Ling is tragically killed, she lives on in Nicky's memory to guide her through her journey to save the city. As Nicky hunts down Pei-Ling's killer, though, she starts to realize that maybe her mentor hid more from her than she thought. Kai's credits include New Amsterdam, The Blacklist, and Orange Is the New Black.
Tony Chung As Dennis Soong
Tony Chung plays Dennis Soong, a rich heir and Althea's fiancé. Though he's completely in love with Althea, clashes between their families (and a few long-buried secrets) may tear them apart before they get to the altar. Chung has starred in two shorts — as well as been a face model for Sub-Zero in a Mortal Kombat game — but Kung Fu is his first-ever TV role.
Gwendoline Yeo As Zhilan
Gwedoline Yeo plays Zhilan, a cryptic woman with deep criminal ties and a mysterious connection to the Shaolin monastery where Nicky trained. Zhilan is the one who murders Pei Ling, and Nicky's goal is to finally bring Zhilan to justice. Yeo has starred on Desperate Housewives and American Crime, and has also voiced characters on the Teenage Mutant Ninja Turtles and Star Wars: The Clone Wars.
Kung Fu airs Wednesdays at 8 p.m. ET/PT on The CW, starting on April 7.