Kung Fu Star Olivia Liang Is Ready To Reclaim Martial Arts Stereotypes
The 27-year-old actor on how the CW's Kung Fu reboot rewrites the show's problematic legacy.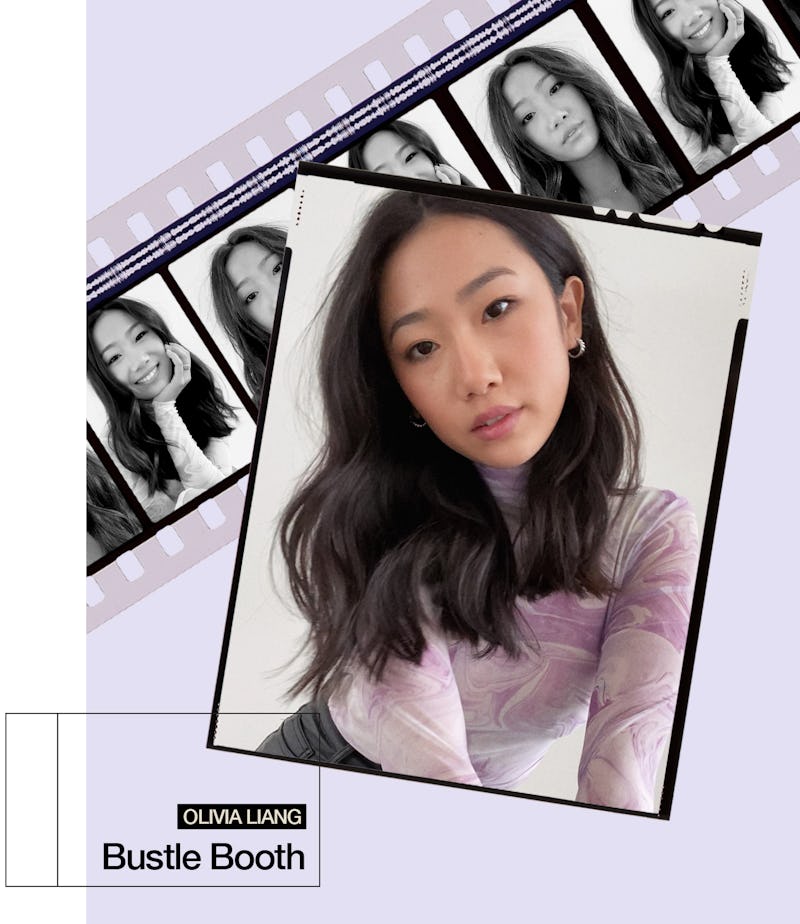 Margaret Flatley
When Olivia Liang started acting, she made a mental promise to herself: she'd never learn martial arts until she was paid to. As an Asian American actor, she'd been told again and again that she needed martial arts experience on her resume. But she'd seen how that led to Asian people being typecast in reductive roles. "In the past, an Asian person would come onscreen, do a couple kicks and punches, and then leave," Liang tells Bustle. "We would have no idea who they were and where they came from."
Now, the 27-year-old actor is starring in the CW's Kung Fu, a series that centers on martial arts and has a problematic history of its own: In the original 1972 series of the same name, David Carradine, who is white, portrayed a half-Asian character. Later, Bruce Lee's wife claimed that Warner Bros. had ripped off the entire idea from her husband (the show's original creator denied this). Naturally, Liang was hesitant to take on the role.
She was convinced by showrunner Christina M. Kim, whose writing imbues Kung Fu with what the original series lacked: nuanced stories about intergenerational Chinese Americans. In the show, Liang plays Nicky Shen, who trains at a Shaolin monastery and returns to defend her home in San Francisco's Chinatown from both street violence and supernatural forces. The cast is predominantly Asian, and the plot highlights the specificities of what it means to be Asian American. (In one scene, Nicky's family reiterates that it's up to community members to protect each other because the cops often ignore their plights.)
"It feels really empowering to get to reclaim [martial arts] and to say you know what, it's not a stereotype. It's something that we can be really proud of because it's a huge part of [Asian] culture," Liang says. That this is also the first American martial arts show to be written by an Asian woman and to focus on an Asian American family is not lost on Liang — particularly considering that it's premiering amid a spike in violence against Asian Americans. "[I hope that Kung Fu can be part of a] long term solution to bringing representation, inclusion, and acceptance into people's homes," she adds.
On a more personal level, being the lead on Kung Fu has given Liang the opportunity to prove to her family that she can succeed in Hollywood. Growing up in Diamond Bar, California, her mom always envisioned she would pursue one of the "big three" careers: engineering, medicine, or law. "She thought I was going to be a genius," Liang says with a laugh. "She put me in abacus lessons when I was seven."
When Liang proclaimed in her senior year of high school that she wanted to forego college and pursue acting and dance, her mom pushed her to attend college anyway. Liang tried marketing, PR, and broadcast journalism but never really "found my joy in it." At 20, she reiterated her interests and her mom at last relented. Now, as the star of her own show, "my mom is finally not asking me if I want to go to law school," Liang says. "[She's] like, 'You know what? I always knew. I always told you you were funny!'"
Liang's role in Kung Fu is more centered on action than humor: she round-houses bad guys in the face and hunts down an assassin who stole her monastery's ancient sword. But offscreen, she says she's "very normal, very boring." She loves marathoning true crime shows like Netflix's Murder Among the Mormons and reading books like Interior Chinatown by Charles Yu (fittingly, about an Asian actor struggling with stereotypical roles). She enjoys hiking and the occasional Chloe Ting YouTube workout.
Get to know more about Liang — including the reality show that makes her cry — in her Bustle Booth questionnaire below.
In The Bustle Booth
What's your coffee order?
Either a cappuccino or a matcha latte, both with oat milk and honey.
What are the saved weather locations on your phone?
Los Angeles, Atlanta, Chino, Vancouver.
What's your sign?
Taurus, though I'm not too into astrology and don't ~feeeeel~ like a taurus.
Favorite overused movie quote?
"On October 3rd, he asked me what day it was."
What was your favorite cartoon as a kid?
Does Lizzie McGuire count as a cartoon?
What's one movie or TV show you're currently obsessed with?
DAVE on FX — I can't wait for Season 2. And the movie Plus One.
Who is your celeb idol?
Emily Blunt.
If you had to be on a reality TV show, what would it be?
Survivor. I wouldn't last but I need to try.
Go-to karaoke song?
"No Scrubs" by TLC.
What's something that's inspiring you lately?
The Voice. I love watching people's dreams come true. It makes me cry every episode because I'm a cry baby and it makes me want to chase the things that I want in life.
What is something you would want people to say about you?
That I brighten their days.