Everything We Know About The New Mandalorian Spinoffs (So Far)
The Star Wars universe is expanding.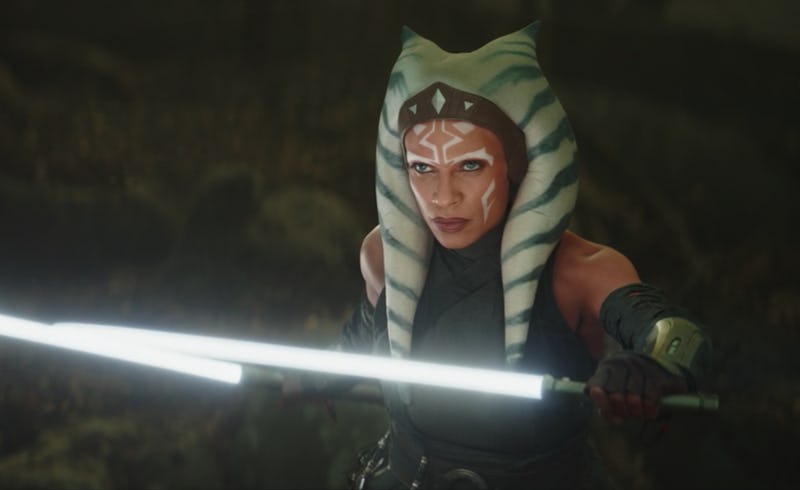 Lucasfilm Ltd./Disney+
The Star Wars universe continues to expand on Disney+. At Disney's 2020 Investor's Day event on Dec. 10, Lucasfilm president Kathleen Kennedy announced two new Mandalorian spinoff shows: Rangers of the New Republic and Ahsoka. Both are being developed by The Mandalorian showrunner Jon Favreau and producer-director Dave Filoni, and they join a stable of already announced Star Wars projects.
Kennedy hinted that all three of the Mandalorian shows will build toward one unifying event, much like Marvel's standalone superheroes eventually meeting up in The Avengers. "Set within the timeline of The Mandalorian, these interconnected shows, along with future stories, will excite new audiences and embrace our most passionate fans and will culminate in a climactic story event," Kennedy said, per Entertainment Weekly.
Beyond that, Kennedy said they have seven other Star Wars shows in the pipeline. It's clear that Disney is going all-in on the franchise, so here's everything to know about the upcoming series.
Star Wars: Ahsoka
Introduced in the animated The Clone Wars series, Ahsoka (Rosario Dawson) made her live-action debut in The Mandalorian Chapter 13. While she ultimately declined to train Grogu and went her own way, the former Jedi apprentice has long been a fan favorite character, so it's unsurprising that she's getting her own show. Per Polygon, Ahsoka will be set immediately after the events of the animated Star Wars: Rebels but likely before the events of The Mandalorian. That means we could see how she got separated from Sabine Wren, the Mandalorian she was traveling with at the end of Rebels, and whether they found the Jedi Ezra Bridger.
Kennedy didn't announce the cast or the plot of the show, but said it would debut some time in 2022.
Rangers of the Republic
Even less is known about Rangers of the Republic, other than the fact that it will likely feature characters first seen in The Mandalorian. This has led to numerous theories about the show on Reddit. Since Cara Dune (Gina Carano) recently became a Marshall for the New Republic on The Mandalorian, it would make sense if Rangers of The Republic focused on her, Greef Karga (Carl Weathers), and Mythrol (Horatio Sanz) patrolling on behalf of the good guys. (Some fans have already expressed doubt that both Carano and her character can actually carry a show, though.) Others suggest that the show could bring back Cobb Vanth (Timothy Olyphant) or focus more on Paul Sun-Hyung Lee's fighter pilot, as Lee is a fan favorite from his role as the dad in Kim's Convenience.
Currently, there's no release date for Rangers of the Republic.
Lando
Kennedy also announced a show centered on the film character Lando Calrissian, directed by Dear White People creator Justin Simien. This is seemingly separate from The Mandalorian, as Lando would be alive during the course of Mando and Grogu's adventures. "If [Donald] Glover is back as Lando, I'm 100% down," wrote one fan on Reddit.
Obi-Wan Kenobi
Ewan McGregor's Obi-Wan Kenobi show was announced a while back, but Kennedy revealed on Dec. 10 that Hayden Christensen will be reprising his role as Anakin Skywalker/Darth Vader. "Obi-Wan Kenobi begins 10 years after the dramatic events in Revenge of the Sith where he faced his greatest defeat: the downfall and corruption of his best friend and Jedi apprentice, Anakin Skywalker, turned evil Sith Lord Darth Vader," Kennedy said, per Entertainment Weekly.
Director Deborah Chow added that the show will follow Obi-Wan in a time when "just being a Jedi is not safe. There are Jedi hunters out there."
The show will be a six-episode limited series, and begins filming spring 2021 with a likely 2022 (or later) release date.
Andor
Based in the 2016 film Rogue One: A Star Wars, Andor will focus on Diego Luna's rebel character Cassian Andor. Kennedy gave few details about the project, but per Deadline it will be a 12-episode series debuting in 2022.
Rogue Squadron and other projects
Lucasfilms is also working on The Acolyte, a mystery-thriller, and two animated series, Visions and The Bad Batch. Wonder Woman director Patty Jenkins is also working on a Rogue Squadron film, likely centered around the group that appeared in The Empire Strikes Back. "This story will introduce a new generation of star fighter pilots as they earn their wings and risk their lives in a boundary-pushing, high speed thrill ride," Jenkins said in a teaser trailer. "The legend of Rogue Squadron has been long beloved by Star Wars fans, and will move us into a future era of the galaxy." The film will debut Christmas 2023.