The 14 Most Ridiculous Moments In The Princess Switch: Switched Again
Beyond the fact that Vanessa Hudgens plays three different characters.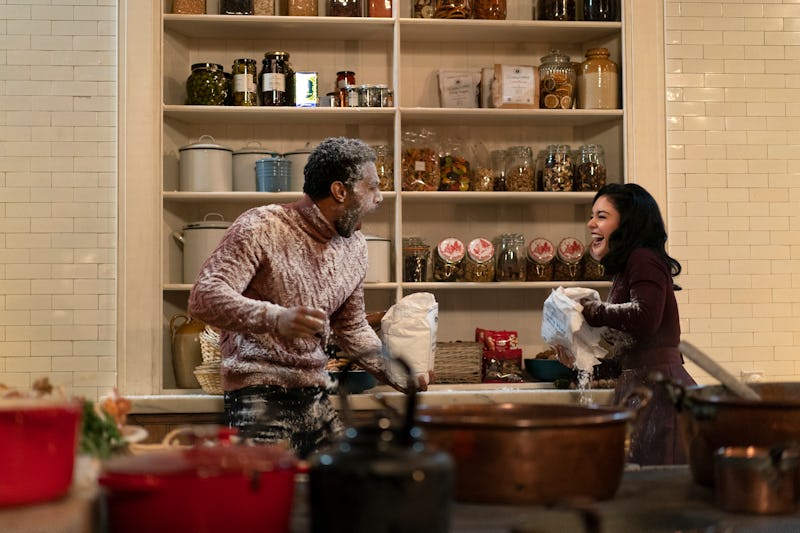 Netflix
Just when you thought Netflix had peaked in the ridiculousness of its original holiday movies with last year's A Christmas Prince: The Royal Baby, Netflix has outdone itself with its latest sequel: The Princess Switch: Switched Again.
In case you somehow forgot, the plot of 2018's The Princess Switch follows American baker Stacy De Novo (Hudgens) and the coincidentally identical Duchess of the fictional European nation Montenaro, Margaret Delacourt (also Hudgens), as they switch places after a chance meeting. Stacy poses as the Duchess and falls in love with Edward, the prince of another fictional European nation, Belgravia. Margaret, meanwhile, falls for Stacy's BFF and baking partner, Kevin. In the end, the switch is revealed but the new relationships stay intact and everyone is happy.
Fast-forward to the sequel: Stacy and Edward are happily married, Margaret and Kevin have broken up, and Margaret is preparing to become Queen of Montenaro after the death of her father. Stacy comes up with a plan to switch places with Margaret again as part of a convoluted scheme to reunite her with Kevin, but threatening their plans is the arrival of third doppelgänger: Fiona (Hudgens), Margaret's spoiled cousin who is also looking to switch places with the new queen.
Now that you're all up to speed, here are the moments in The Princess Switch: Switched Again that are delightfully ludicrous. Spoilers to follow.
The Princess Switch: Switched Again is one of the most ridiculous holiday movies ever made, but it's all harmless and entertaining fun. And after the year we've all had, don't we deserve a silly rom-com to close out 2020 on an uplifting note?