The Twisted Nine Perfect Strangers Book Ending Makes For A Perfect Season 2
Liane Moriarty's suspenseful novel is filled with surprises.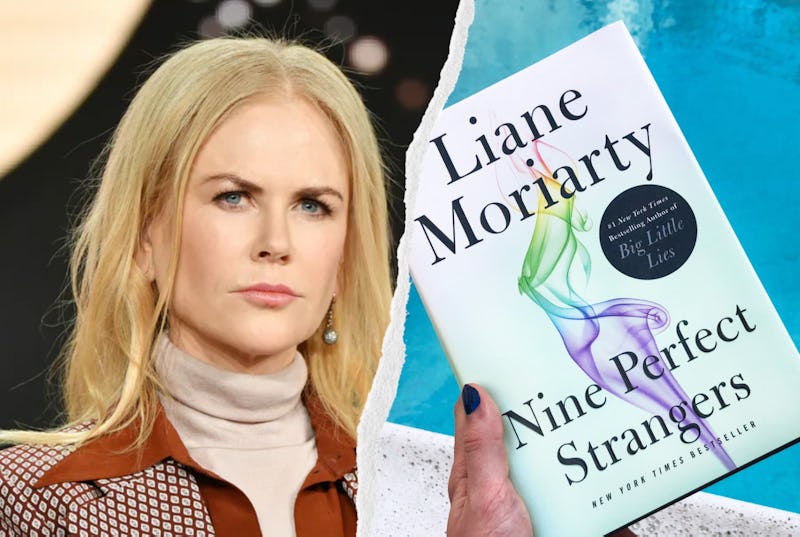 Amy Sussman/Getty Images/Hulu
Nicole Kidman's forthcoming Hulu limited series Nine Perfect Strangers is based on Liane Moriarty's 2018 novel of the same name. The New York Times best seller tells the story of health and wellness resort leader Masha (played by Kidman), who takes in nine strangers seeking refuge from their hectic lives. The show is scheduled to debut some time this year, but with anticipation mounting for its arrival, any inquiry about the potential for a second season is expected. Thanks to the thrilling ending of Moriarty's book, more episodes of the upcoming TV adaptation could materialize.
As detailed via book review and news site The Bibliofile, the ending to Moriarty's novel reveals many surprising twists, including readers discovering Masha's alternative attempts (the use of hallucinatory paraphernalia is at play) to hold the nine strangers hostage at her Tranquillum House estate. Masha ends up going to jail for disseminating illegal drugs to her resort guests. After her release, she appears on television, seemingly having reinvented herself as the author of a new wellness therapy book, taking the methods she used for the nine perfect strangers as its subject matter. It's also revealed that Masha had an 11-month-old son who died by self-strangulation. Masha was working at the time of the event and neglected to check on the child who was seeking her attention. She then gave birth to another son but decided to leave the in-person parenting responsibilities of the child to her ex-partner while she would contribute financially. Masha's living son has a daughter of his own, which raises the question of whether Masha will ever want to reconnect with her second son and meet her granddaughter for the first time.
And as if that wasn't enough to leave fans in suspense, during one of Masha's TV appearances, an interviewer mentions rumors of other top-secret wellness programs headed by Masha with an alleged waiting list.
With all of this in mind, another season of Nine Perfect Strangers could work, perhaps with a brand new set of perfect strangers and Masha meeting her son and granddaughter. For those who loved Moriarty's book, however, the Big Little Lies author has yet to confirm a sequel. In an interview with The Guardian, she stated the story of Nine Perfect Strangers was inspired by her curiosity about "the lure of self-improvement," which is a central theme of the book, and quite possibly, for the show as well. "We live in paradise," she began, adding, "Most of us live such comfortable middle-class lives, and so, is it the desire for suffering? And this desire we all have for transformation. I can never see an article that says, 'Just change this one thing about your life, and you'll be transformed forever' – even though you know when you click on it, it won't work, I find that irresistible."