What Does The Pursuit of Love's Tragic Book Ending Mean For The BBC Adaptation?
The WWII romance novel will have you heartbroken by the end.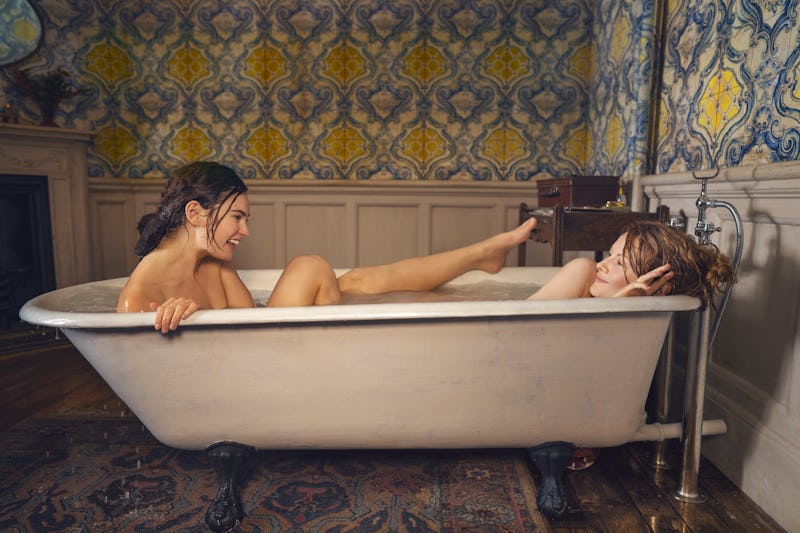 Theodora Films Limited & Moonage Pictures Limited/Robert Viglasky
Spoilers for The Pursuit of Love novel ahead. The BBC's Pursuit of Love is based on Nancy Mitford's 1945 novel of the same name. The bestseller tells the story of an upper-class English family during the interwar period, focusing on Linda Radlett (played by Lily James) and her troubles with love and relationships, as narrated by her cousin Fanny Logan (Emily Beecham). With just over a week until the three-part series debuts, we're already wondering how the series will play out. And based on how The Pursuit of Love novel ends. we should perhaps be bracing ourselves for a tragic ending...
After a couple of failed and tumultuous relationships, Linda finally finds the love of her life in Fabrice de Sauveterre, played in the BBC adaptation by Assaad Bouab. It's the ending readers are desperately hoping for and suddenly things seem to be working out as they were meant to for our lovable protagonist.
Sadly, however, the happiness does not last. When Linda's house is bombed during The Blitz, she returns to her family home in Alconleigh (a fictional village created by Mitford), where she gives birth to her son. But Linda tragically dies in childbirth and Fabrice is killed in the war, leaving their child without any parents.
The final few pages of the novel are slightly more optimistic, however, as Fanny – who gave birth to her son on the same day as Linda – adopts her sister's child with her husband and they name him Fabrice.
With this heartbreaking ending, a second season involving Lily James and Assad Bouab seems unlikely (well, impossible really). However, Mitford did write two other novels narrated by Fanny and luckily, the BBC seem keen to go ahead if the first adaptation is a success.
"It's part of a trilogy of books," explained executive producer Charles Collier to Deadline, "We hope to bring the books to life in future seasons, so The Pursuit Of Love Season two would be called Love In A Cold Climate based on a brilliant book by Nancy. The third book would become our third season, Don't Tell Alfred."