The Pursuit of Love Trailer Is All Sex, Champagne, & Horses
Starring Lily James and Emily Beecham, the BBC One drama is based on Nancy Mitford's popular novel.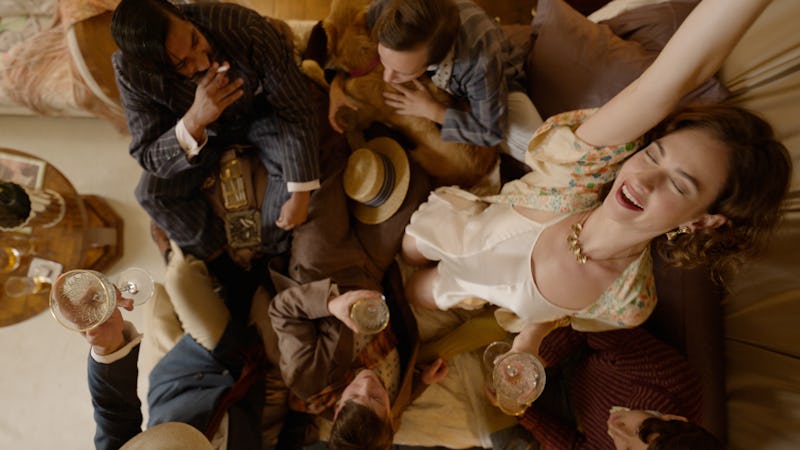 Theodora Films Limited & Moonage Pictures Limited/Robert Viglasky
On TikTok and elsewhere, people have been excitedly anticipating 'Hot Girl Summer' as the weather warms and the pandemic eases — a term taken from Megan Thee Stallion's song and referring to a summer of unbridled indulgence and being proudly yourself, whatever your gender. Here to help you along in your quest of Hot Girl Summer is a new BBC One production, The Pursuit of Love, which follows Linda Radlett (played by a certified Hot Girl, Lily James, of Mamma Mia and Downton Abbey fame) as she confidently follows her heart. Starring a host of famous faces, including Dominic West and Fleabag's Hot Priest Andrew Scott, it is set to be the show everyone is watching. But when is it out? Here's all we know about The Pursuit of Love.
What Is The Pursuit of Love About?
The Pursuit of Love is based on Nancy Mitford's famous novel of the same name, the first in a trilogy set during the interwar period about the love life of the posh Linda Radlett and narrated by her cousin and best friend Fanny Logan. It is a romantic comedy-drama which follows the girls in their search for an ideal husband.
The BBC synopsis writes: "Their friendship is put to the test as Fanny settles for a steady life and Linda decides to follow her heart, to increasingly wild and outrageous places. As social and political divisions split the nation, their diverging choices raise personal questions that remain intensely relevant today – questions about freedom, about love and sex, and the mystery of the human heart."
The book has been adapted by actress Emily Mortimer, who also directs the BBC drama, and was filmed primarily around Bristol and Bath.
Who Is In The Cast Of BBC's The Pursuit of Love?
As previously mentioned, Lily James plays Linda Radlett, a charismatic and fearless woman in search of love and adventure. She is joined by Emily Beecham as Fanny Logan, Linda's cousin.
The star-studded cast also includes, among others, Andrew Scott playing Linda and Fanny's eccentric neighbour Lord Merlin; The Wire and The Affair's Dominic West as Uncle Matthew, Linda's father figure; and Call My Agent!'s Assaad Bouab as Fabrice de Sauveterre, one of the girls' suitors. Plus, Penny Dreadful's Shazad Latif as Alfred Wincham, and White House Farm's Freddie Fox as Tony Kroesig. In addition to writing the script, Mortimer will also join the cast as Fanny's mother.
Lily James has previously said of the production: "It's great to be working with Emily. Her brilliant scripts bring new life to this story — full of love, full of friendship, very moving and sad in places, but also funny and true to life."
When Does The Pursuit of Love Air?
The answer is really, really soon. Per the BBC, The Pursuit of Love comes to BBC One and BBC iPlayer on May 9, at 9 p.m. All three hour-long episodes will be available to watch as a boxset on BBC iPlayer. Hot Girl Summer is well and truly imminent.
What About The Trailer Of The Pursuit of Love?
The trailer is nothing short of major. Equal parts chaotic and exciting, it shows Linda being unabashedly herself. "It's not sexual, it's a meeting of minds," she says in the opening line — an indicator of Linda's daring outlook on love. Interspersed with scenes of other characters, locations and, frankly, amazing costumes, Linda proudly declares to "aspires to true love." Andrew Scott's character adds his thoughts on the subject – "love is for grown ups, as you will discover one day" – while Dominic West's Uncle Matthew furiously screams that an adulterous woman is "the most disgusting thing there is". See? Shook.