The Golden Bachelor's Theresa Nist Is Rumored To Make It Far In Gerry's Season
The New Jersey grandma is looking for a "best friend" to share her life with.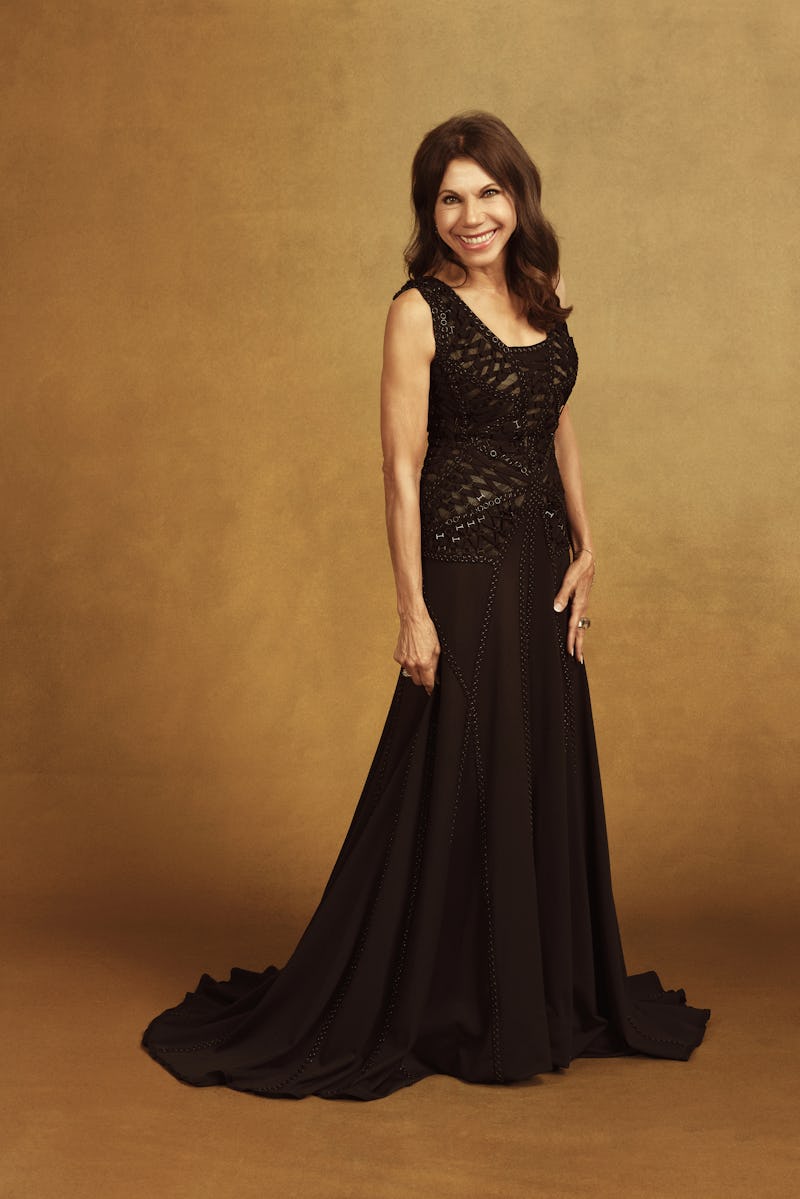 ABC/Ricky Middlesworth
Theresa Nist joined The Golden Bachelor in the hopes of finding love after loss, much like the show's inaugural lead, Gerry Turner.
In her official bio for the show, the 70-year-old resident of Shrewsbury, New Jersey, describes herself as "optimistic" and "encouraging," and says she hopes to meet a partner who will be her "best friend in this next chapter of life." As she put it in a Golden Bachelor teaser, Theresa no longer wants to be alone. (Her late husband died almost a decade ago, in 2014, according to her daughter's Instagram.)
Though it remains to be seen if Gerry will be the right match for her, Theresa's already teased that her first night in the Bachelor Mansion was a great one. Sharing a still from the show's premiere via Instagram, she wrote, "This was the very first time that we met and it was all so thrilling and exciting to meet Gerry and these wonderful women. It was a night I will never forget."
So, what else should Bachelor fans know about Theresa? Below, learn more about the New Jersey grandmother.
What Is Theresa Nist's Job?
After teaching herself about the stock market, Theresa began a career as a financial services professional, per ABC. She reportedly works as a financial advisor for Tfs Securities, Inc., in Lincroft, New Jersey, though her professional bio appears to have been removed from the company's website ahead of her Golden Bachelor debut.
Theresa also previously held positions at Datek Online, Stifel Nicolaus, and MetLife Securities, where she served as the manager of a large call center.
On Sept. 6, after filming had wrapped on The Golden Bachelor, Theresa shared that she was "so happy" to be back to work in an Instagram post.
What Is Theresa Nist's Family Like?
ABC noted that Theresa (or Nana, as her grandkids call her) is "very close with her children and grandchildren." Her Instagram reveals that she has a son, Tommy, who lives in South Carolina with his wife and their three boys, as well as a daughter, Jen, who also appears to have three sons — making Theresa a grandmother of six.
On Instagram, Theresa's daughter has posted multiple tributes to her dad, William "Bill" Nist, noting that he passed away in November 2014.
What Does Theresa Nist Share On Instagram?
Theresa's Instagram is primarily dedicated to her family, especially her grandsons, but she shares other fun facts about herself as well, like her passion for gardening and her a love of '70s rock. (She says she loves to sing, too, but mostly when alone in her car.) When not spending quality time with her family, Theresa also enjoys playing board games, reading romance novels, and hula hooping.
Spoilers For Theresa Nist's Golden Bachelor Journey
Potential spoilers ahead for Theresa's Golden Bachelor journey. According to Reality Steve, Theresa was a part of one of the season's three hometown dates, and advanced to become one of Gerry's final two women. The Bachelor Nation blogger reported on Aug. 30 that Theresa met Gerry's family in Costa Rica, where the overnight dates and the final rose ceremony were reportedly filmed. However, Reality Steve has yet to speculate about which woman Gerry chose in the end.