This 'Dark' Character Map Will Help You Keep All The Families & Timelines Straight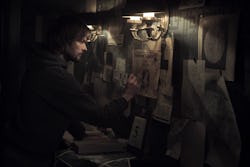 Stefan Erhard/Netflix
Has there ever been a TV show more complicated than Netflix's Dark? Sure, there have been other shows involving time travel, but nothing approaching the complex web of relationships and timelines that is this German-language sci-fi series. You may find yourself in need of a Dark character map after watching the series; even if you're already poring over it for the second or third time, it can still be hard to keep track of who's related to who and which timeline you've seen them in before and whose daughter is actually their mother, and so on.
The series revolves primarily around four families living in the town of Winden, Germany: the Kahnwalds, the Nielsens, the Dopplers, and the Tiedemanns. Thanks to a wormhole in the caves under the nuclear power plant that can transport you through time in 33-year increments, it turns out these four families are even more closely related than they knew. In fact, practically the whole town is a Gordian knot of bootstrap paradoxes and secret incest. (And you thought the Lannisters were messed up.)
NOTE: In this map, each direct descendant will be written in ALL CAPS. The person they had a child with will be written (in parentheses). Siblings are | separated | by straight lines. Aliases will be denoted with a slash/between names.
(WARNING: This post contains SPOILERS for all three seasons of Dark.)
This article was originally published on