Everything To Know About Thomas From The Bachelorette
He's fast becoming the season's villain.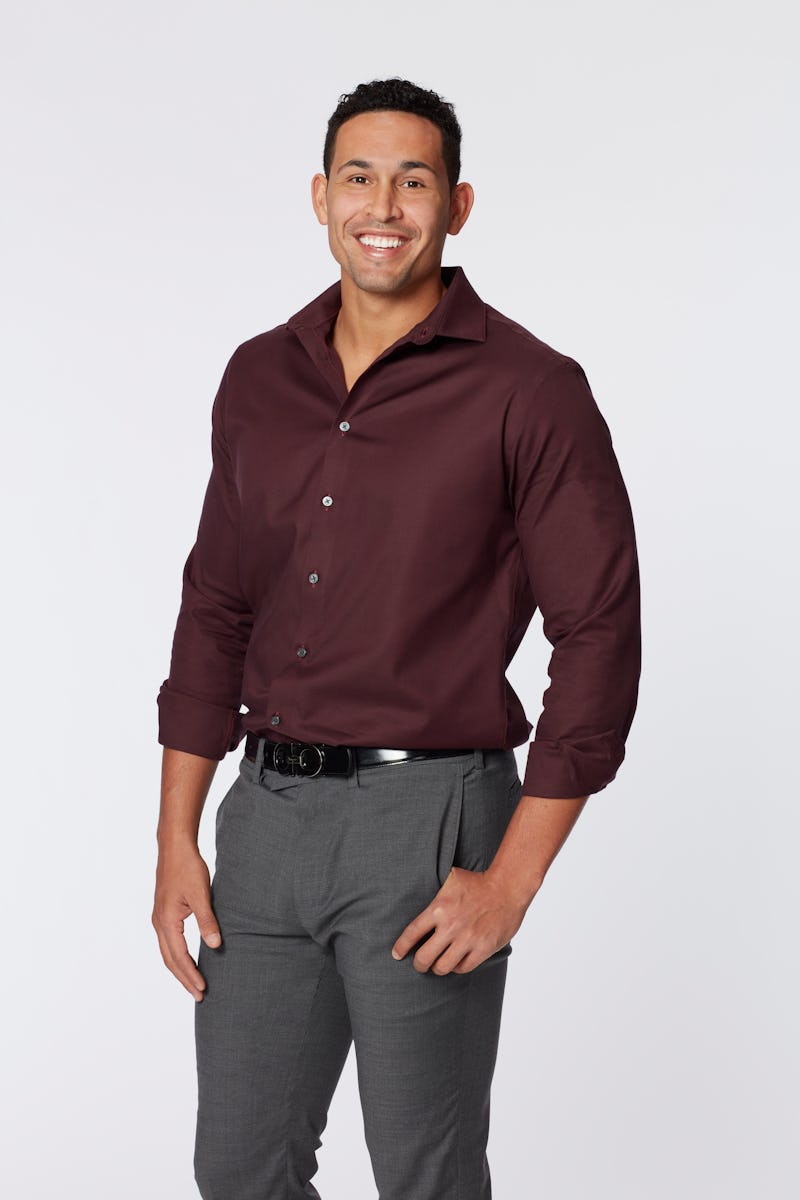 ABC
Compared to other people (read: influencers) who've gone on The Bachelorette, Thomas Jacobs had a pretty threadbare social media presence before joining the show. Which makes it ironic that a few weeks into the season, he earned himself the title of villain after admitting he came on the series in hopes of gaining notoriety. Despite his clear connection with Katie, he's become both a threat and an antagonist to the rest of the men. His brand of honesty makes him a compelling character, despite his meager online footprint. But if you dig in the right places, you can learn a few things about the 28-year-old. Read on for the highlights.
Thomas Loves Food
No, like really loves it. His Bachelorette bio says his love language is food, and he enjoys bringing his loved ones their favorite dishes. One of his favorite ways to show people around his hometown of San Diego is to bring them through a "meticulously curated tour of the best burritos, burgers and brunch the city has to offer," his bio reads. But a healthy appetite isn't the only thing that's important to him. Which leads us to...
Thomas Is Looking For Someone Thoughtful & Ambitious
Per his bio, Thomas is "a true believer that everything happens for a reason" and thinks the timing of meeting Katie couldn't be more perfect for him. He's looking for a life partner who's beautiful, athletic, and mature. Ambition and thoughtfulness are also two of his biggest turn-ons, and there are few Bachelor contestants who've embodied those qualities as well as Katie. As both a sex-positive dynamo and consummate mediator ready to get engaged, she could be exactly what Thomas is looking for.
Thomas' Instagram Is Pretty Sparse
Thomas has just shy of 5,000 followers on Instagram and only five posts. Excluding his promotional Bachelorette headshot, most of his photos include his two rescue dogs, Leo and Sofia. His Zillow profile paints a more complete picture. The first thing you'll discover about Thomas is his love of athletics; he's a former University of San Diego basketball player turned volunteer youth league coach. When he's not volunteering, he's working as one of San Diego's premier real estate agents, joining a long line of real estate professionals turned Bachelor contestants.
Thomas Is Very Successful In His Job
As one of the top 3% real estate agents in his region, Thomas earned a place in the San Diego Association of Realtors, Circle of Excellence. Thomas credits his career success to growing up in a military household, which according to him, "molded his principles of discipline, integrity and an unrivaled work ethic that directly bring value to his clients through his passion to work above and beyond, around the clock to satisfy any specific needs regarding your real estate journey," his Zillow profile reads. The Bachelor/ette franchise has been known to use fake houses for some hometown visits, so should Thomas make the top four, he may able to hook the producers up with some homes to choose from.
Thomas Has Thought About Being The Next Bachelor
During the third episode of Katie's season, which aired on June 20, Thomas established himself as the season's potential villain. The episode included a therapy-themed group date, during which several of Katie's men took turns divulging their greatest struggles and deepest vulnerabilities. It was an emotionally heavy date, to which Thomas added almost nothing, choosing to use his time to talk to Katie about wanting to come on the show to "boost his platform." I suppose he gets points for honesty, but if you're going to go on a franchise that has popularized the idea of being there for "the right reasons," it's probably not a great strategy. Ultimately, Thomas was confronted by the men in the house, where Hunter asked if he'd thought about being the next Bachelor. Thomas responded, "Yes, that was a thought that was on my mind."
Katie's Men Are Turning Against Thomas
Obviously, Thomas isn't the first person to appear on The Bachelorette in hopes of gaining fame, but that's not typically something people say out loud — let alone directly to the Bachelorette. Still, Thomas has made it clear that he thinks that what he and Katie have is the real deal. During the cocktail party of the season's third episode, Thomas used his time to try and do some damage control with Katie, wherein he alluded to his "red flags" but never actually said what they are. In fact, he was pretty elusive throughout their entire conversation. Thomas then committed one of the primary sins of the franchise and interrupted another contestant's one-on-one conversation to get extra time with Katie, despite having already spoken to her. In his second conversation, he lofted a pretty heavy statement at Katie, essentially saying that he's falling in love with her — much to the chagrin of the rest of the men.
What Thomas Is Doing After The Bachelorette
Since the premiere of Katie's Bachelorette season, Thomas has only posted one photo on Instagram: a birthday selfie in commemoration of his 29th trip around the sun. In the world of The Bachelor, a quiet social media presence after the show could indicate that he's filming for Bachelor in Paradise. However, it doesn't say much given that Thomas was already generally inactive on social media.
How Far Thomas Will Make It On The Bachelorette
As for how far Thomas makes it on the show, Katie Thurston may have hinted at his fate in a tweet. Ahead of the fourth episode, Katie seemed to allude to the "red flags" Thomas mentioned to her, posting a photo of her as a child with a snake wrapped around her neck and writing, "me" and "men with [red flags emojis]." Whether or not this means Katie will continue to ignore Thomas' red flags or send him packing, one thing is certain: it's always a bad sign when you're being compared to a literal snake.
This article was originally published on