Toccara Jones Takes A Page From ANTM For Her Thick House Series
She's looking to Tyra Banks for inspiration.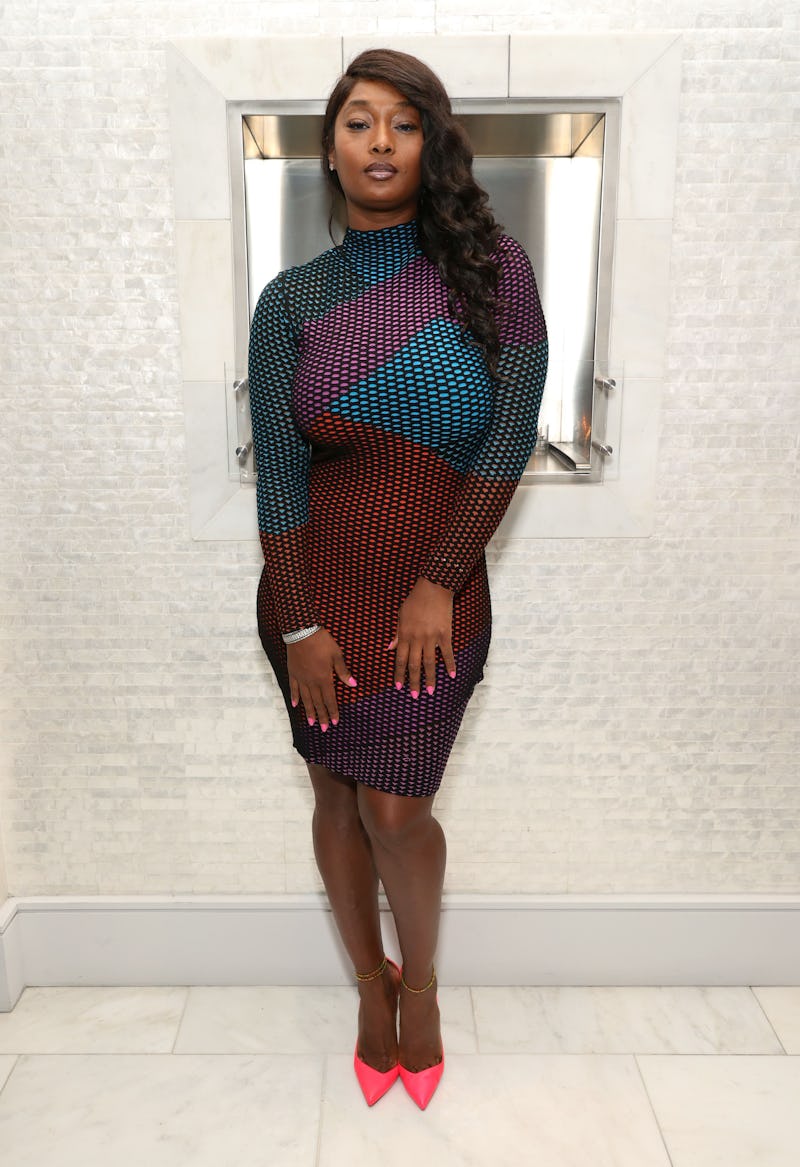 Rich Fury/Getty Images Entertainment/Getty Images
Model and television personality Toccara Jones first entered public consciousness during America's Next Top Model Season 3 in 2004. She didn't win the competition but rather blazed her own successful path on the runway and in Hollywood (lest anyone forget her role in Are We There Yet?). Now, the industry vet is paying things forward as a host and judge on The Shade Room's Facebook Watch fashion reality series Thick House, which celebrates and elevates budding plus-size models. Jones tells Bustle that one of the primary factors that set Thick House apart from other modeling competitions is its authenticity. "We are used to all the different fashion shows and stuff that it's so manufactured now. This show is so real," she says. "It's really gonna connect with women because it was done with a heart."
When it comes to the former series she was on, though, the environment wasn't always smooth sailing, as recently resurfaced videos have shown. While ANTM host and creator Tyra Banks has been at the center of and since apologized for various ANTM-related controversies (models wearing blackface, body-shaming Jones and other contestants, and critiquing Dani Evans' tooth gap, just to name a few), Jones remains grateful for Banks' guidance and impact on her career: "It's a tough industry. People are going to criticize you. They're going to talk about you. They're gonna beat you down, and some of them do it in a bad way, and some do it with love."
Jones experienced rejection during her season of Top Model, as Banks and her fellow judges painstakingly deliberated the model's weight. She continues, "You gotta have tough skin because 'no' is gonna be one of those things that you hear on the regular. Rejection is something that you're gonna get on a daily. Like, it is going to happen. That is a guarantee." When it specifically comes to Banks' prior ANTM statements, Jones adds that "sometimes you can go too far," but she is "glad" the former Sports Illustrated cover model apologized. Banks' comments and actions, unfortunately, aren't unique in the industry. "If she didn't say it, the agencies that they go to or someone else is going to say it," Jones says. "People talk, and it's not always nice." Jones experienced rejection during her season of Top Model, as Banks and her fellow judges painstakingly deliberated the model's weight.
The modeling industry is notorious for stringent beauty standards among models, but Jones posits that she and fellow Thick House judges Kelly Augustine and EJ King "really care" about the aspiring models on the Facebook show. "We've all experienced as plus-size women the rejection and not rooting for one another and not having the support. There's so much support around here," she says. "We want to see these women strive. ... We want to give them tools so they can keep growing."
And Toccara isn't all talk. In one Thick House episode, she turns a heated moment into a "teachable" one for the contestants. "We care about the girls. So, we had a situation where we noticed some behavior, and we wanted to point it out to one of the models and just for her benefit," she says. "I don't have a dog in the fight. I'm only here to help you, and I'm only gonna give you the best that I got."
Toccara's show runs through to June 20, when the finale will air at 7 p.m. ET. After that, she has plans to continue hosting modeling and lifestyle masterclasses, hiking trips, work on her intimates apparel line, and a probable swimsuit range. Toccara also has her eyes set on a reunion with Banks. Only this time, she's manifesting being a competitor on Dancing With The Stars.
To see Jones and her fellow Thick House judges employing model behavior with the show's contestants, check out the first episode here: