This New Netflix Anime Show Stars A Beloved Good Place Alum
Meet the actors behind Trese.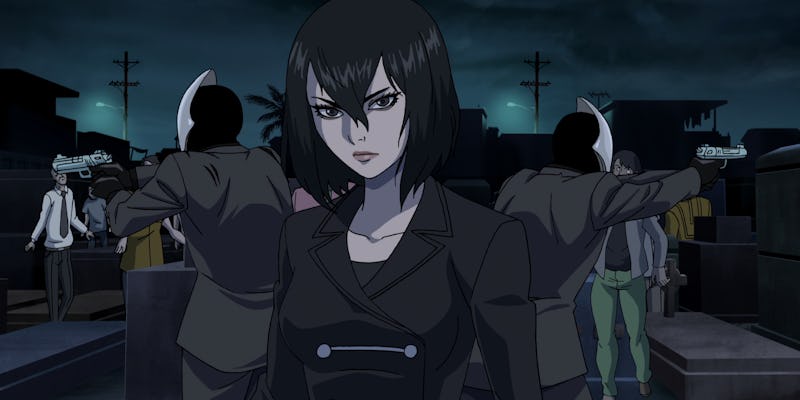 Netflix
Netflix's latest foray into anime comes in the form of Trese, a six-episode series based on a popular Filipino comic book by Budjette Tan and Kajo Baldisimo. The show follows Alexandra Trese, a private detective who investigates supernatural crimes in a version of Manila where creatures from Philippines folklore are real — and living amongst humans.
In the comics, Alexandra's father Anton started training her to fight these not-so-mythical creatures at a young age, and since his death, she's been grappling with the legacy he left behind for her. In between solving paranormal mysteries, Alexandra also reportedly runs her own nightclub — what better way to stay plugged into the Manila nightlife?
Trese will be released in both English and Filipino, with each version of the series featuring its own distinct voice cast. Though it's unclear how faithfully Trese will follow its source material, the involvement of Tan and Baldisimo as showrunners suggests that the adaptation will satisfy fans.
Read on for a breakdown of the Trese English voice cast, many of whom are Filipino-American or Filipino-Canadian actors.
Shay Mitchell voices Alexandra Trese
Though this is Mitchell's first prominent voice acting role, she's well-known for her work on Pretty Little Liars, YOU, and Dollface.
Darren Criss voices Marco
Since launching his career in musical theater with turns in How to Succeed in Business Without Really Trying and Hedwig and the Angry Inch, Emmy-nominated actor Darren Criss has starred in the television series Glee, The Assassination of Gianni Versace: American Crime Story, and Hollywood.
Jon Jon Briones voices Hank and Xa-Mul
Filipino-American actor Jon Jon Briones got his start in musical theater and has more recently appeared in The Assassination of Gianni Versace: American Crime Story, American Horror Story: Apocalypse, and Ratched.
Manny Jacinto voices Maliksi
Manny Jacinto returns to screen following his breakout role on The Good Place.
Nicole Scherzinger voices Miranda Trese
Though best known as the lead singer of the Pussycat Dolls, Scherzinger also recently broke into voice acting as Sina in Moana.
Lou Diamond Phillips voices Mayor Sancho Santamaria
Actor and director Lou Diamond Phillips' resumé spans over three decades and includes roles in the films Stand and Deliver, La Bamba, and Young Guns as well as TV shows Prodigal Son and Longmire.
Dante Basco voices Bagyon Kulimlim
Dante Basco has a long voice acting resumé. He's best known for voicing Prince Zuko in Avatar: The Last Airbender and Jake Long in American Dragon: Jake Long, as well as for his live-action role in the 1991 film Hook.
Carlos Alazraqui voices Anton Trese and Santelmo
Actor Carlos Alazraqui's voice acting work includes credits on series including The Fairly OddParents, Family Guy, and El Tigre: The Adventures of Manny Rivera. On Trese, Alazraqui voices Alexandra's father Anton Trese as well as a character named Santelmo.
Steve Blum voices Datu Talagbusao and Ibwa
Blum has done voice work for shows including Cowboy Bebop, The Legend of Korra, Star Wars Rebels. He also voiced Wolverine across numerous animated series.
Eric Bauza voices Nuno the Snitch and Bagyon Lektro
Voice actor and animation artist Eric Bauza's voice acting credits include a staggering number of roles. He's best known for his work on The Fairly OddParents, Scooby-Doo! Mystery Incorporated, Ben 10: Omniverse, Teenage Mutant Ninja Turtles, and the 2020 Animaniacs reboot. Bauza is currently the voice of Looney Toons Cartoons characters Bugs Bunny, Daffy Duck, Pepé Le Pew, Marvin the Martian, and more.
The Trese voice cast also includes Filipino actors Matt Yang King, Rodney To, and Griffin Puatu. Trese premieres on Netflix on Friday, June 11.