Ts Madison Had The Best Reaction To Lil Nas X Kissing A Man Onstage At The BET Awards
"Kiss that man on Live TV. GOOD," she said after pointing out "straight accepted" TV moments.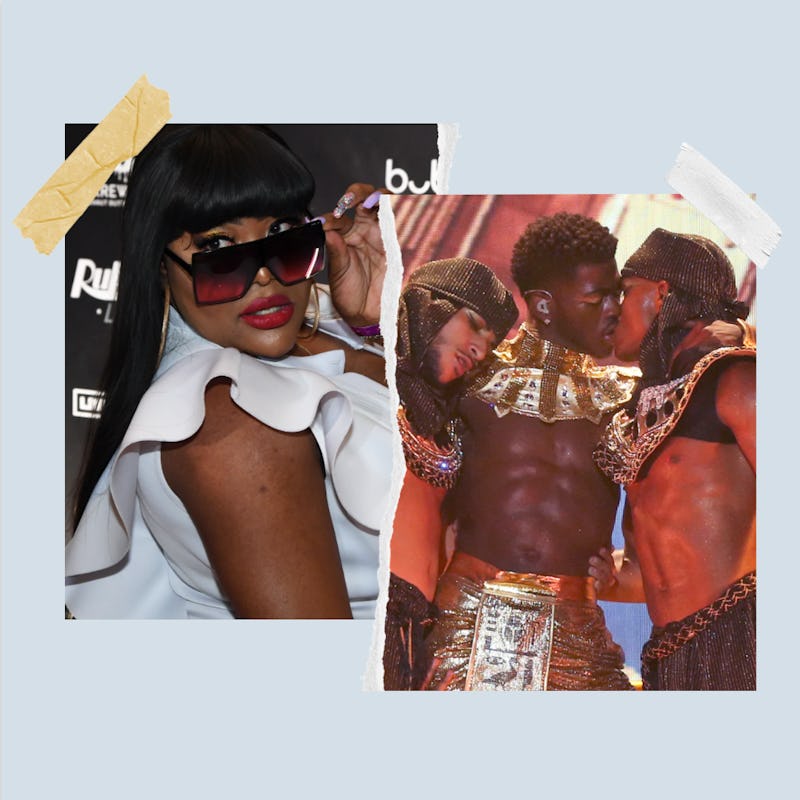 Bennett Raglin/Getty Images
Lil Nas X has made it abundantly clear that he has no problem expressing himself artistically while embracing his sexuality regardless of what anyone has to say (how else could he have pulled off a perfectly choreographed lap dance for Satan in the "Montero" music video?) Still, fans and viewers are still voicing their opinions about Lil Nas X's onstage kiss with a male backup dancer during his BET Awards performance on June 27, one of whom is queer internet icon TS Madison.
In reflecting on the performance, which saw Lil Nas X paying tribute to Michal Jackson's "Remember the Time" in ancient Egyptian attire, Madison pointed out some obvious hypocrisy of fans who seemed shocked by the kiss. "Good job Lil Nas X," she tweeted before adding, "I've been forced to watch Madonna kiss Britney … Beyonce give lap dances to her man and all kinds of other 'straight accepted' behaviors on TV since I was a child. Kiss that man on Live TV. GOOD. Turn the tables." One of her followers responded and reflected a similar sentiment: "This is so true! And those moments from Brit, Madonna, and Beyoncé are ICONIC. But Lil Nas X kisses his dancer at the end people saying he pushing 'the gay agenda' so stupid smh."
Lil Nas X also called out people who were upset over the performance, telling them to do some inner work, "Y'all hate yourselves so much. Y'all live your lives trying your best to appease straight ppl. Y'all are uncomfortable with what I do because y'all are afraid they will be uncomfortable with you. Work on yourselves, I love who I am and whatever I decide to do. Get there."
Everyone who saw the moment live seemed to approve of the kiss, reacting with standing ovations and loud applause, a likely surprise for Lil Nas X, who shared that he was nervous during the performance. "It took me a lot of time to mentally prepare for this performance," the pop star tweeted. While on stage I was trembling knowing that I was performing something like that in front of my straight peers. Even during the performance, I was having a hard time calming my nerves. Thank you guys for the love."
Fellow artists also came to Lil Nas X's defense, including hip-hop producer and rapper Sean "Diddy" Combs, who tweeted, "Lil Nas X did that!! Be fearless!!!"
Lil Nas X came out to the public during Pride month in 2019, sharing with Time that "I never would have done that if I wasn't in a way pushed by the universe."